An All-inclusive Guide on Food Delivery App Startup 2021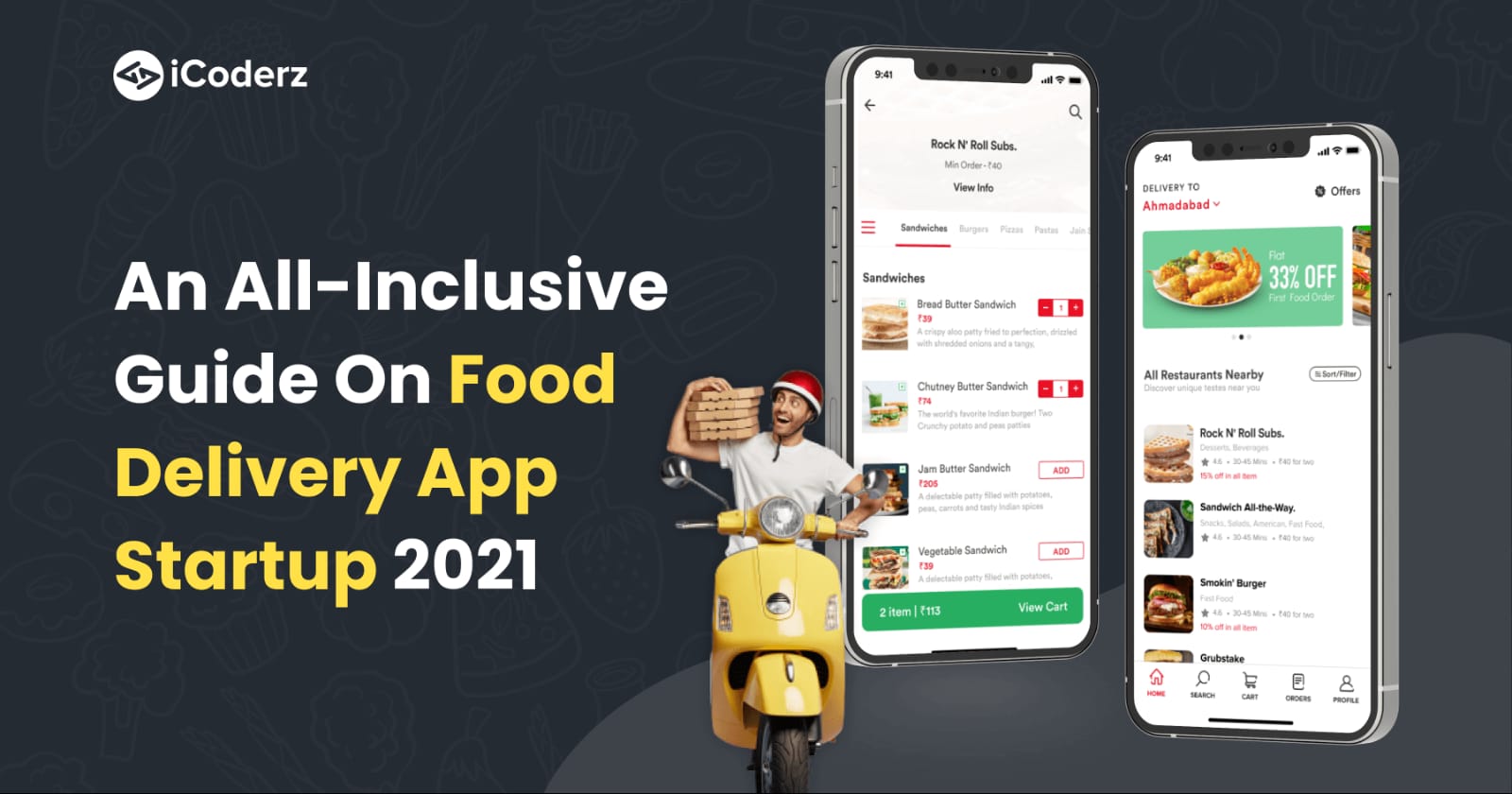 Food delivery is not just a service. It is an emotion; happiness.
Millions of people have smiled during the pandemic because of getting their food delivered to them. Despite the great health crisis, it was the food and grocery delivery service that kept our lives going. 
Though the food delivery apps were popular for a longer time, they became prominent last year. The pandemic has launched many more food delivery apps than before. We can say that more and more industries are getting curious to know how the food delivery business works?
Are you stepping into the food delivery market?
If you are, you are just about to read a complete and comprehensive guide on food delivery applications, including the business elements and technology stack. 
Shall we begin?
Food Delivery Business
When a restaurant or a food outlet sends the food parcel to the customer via delivery, it is known as food delivery. The food delivery business refers to an in-house restaurant or a third-party logistics service delivering the food to the customer at the given address. 
Generally, the different types of food outlets, including restaurants, cloud kitchens, food trucks, cafes, and liquor bars, are running their in-house food delivery business for enhancing their customer base through home delivery of foods and beverages. 
And why not, the time has always proved that food delivery service is one of the most prominent services for restaurants and cafes to increase their daily sales and revenue. For the same, let's have a quick look at the global food delivery market and its insights.
Global Market Analysis: Food Delivery Service
While we talk about the market insights of the online food delivery market, we follow the analysis laid by Statista, Mckinsey, and Grand View Research. They have got the most appropriate estimates on the growth of the food delivery market. 
Online food delivery services are growing at a CAGR of 15.4% from 2019 to 2025. 
By 2022, we can expect revenue growth of 16.6% in the online food delivery market. 
Below is a detailed report scope laid by Grand View Research on the online food delivery services.
Here is an excellent presentation of the food delivery market growth by 'technavio.' 
As we see the business insights laid by the top researching organizations, we can assume that the food delivery market sees potential growth shortly. So, if you are willing to launch your food delivery app or business, we think it's a green signal from the business perspective. 
How to Launch a Food Delivery App or Service?
A food delivery service needs a lot of research and analysis before getting started. The essential thing is designing and developing a food delivery app for your service to run a food delivery outlet. Besides, having a complete framework of how the service works are essential for partnering with the vendors, hiring the logistics agency, appointing an in-house maintenance team, renting a space for the outlet, hiring the best chefs and managers, and a lot more.
Food Delivery App Development
Here comes the hero of the story! Food delivery app is the soul of your food delivery service. Imagine how you would run a food delivery business without developing or renting a food delivery application. 
To design and develop a food delivery app, you need to connect with an on-demand food delivery app development company like iCoderz Solutions. To get your app, you need to discuss the type of business you are running, such as a third-party food delivery service or an in-house food delivery service. 
Two ways to get your food delivery application:
Develop it from scratch with customization 
Rent a readymade food delivery solution from Company Like DeOnDe Solutions
The article shall discuss the food delivery application and its features, including the technology stack, cost of development, and its working process. 
Partnering With The Vendors
When you are launching your independent food delivery service as a third-party, you need to design a channel of vendors for whom you will deliver the food. Various third-party food delivery apps like Zomato, FoodPanda, DoorDash, GrubHub, Swiggy, Talabat, etc., have set up a massive channel of vendors for being successful in the industry. 
While partnering with the vendors, you need to define your core delivery model. For example, you are into the food delivery model or multi-vendor food delivery business. At the same time, businesses with multi-vendor food delivery models have to tie up with different types of vendors to get their services listed on their delivery app. 
Here, we would like to point a good example about the super app that serves both the food and other essential delivery services. Just like Gojek Super App, you can also launch your multi-vendor food delivery app by concentrating on another delivery marketplace too. 
Hiring Or Managing The Fleet Service (Logistics & Delivery)
Not all food delivery services have in-house logistics services for delivering food and essentials to the customers. In this case, there is a requirement to partner with a fleet logistics service that helps your food outlet to provide the food to the customer's chosen address. 
There are two ways of managing the fleet service. 
Inhouse Fleet Management
Third-party logistics services
Well, there are many third-party restaurant fleet and logistics services that help you manage your restaurant or food delivery business with ease. Here are some of the popular fleet services providing food delivery services for restaurants and cafes across the globe. 
Fleet Delivery Company Worldwide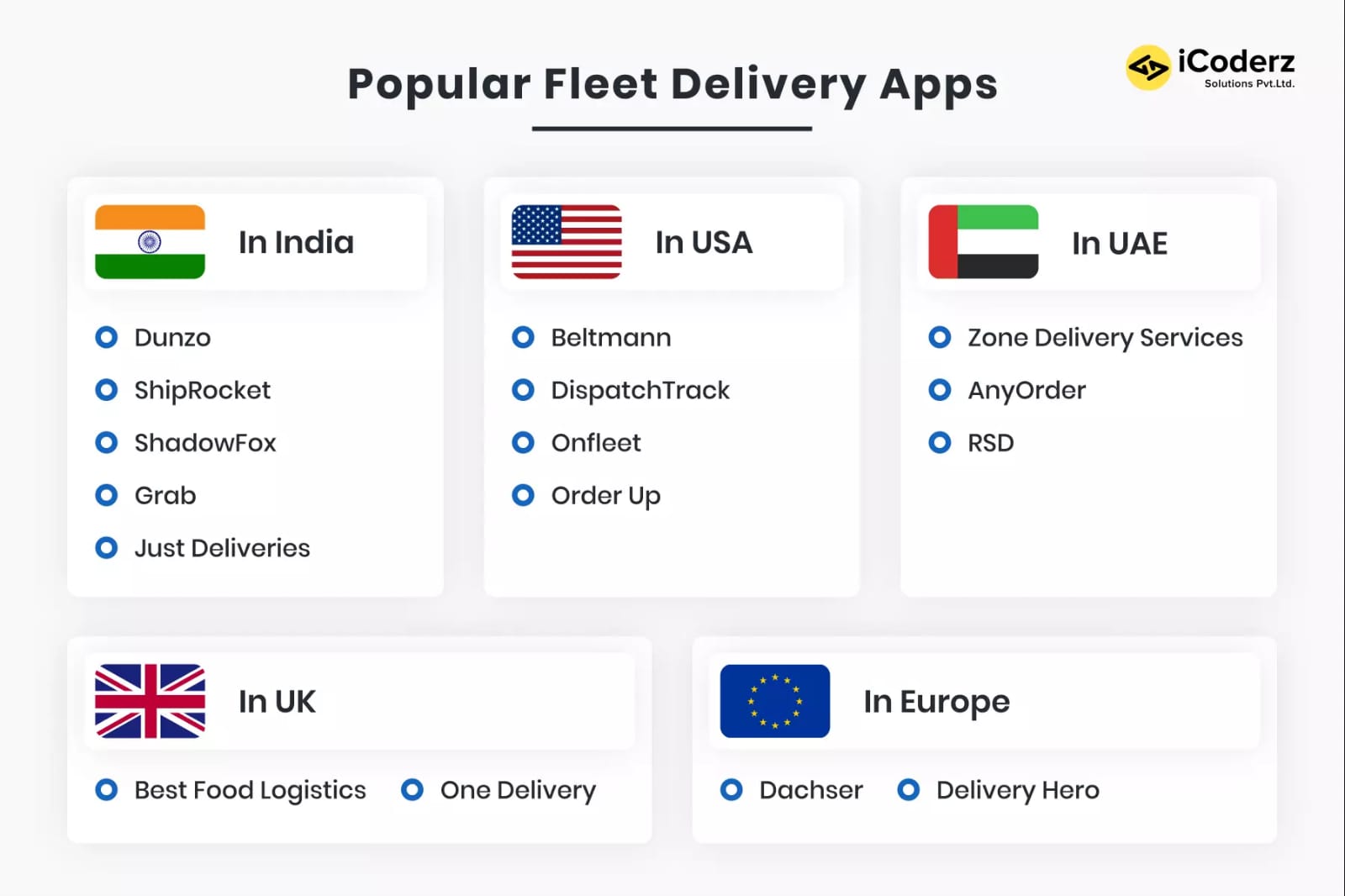 | | |
| --- | --- |
| USA | Beltmann, DispatchTrack, OnFleet, Order Up |
| INDIA | Ship Rocket, Shadow Fix, Grab, Just Deliveries |
| UAE | Zone Delivery Service, Any Order, RSD |
| UK | Best Food Logistics, One Delivery |
| Europe | Dachser, Delivery Hero |
Fleet Delivery Companies Across the Globe
You must visit the websites of the fleet delivery portals and get their rates for getting acknowledged on the fleet and logistics tie-ups for your food delivery business.
In-House Customer Support 
The next important step is to appoint an in-house support and maintenance team for expanding your food delivery business. Well, if you are placing an order on the Zomato food delivery app from your iOS or Android device, you might have noticed a customer support icon that redirects you to the chat screen.
It is essential to have a support team to help your customers get quick support while they are stuck placing orders or getting canceled on your food delivery app. The customer support team must revert all the customers' queries to enhance their experience while surfing your food delivery application.
Customers mainly have queries regarding the placed orders, canceled orders, payment refund, payment deductions, late food delivery, and address change.
Hiring A Team For Technical Setup
Well, a technical team is required to keep your food delivery app run smoothly and flawlessly. For enhancing the user experience, you need to make sure that your app doesn't have any technical bugs. One of the reasons for losing your customer base is poor app functionality or poor app speed.
Read More: How to Hire Dedicated Team for Food Delivery App Development?
So, how would you overcome the in-app technical issues?
When you hire an on-demand food delivery app development company to design the app, make sure to have a contract with them for longer-term technical maintenance and app support.
A technical setup is also required for keeping a bird-eye on the food delivery process that is incoming from the application. Any error or bug can lead to many disturbances and confusions, so you need to avoid it by hiring an in-house or external, or offshore technical team for your food delivery application.
Food Delivery App: Types, Features, Technology Stack, Development Cost
Here's where business owners must closely focus on getting their food delivery app launched with perfection and ease. When you have planned everything for launching your food delivery business, the main question is what does your food delivery app will look like, what will it offer to the customers, how will it operate, how much will it cost, and how it will help you earn great money from it?
What Does a Food Delivery App Do?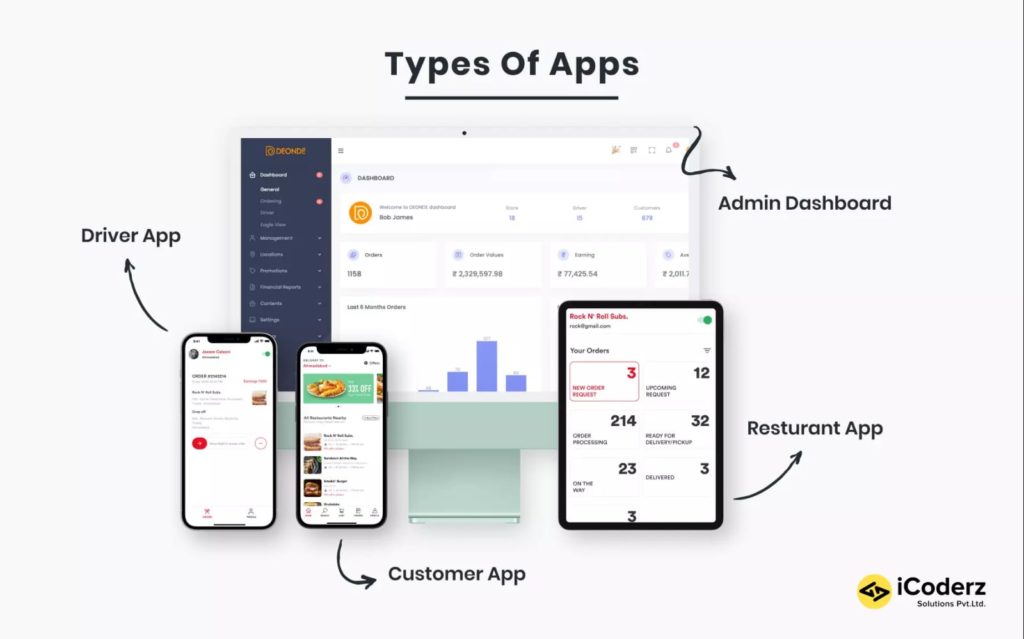 A food delivery application is built for various platforms, including Android, Windows, Web, Mac, and iOS. It is designed to help the customers place their food parcel orders from their favorite or nearby restaurants/cafes. 
A food delivery app sells all types of cuisines, vegetarian and non-vegetarian food, all types of alcohol (if permitted), hot and cold beverages, and desserts. It is designed to help customers get their favorite food delivered to the doorstep without paying any extra penny. 
Features of Food Delivery App
The food delivery application is basically a solution that is built using a particular technology or framework. For running a food delivery business successfully, three different applications with the basic set of features are required. 
| | | | |
| --- | --- | --- | --- |
| Customer App | Partner App | Driver App | Admin Dashboard |
| Signup/Registration | Manage Orders | Manage Orders | Manage Customers |
| Search Restaurants | Manage Menu | Realtime Requests | Manage Partners |
| Search Dish/Cuisine | Realtime Requests | Realtime Tracking | Manage Drivers |
| Add to Cart | Partner Profile  | Availability Toggle | Promo codes |
| Payment Options | Payment History | Delivery Status | Order Dashboard |
| Schedule/Cancel/Repeat Order | Update Order Status | Order History | Delivery Zone Management |
| Live Order Tracking | Order History | Earning History | Menu and Timing |
Food Delivery App Features
These are the basic set of features required by each app for successfully running a food delivery service. Let's now move ahead to the advanced set of features. 
Read More: Top 5 Features of food delivery app that none is talking about
Advanced Features of a Food Delivery App
Well, the advanced set of features make it possible for your food delivery app to stand out from the competitors. Yes, a food delivery app can be designed uniquely or creatively for making your customers mesmerized by what you offer and how you offer, along with the food delivery services.
Advanced food delivery app features that no one is talking about!
Call Center Dashboard
Having a call center function helps you maintain a loyal customer base. Customers having any queries or confusion can directly connect with the customer call or chat option to solve it. 
Digital Wallet
If you have been using online shopping apps, you must be aware of the digital or eWallet feature. Having a digital wallet designed for your customers can help them pay quickly on food delivery orders. They can either recharge the digital wallet or can use the wallet cash for new orders. 
Pickup and Drop Off Feature
An excellent concept brought by Swiggy Genie a year ago is now a prominent feature for on-demand delivery apps, including Food and Grocery. A simple pickup and drop-off feature can help your customers get anything picked from the given location and drop it at the desired location by paying a minimum delivery fee. 
When we talk about the pickup and drop-off feature, it primarily offers the customers convenience and comfort. Nevertheless, it saves a lot of time for the customers to use the feature with the given fees. 
QR Code Scan
Since we follow the Covid-19 pandemic guidelines, using the QR code scan feature becomes efficient and necessary. It helps to eliminate the need for a physical menu by getting it directed to the digital menu by scanning the QR code.
Popular Food Delivery Apps
Here's a checklist of the popular food delivery applications across the world. 
| | |
| --- | --- |
| USA | DoorDash, GrubHub, UberEats, Seamless, Postmates, Rappi |
| UAE | Careem NOW, Talabat, EatEasy, Zomato, Deliveroo |
| UK | Just Eat, Deliveroo, UberEats, SUPPER, One Delivery |
| India | Zomato, Swiggy, Dominos, FoodPanda, Faasos, Pizza Hut |
| Australia | Menulog, UberEats, Deliveroo |
| Germany | Lieferando, Burger King, Wolt |
| France | UberEats, Just Eat, Deliveroo |
| Spain | Glovo, Just Eat, Uber Eats, Deliveroo  |
| Indonesia | Grab, Gojek |
Food Delivery App As Per Country
Read More: Top 5 Food Delivery Apps in the USA
How Does a Food Delivery App Work?
The food delivery application works in a predetermined way. We have just observed the different food delivery applications required for successfully turning your food delivery service at work. Here is a glance at how the food delivery application works. 
A customer signs up the food delivery app (customer app after successfully downloading it from the Apple or Google Play store)
Customer searches for the restaurant or dish and adds to the cart
The customer completes the order process and proceeds to the checkout by selecting the online or cash on delivery option.
The restaurant or partner app gets a push notification on the new order. The partner app accepts the order. 
The customer app receives a push notification on the order confirmation. 
Partner app assigns the nearest driver after the order is prepared and about to deliver.
The nearest driver will get a push notification for the food delivery service. 
The driver will accept the request and pick up the parcel from the restaurant or cafe.
The customer app will get a push notification on the order update such as order on the way, driver about to reach, the driver reached, and order delivered. 
Later, the customer can send a review about the restaurant or the delivery service via the customer app.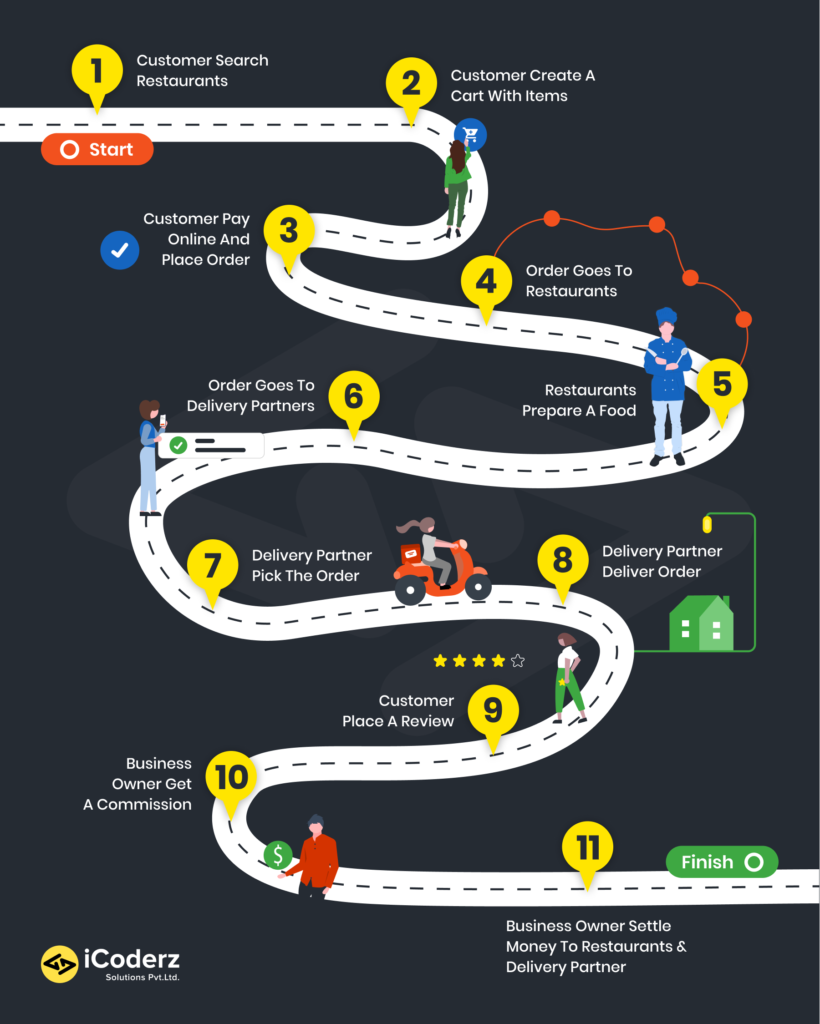 Technology Stack

 
There are different platforms for building your food delivery application. You can choose between a hybrid or native mobile app for designing your on-demand delivery application. 
At iCoderz Solutions, our food delivery app experts help you design an exclusive food delivery app using the mentioned technology stack.
For Payment – Google Money, Braintree, PayPal, Stripe, eWallets
Push Notifications- Push.io, Twilio 
User location Finding –  Google Places API
In-App Calling- Twilio, Nexmo
Direction Finding – MapKit, Google Maps
Database: Postgress, Integration, Cassandra, MongoDB, Mailchimp, Hbase.
For Registrations – Facebook SDK, Gmail SDK
For Storage – AWS, Google, Azure
Real-time Analytics – Flink, IBM, Spark, Bigdata, Apache, Cisco, Hadoop.
Payment Gateway Solution
Integrating secure and trending payment gateways is highly essential for the success of your food delivery app. 
| | |
| --- | --- |
| USA | Stripe, PayPal, Authorize.Net, Amazon Pay, 2CheckOut, PaySimple, WePay |
| India | Stripe, PayPal, Braintree, Razorpay, PayUBiz, DirecPay, Bill Desk |
| UK | WorldPay Online, Stripe, Klarna, Payoneer, Amazon Pay, PayPal |
| UAE | Telr, PayFort, Cashu, CC Avenue, PayTabs, 2CheckOut |
Popular Payment Gateways
At iCoderz Solutions, we help you integrate the popular payment methods in your food delivery application. Consult our mobile app experts for more information on integrating the different payment gateways in your food delivery application. 
How Much Does it Cost to Build a Food Delivery Application?
The cost for building a food delivery application varies from one mobile app development company to another. Also, the technology stack and developer's experience play a vital role in budgeting your app development service. 
iCoderz Solutions help you build customized food delivery applications with a basic and advanced set of features. We also help food delivery business owners to launch their app using our readymade food delivery solution, which can be easily white-labeled. 
Well, it varies somewhere between 15,000 USD to 40,000 USD for developing a full-featured food delivery application like Zomato, UberEats, or Swiggy. 
Need an Estimate for Building a Food Delivery App? Get it Within Hours


Types of estimates 
Hourly rate estimate for developing a food delivery app
Weekly rate estimate for developing a food delivery app
How to Make Money with a Food Delivery App? (Business Models)
Well, no one invests in a startup that has fewer returns. Investing in the food delivery application is pretty fruitful for business owners as they can benefit from various business models. 
Let me share some popular business models that your third-party food delivery app can acquire to make money.
Commission-based Model
The food delivery brand collaborates with the different restaurants or the cafe to get a fixed or percentage amount of revenue per delivery made via the food delivery application. 
Delivery Charges
Here the food delivery brand charges a particular delivery amount per delivery, which is earned as revenue by the food delivery application. Hence, here more numbers of deliveries lead to more income. 
Peak Hours Charge
This is quite a standard business model that is in trend during festivals or special days. The food delivery apps are observed to surge their delivery rates during peak hours or on special occasions/festivals. It helps in earning an incredible amount of revenue. 
Advertising 
One of the most exciting and easy ways to earn money with your food delivery app is to advertise the restaurants or their ongoing offers on your app. Generally, restaurants prefer to get advertised to enhance their sales, and yes, they pay a handsome amount for the marketing of their outlet. 
Why iCoderz Solutions for Food Delivery App Development?
iCoderz Solutions is one of the prominent on-demand app development companies. We have developed food and grocery delivery apps for many brands across the world. Some of the food delivery apps we have designed so far include the Chowman App, Bunana App, Belboy App, Ahara App, and I'M So Hungry App. These are food and multi-vendor food delivery applications designed by our on-demand mobile app experts at iCoderz Solutions. Clicking on the link will redirect you to the app's portfolio page.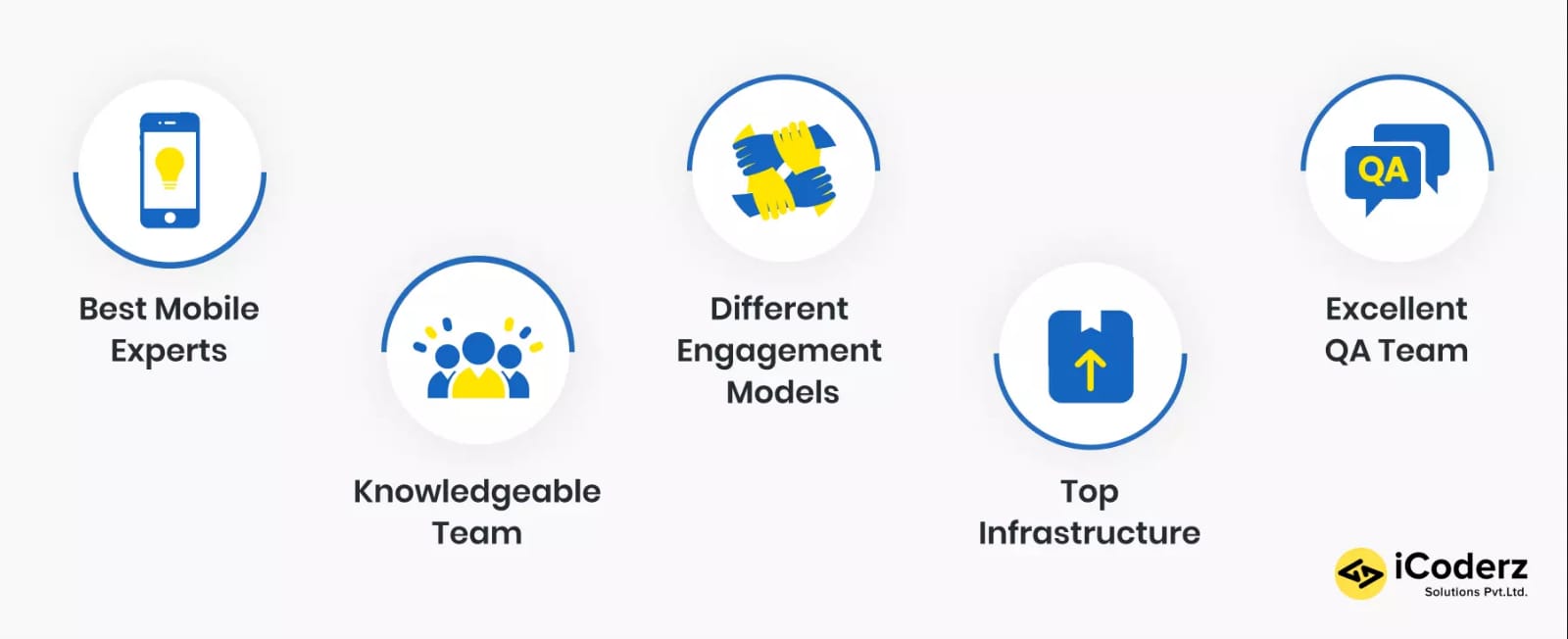 Conclusion
Launching your food delivery business takes a long journey, from research to the basics to technical and on-field challenges. iCoderz Solutions have been associated with different food delivery business owners for a longer time. We have been in this field for quite a long to help business owners like you design and develop an excellent food delivery app.  Consult our experts by logging on to our official website.