Tips & tricks
How to Download Instagram Reel Audio: 5 Foolproof Tricks
Next time you're scrolling through Instagram Reels looking for inspiration for your own video content, what do you do if you run into an audio that you love and want to reuse?
There are a few different ways to save or download Instagram Reels audio clips to reuse later. Throughout this article, we're going to walk through five foolproof tricks to either download or save your favorite audio clips for later.
Get your free pack of 5 customizable Instagram Reel Cover templates now. Save time, get more clicks, and look professional while promoting your brand in style.
Can you download audio from Instagram Reels?
The short answer? Yes.
The long answer is that you have to use external tools to do so — Instagram itself doesn't support the capability to download audio right from an Instagram Reel.
However, the process in itself is still easy enough. You can either download audio off of Instagram and save it to your device, or save audio to your Instagram account to reuse later.
How to download Instagram Reel audio
If you want to download an audio clip from an Instagram Reel and save it to your device, there are four ways you can do this.
1. Use a third-party Reels audio download tool
There are a number of third-party websites that can help you download Reels audio files from the video link for free. A few of these include:
ReelSave.App
ReelsDownloader.io
Insta.SaveTube.Me
Reel Saver
Here are the steps to follow, regardless of which tool you choose.
1. Choose the Reel audio that you want to download. This might be a catchy song that you think could fit one of your videos or a trending sound clip that you want to use for future content.
Here's one we chose from Visme, using the Owen Wilson "wow" compilation.
2. Tap the Share icon on the right-hand side. It looks like a paper airplane.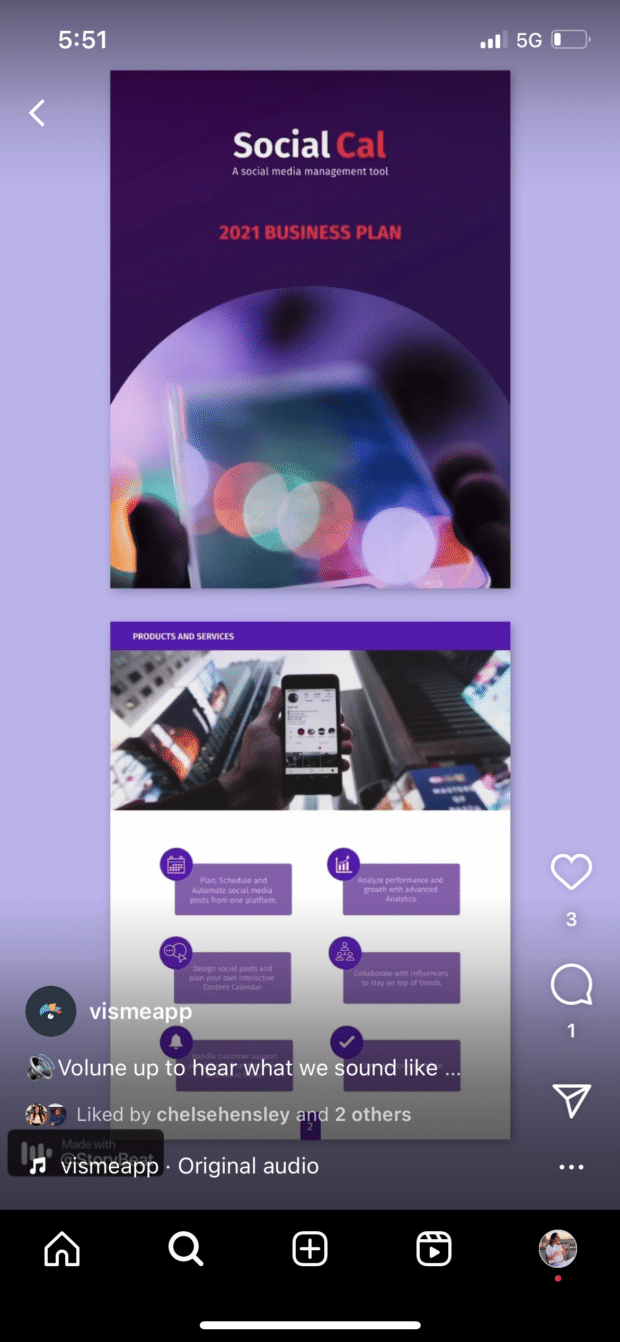 3. Click the Copy link option at the bottom of the popup screen.

Or, if you're doing this on desktop, simply open the Reel and copy the URL in the browser box. In addition, if you have an iPhone and Mac/MacBook, you can connect the two so that the URL you copied from your phone can be easily pasted onto your computer.
4. Paste the link into your Instagram Reel audio downloader tool of choice. We're going to use Reel Saver, but they all work pretty much the same way.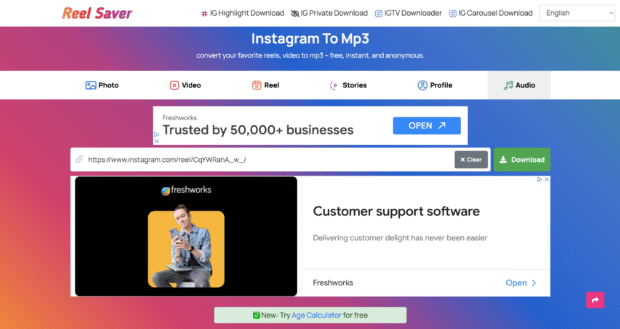 5. Click the Download button to extract the audio file from the Reel. With Reel Saver, you'll get a chance to play the audio file before clicking the Download 1 button.

You'll now have the audio clip downloaded to your device.
With Reel Saver, it's downloaded as an M4A file. Other tools provide the download in an MP3 format. Be sure to choose the right tool based on your needs.
2. Use a video-to-MP3 converter
There are several video-MP3 converter tools you can use for this method as well:
FreeConvert
CloudConvert
OnlineConverter
There are also iPhone and Android apps you can download and complete the full process on your phone.
To download Instagram Reels audio with this method, use the following steps.
1. Choose the Instagram Reel you want to download. We're going to use this example from our own Instagram that uses a trending audio clip:
2. Download the Reel to your device. To do this, you'll follow similar steps as last time—tap the paper airplane Share icon in the right hand side. But this time, you're going to tap Add to story.

3. Save the story to your phone. Tap the icon with the three dots, then click the Save option to download the video to your device.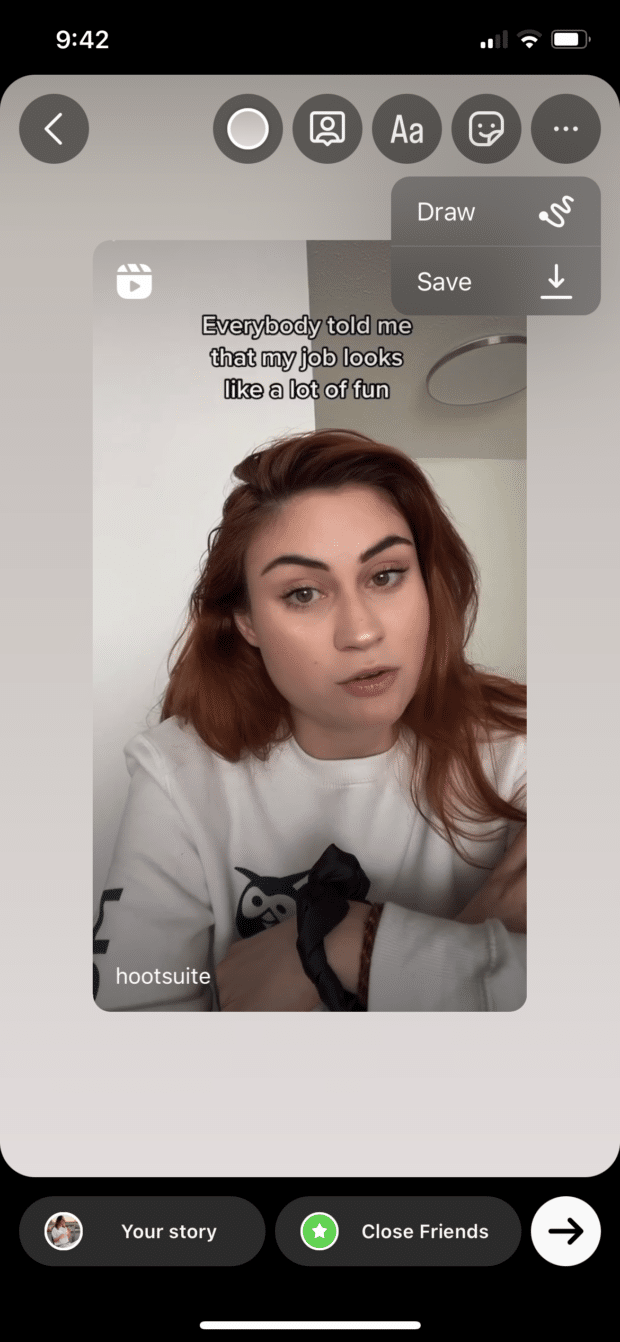 4. Convert the video into an MP3 audio file. You can either send the video file to your computer or download an app on your phone to do the conversion.
We AirDropped the saved video to our device to use the FreeConvert.com conversion tool. Choose your file or drag it onto the Choose Files section.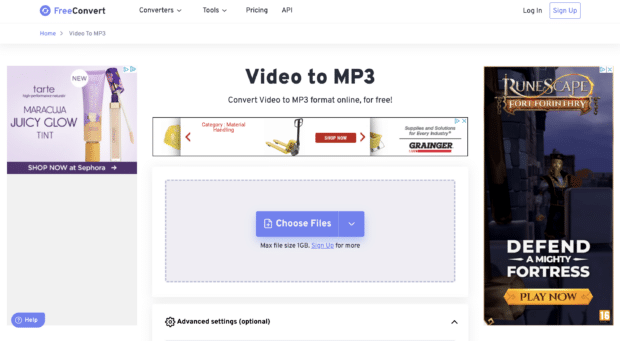 Then, click Convert to convert the file (or files if you're converting multiple at one time) to an MP3 audio file.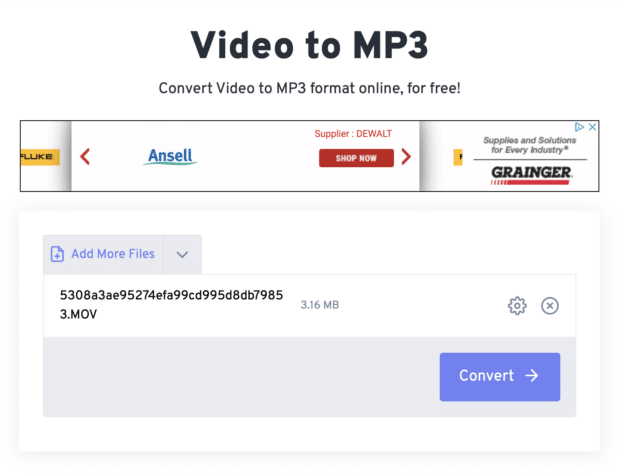 You'll then be able to click Download next to your newly converted file.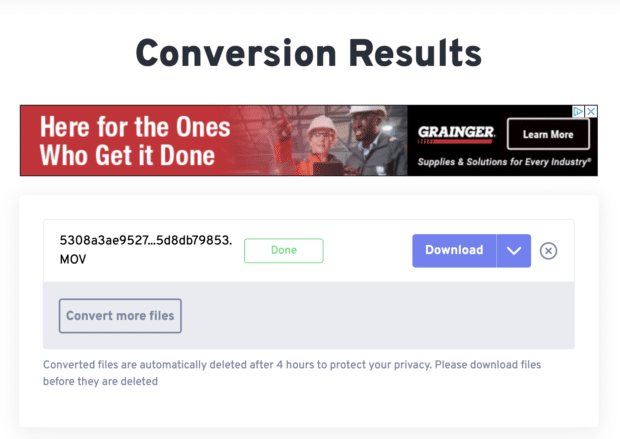 You'll now have the MP3 file that you can add onto a video in your preferred video editing tool.
3. Change the file extension
This method can be done on an Android smartphone device or on a computer. You'll essentially just change the file extension at the tail end of the file from a video extension to an audio extension. Doing so changes the format of the file, converting it into an audio file.
Follow these steps to complete this action from your Android device.
1. Download the Reel to your smartphone using the same steps we covered in the last method — tapping to add it to your story then saving it from there.
2. Navigate to your smartphone's file. These will be in the Files by Google app on your Android device.
3. Long-tap on the video to select it and access additional settings. Tap the icon with the three dots labeled More.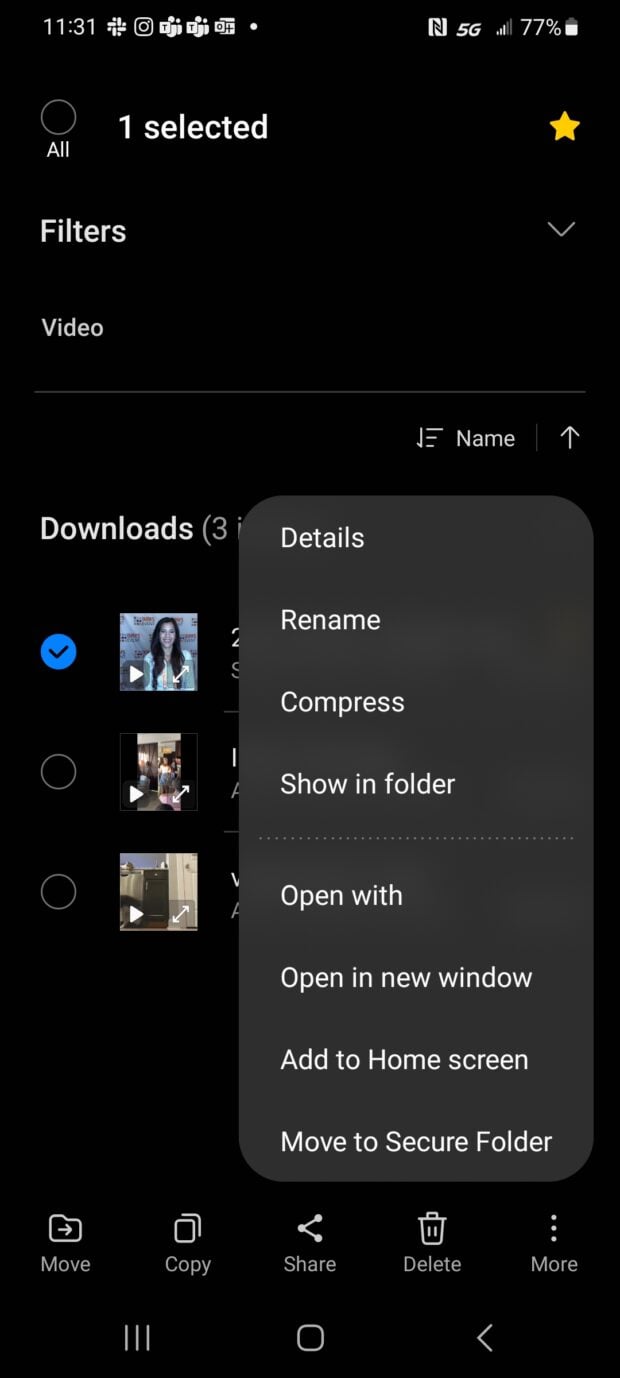 4. Tap Rename on the popup menu. Then remove the "MP4" extension and replace it with "MP3."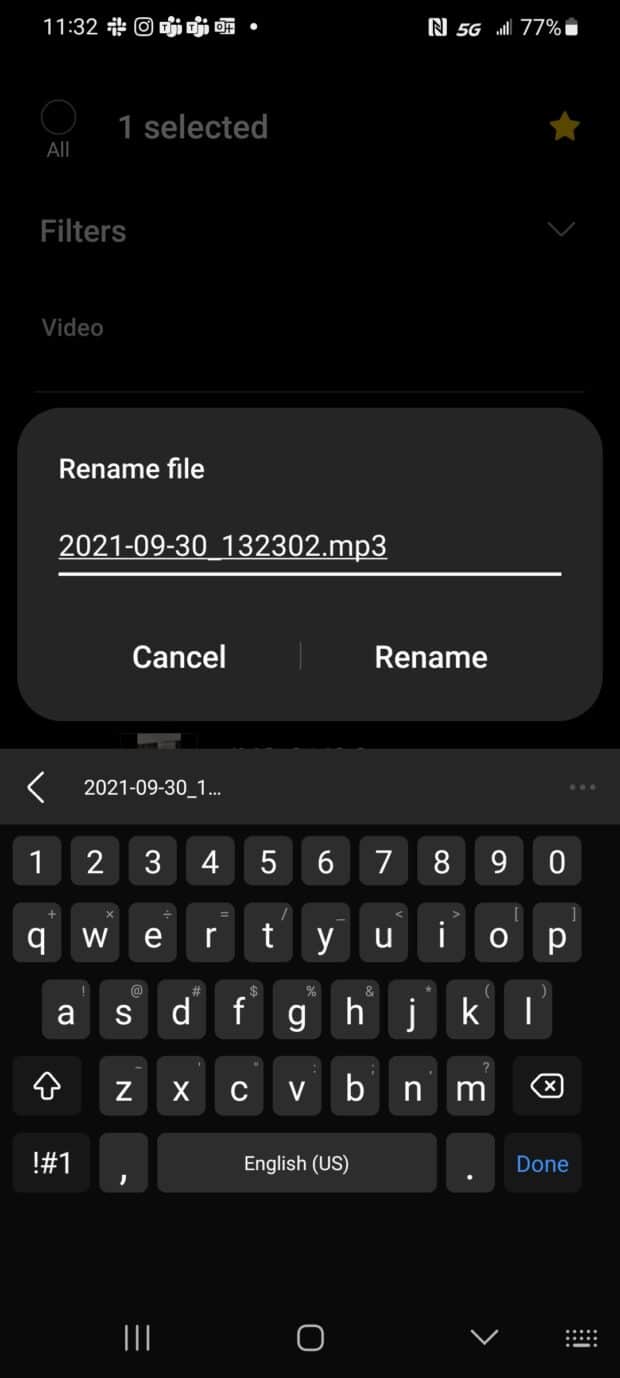 You'll then have an audio file on your phone that you can use to add to your Instagram Reels and other videos.
To do this on your desktop, follow these steps.
1. Download the video using a tool on your computer or send it from your phone to your computer.
2. Open your Finder to access the newly downloaded video. Right click on the file and click Rename from the dropdown menu.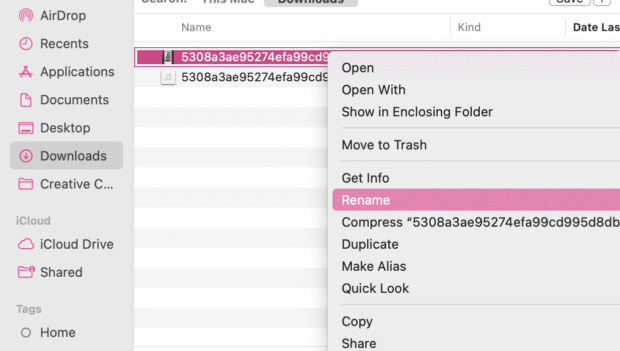 3. Remove the "MP4" or "MOV" file extension and change it to "MP3." The file will convert into an audio file.

While these screenshots were taken on a MacBook, the process is the same on a PC. Simply open your file manager, find the Instagram Reel, and rename it to change the file extension.
4. Use the VlogNow video editor
You can also use the VlogNow or VN Video Editor app on your phone. With this tool, you can immediately add audio from an Instagram Reel to your own video. Download the app for either iPhone or Android to get started, then follow the steps below.
1. Download the Instagram Reel following the method we showed you earlier.
2. Record the video you want to publish to your own Reels. Then, open the VN Video Editor app and tap the + icon in the bottom right corner. Tap the New Project button to open your video from your camera roll.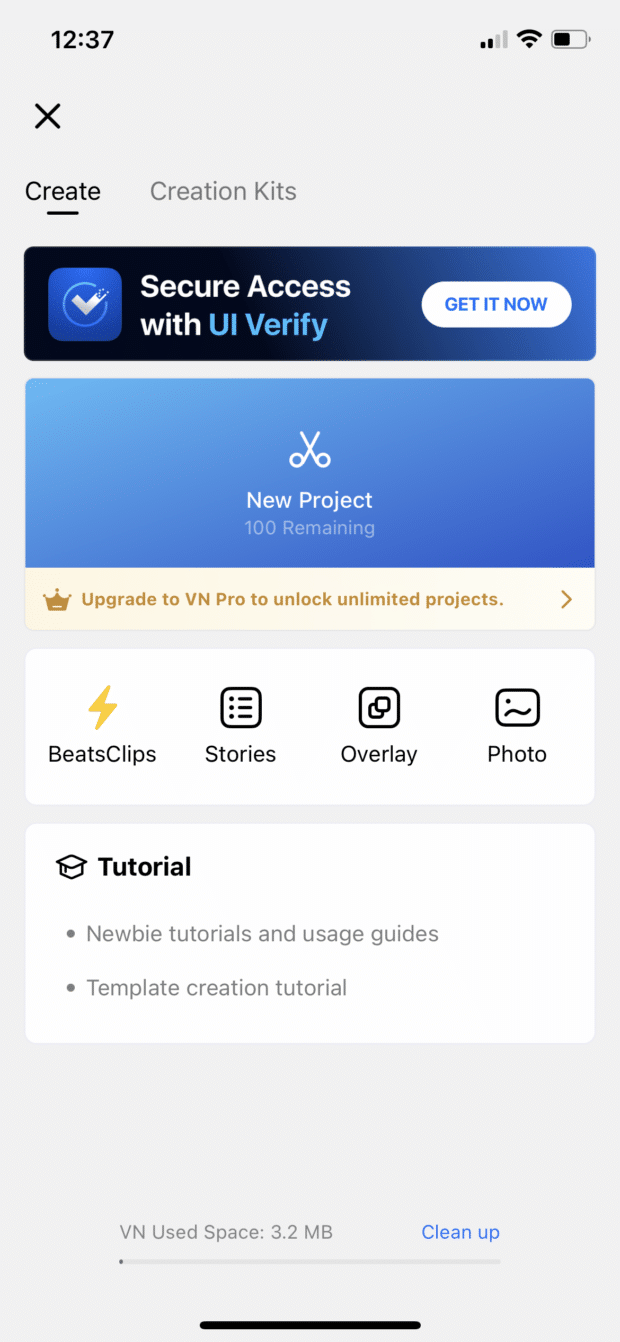 3. Once you've opened your video in the app, tap the Tap to add music line under the timeline editor.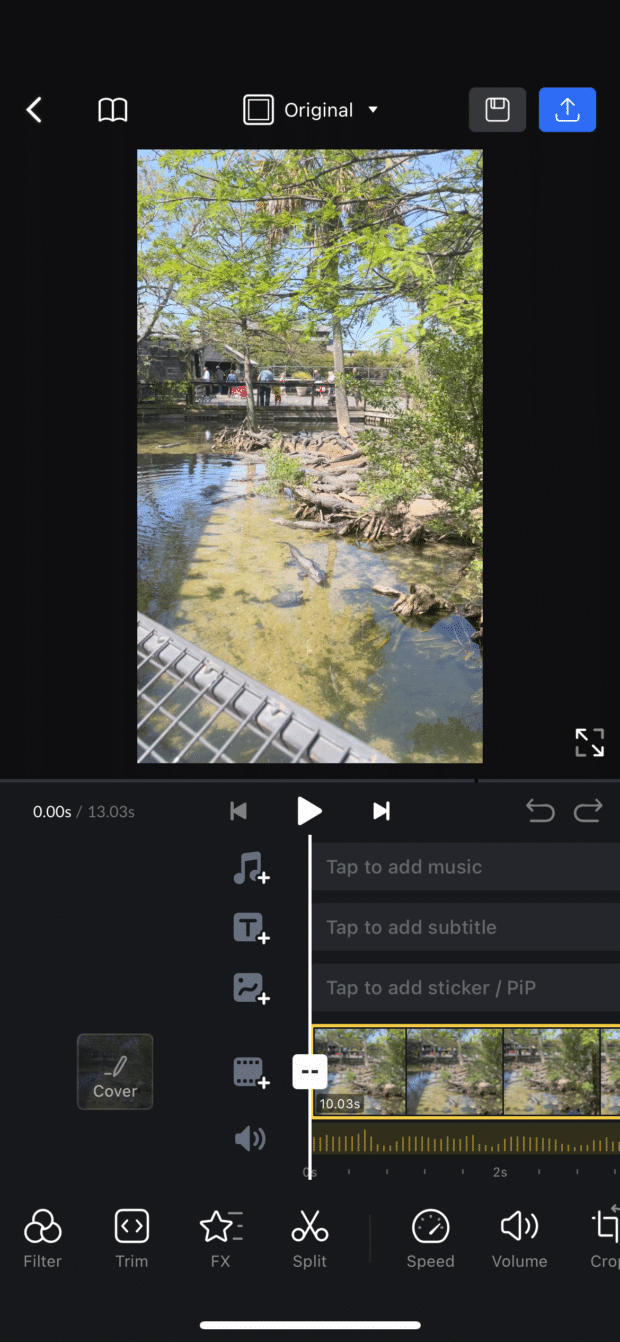 4. Tap Music under the Insert popup that appears, then go to the My Music tab.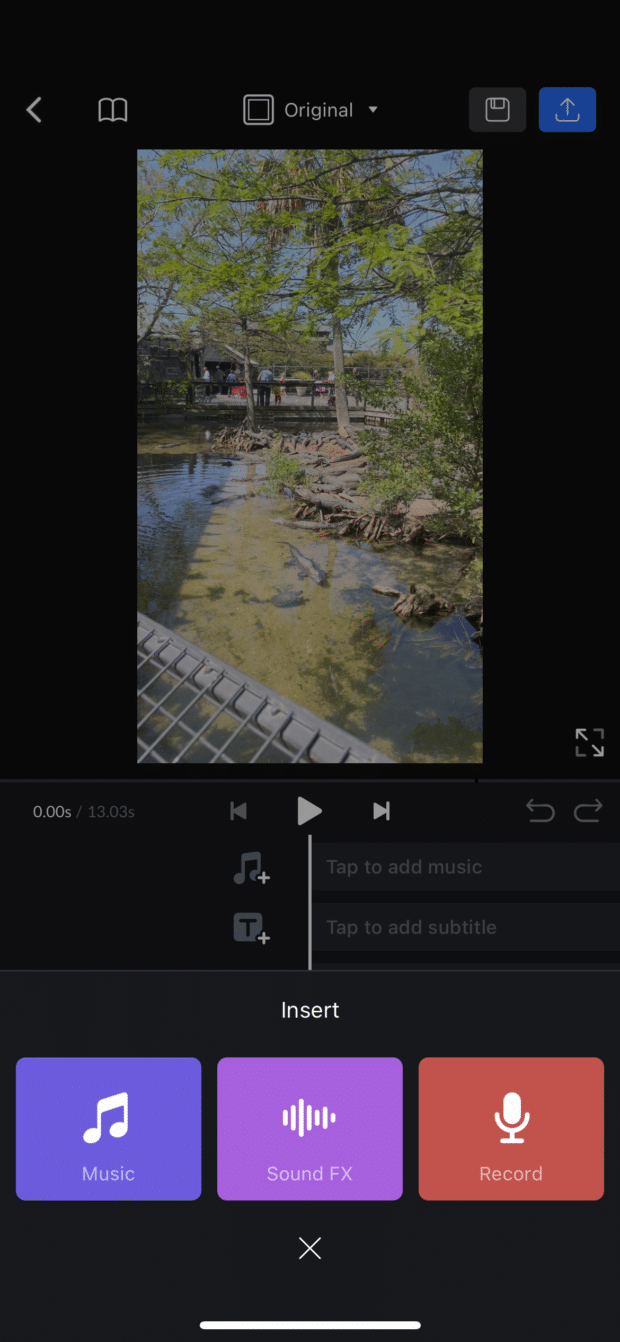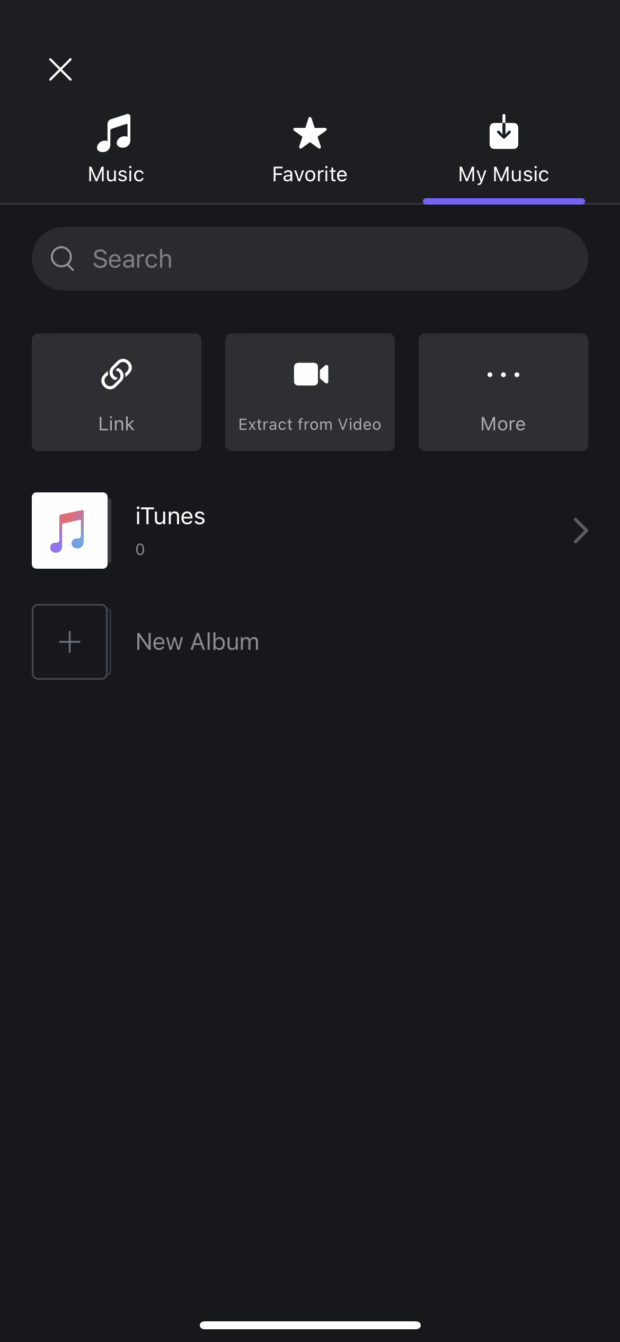 5. Tap the Extract from Video button, then select the Instagram Reel you downloaded from the videos in your camera roll. Add it to an album, open the album, and tap Use next to the newly imported audio file.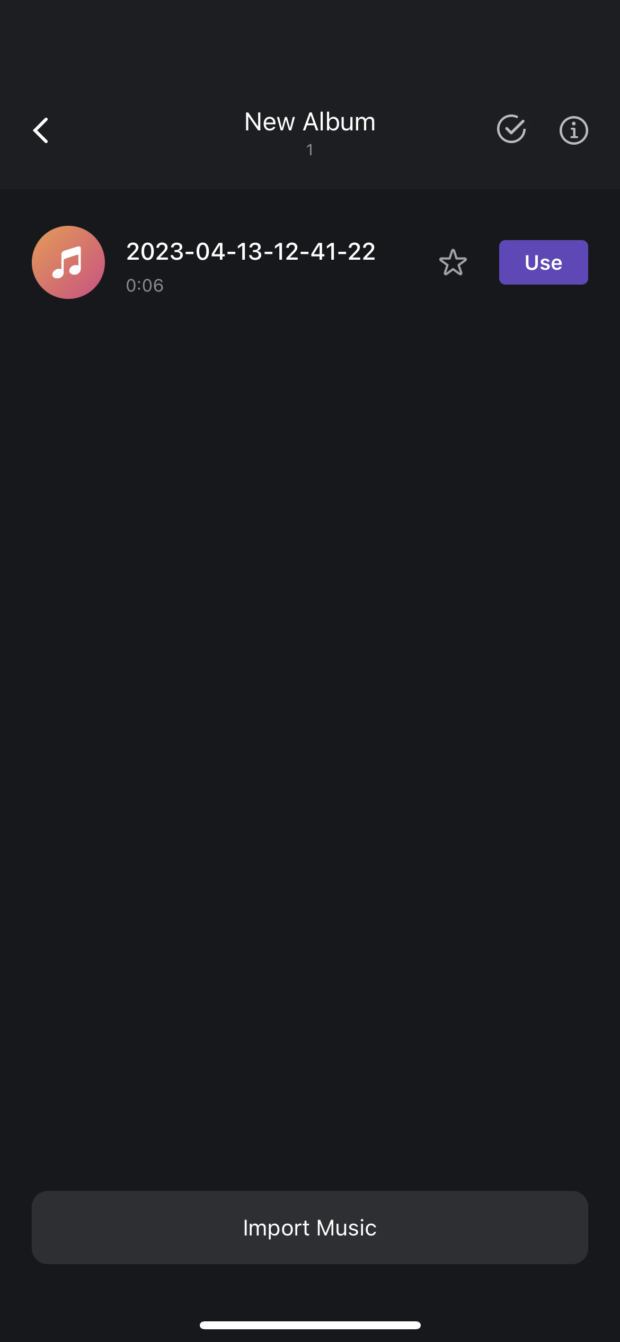 You can then save your new video and get it ready to upload to Instagram Reels!
How to save Instagram Reels audio to use later
All of the above methods involve downloading or extracting the audio onto a device to then add onto a video. However, you can also complete all of these tasks right inside of the Instagram app.
Follow these steps to manage all of your video creation right inside Instagram.
1. Find the Instagram Reel audio you want to reuse in your own video. In this example, we're going to use this audio clip from Casper:
2. Tap the audio name at the bottom of the screen, then tap the Save icon in the top right corner—it looks like a flag/bookmark. It will turn from a black outline and white insight to fully black when you've successfully saved the audio.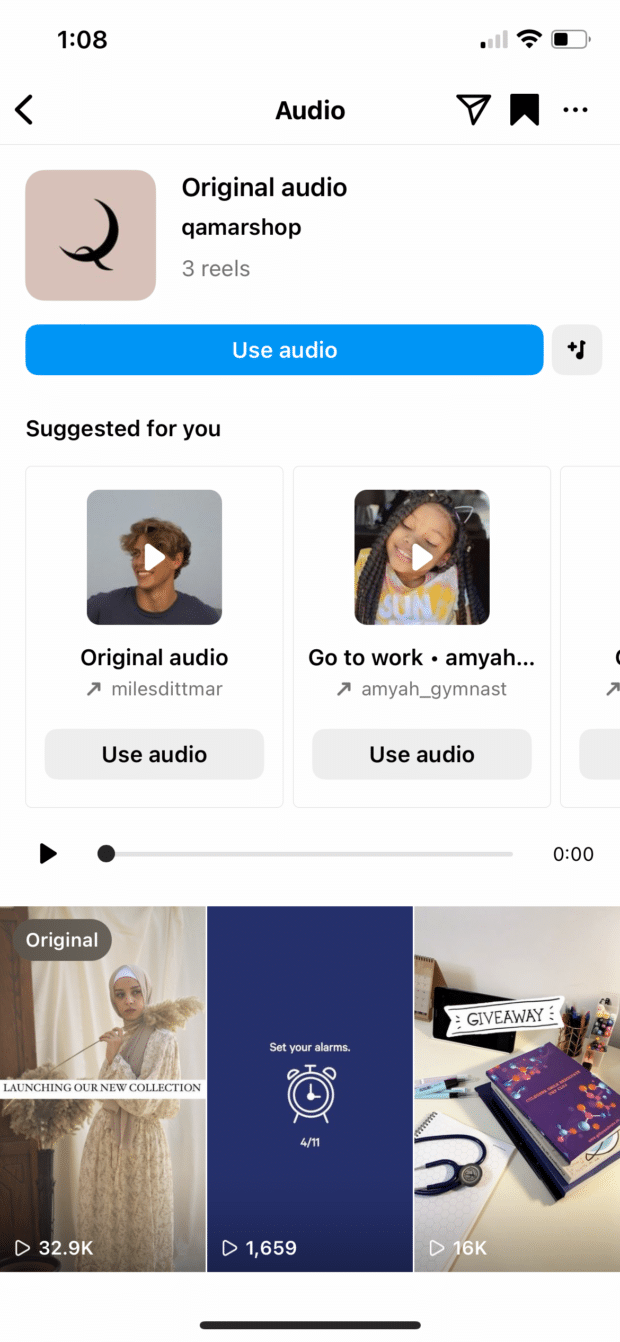 Keep in mind that you can also tap Use audio if you have your video ready to go already or are ready to record. Saving it keeps it safe for later so you can easily come back to it.
3. Go to your Saved folder on Instagram. You can access this by tapping to your profile, tapping the hamburger menu (three parallel lines), then tapping Saved. You'll have a folder for "All Posts" and a separate folder for "Audio."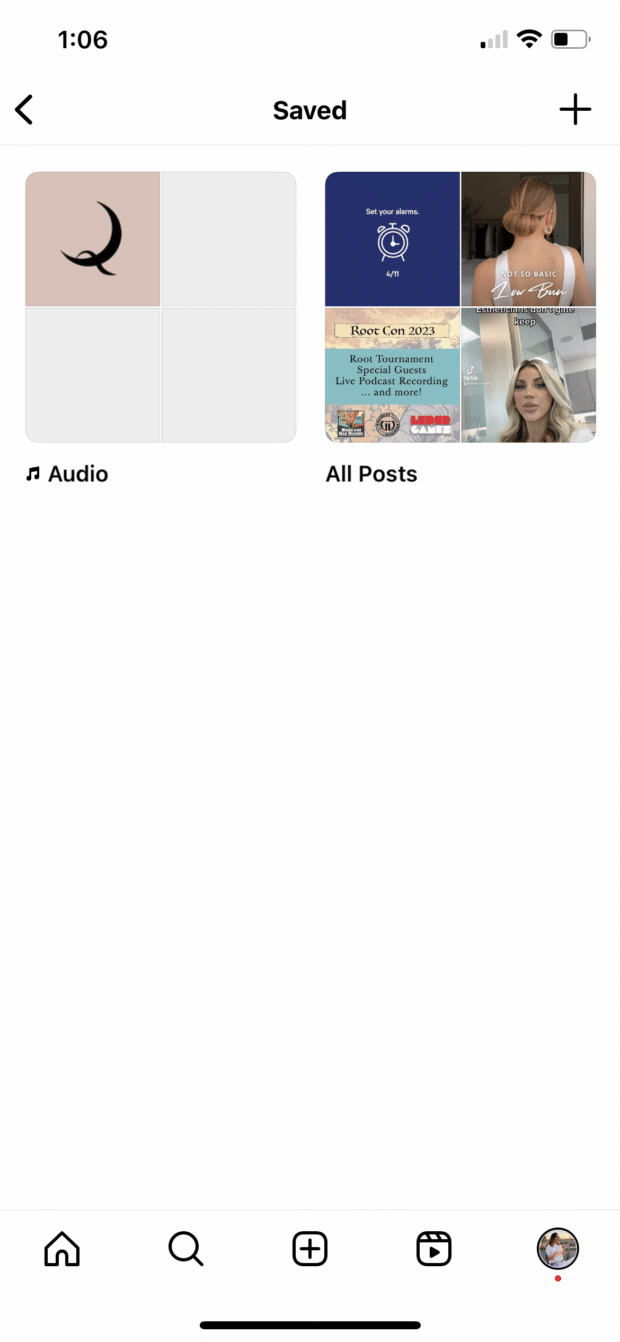 4. Open the "Audio" folder, then tap on the audio file to open it up. From here, you can tap Use audio when you're ready to create your video.
Using this method is great for when you're doing a lot of brainstorming for your Instagram Reels strategy and want to save several audio files to use later.
Start building your Instagram presence using Hootsuite. Schedule and publish posts directly to Instagram, engage your audience, measure performance, and run all your other social media profiles — all from one simple dashboard. Try it free today.
Get Started
<!–
–>
Save time and stress less with easy Reels scheduling and performance monitoring from Hootsuite. Trust us, it's reely easy.
Free 30-Day Trial
The post How to Download Instagram Reel Audio: 5 Foolproof Tricks appeared first on Social Media Marketing & Management Dashboard.