Tips & tricks
TikTok Promotion: How to Boost Your Discoverability in 2022
If you're being a hero with your TikTok content and insisting on organic reach… stop it. There's no shame at all in boosting a post with the TikTok promotion feature. Even the best of us need a helping hand sometimes, like that time I got stuck inside a pair of jorts at the Gap.
Not to be all "peer pressure" on you, but every social media platform today features some sort of paid boosting option. You can boost posts on Facebook, Instagram, and LinkedIn with just a few taps, and reach audiences far beyond your own organic network.
In this post, we're digging into everything you need to know to put TikTok's Promote feature to work for you. Consider this a social ads 'booster shot,' if you will. (I'll show myself out.)
Bonus: Get a free TikTok Growth Checklist from famous TikTok creator Tiffy Chen that shows you how to gain 1.6 million followers with only 3 studio lights and iMovie.
What is TikTok promotion?
The TikTok Promote feature lets you turn your existing TikTok videos into ads with just a few taps.
The Promote feature is available for all TikTok accounts, right in the TikTok app. Tailor the promotion to your budget, timeline, and target audience… and then kick back as TikTok distributes your video far and wide.
Promote can help you gain views, traffic to your website, or build a bigger following. Basically, if you've got a few bucks to spend, Promote is a shortcut to supercharge your reach on TikTok.
When your campaign is done, you can access all sorts of juicy analytics about your promoted TikTok video's performance. Metrics like:
Views
Likes
Shares
Comments
Website click-through rate
Audience age and gender
Before you start mashing the Promote button, though, note that there are a few restrictions to what kind of videos you can promote.
The Promote feature on TikTok only works for public videos
You can't use Promote on videos with copyrighted sound. (You'll have to build your soundtrack from TikTok's commercial music library of 500K+ sound clips. Or, original songs and sounds are obviously OK, too.)
Videos may be rejected for Promote if they violate TikTok's guidelines (more on that below!)
Using a little of that boost magic on your TikTok content absolutely isn't cheating—it's just common sense.
There are plenty of other ways to advertise on TikTok or level up your organic TikTok marketing, but TikTok Promote is the best of both worlds. Promote takes the creative, engaging TikTok content you've already created, and uses the power of TikTok's mighty algorithm to help it target a fresh new audience on the For You Page.
How to promote on TikTok
TikTok's Promote feature is pretty intuitive, but I'll walk you through it step by step anyways. (I'm a real sweetie despite what those people at the Gap are saying about me.)
Before you begin: if you have an Android phone, you'll be able to pay for your TikTok promotion with a credit card, but if you're on iOS, you'll need to load your TikTok coins first.
1. Make a video and post it to TikTok. New to the app? Read up on how to create a TikTok video here, and then come back for step 2.
2. View the video, and tap the "…" icon with three dots on the right-hand side. This will open up your video settings. Tap the Promote icon (it looks like a little flame).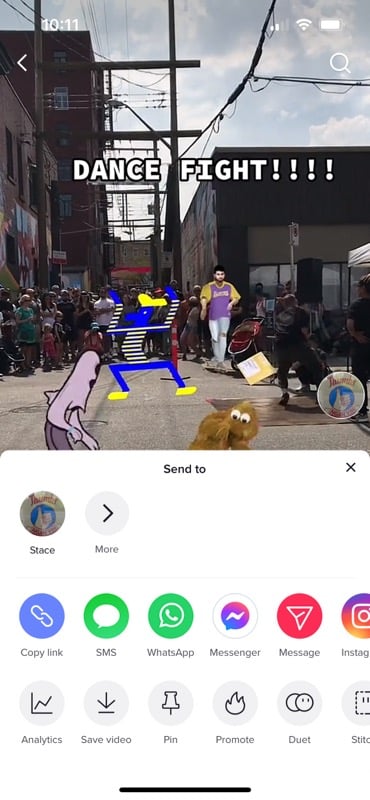 3. Choose your goal for promoting the video: either more video views, more website visits, or more followers.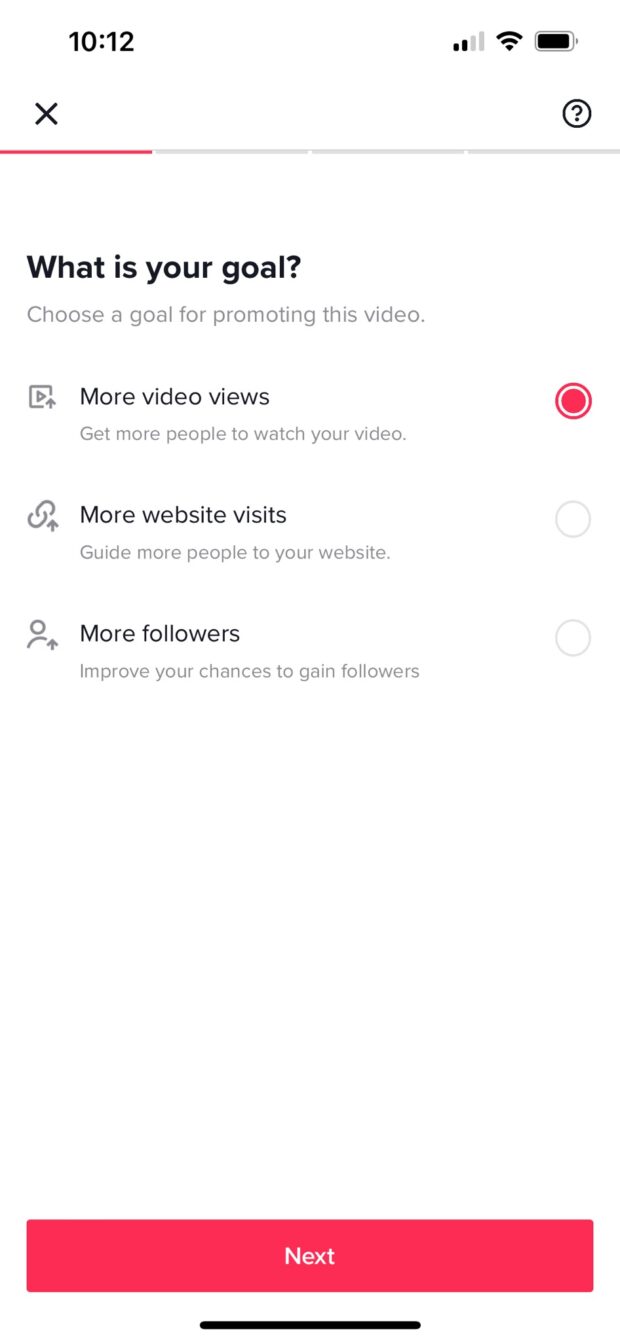 4. Choose your audience. TikTok can choose for you, or you can customize your own, based on gender, age range, and interests.
5. Set your budget by choosing how much you'd like to spend each day, and how long you'd like the promotion to run. As you tweak either of those numbers, you'll see your "estimated video views" change. Tap next when you're happy with your budget.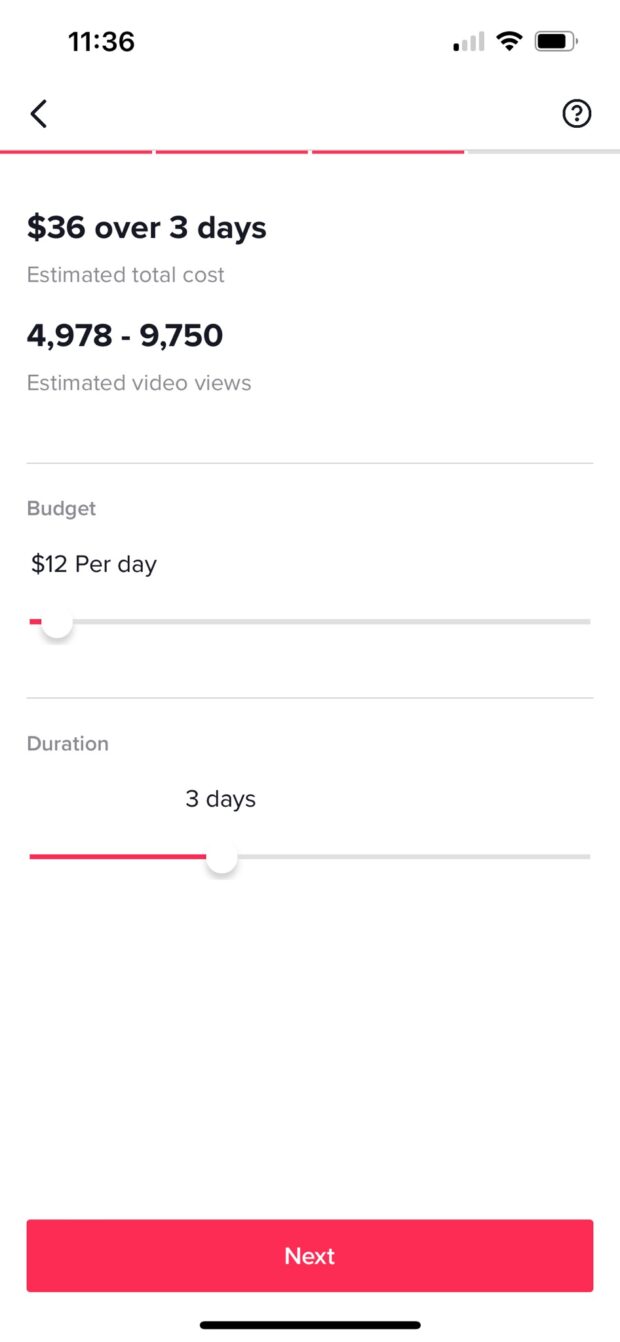 6. On the Overview page, you'll get one last chance to review your choices before you implement your campaign. Then, your video will be submitted for approval.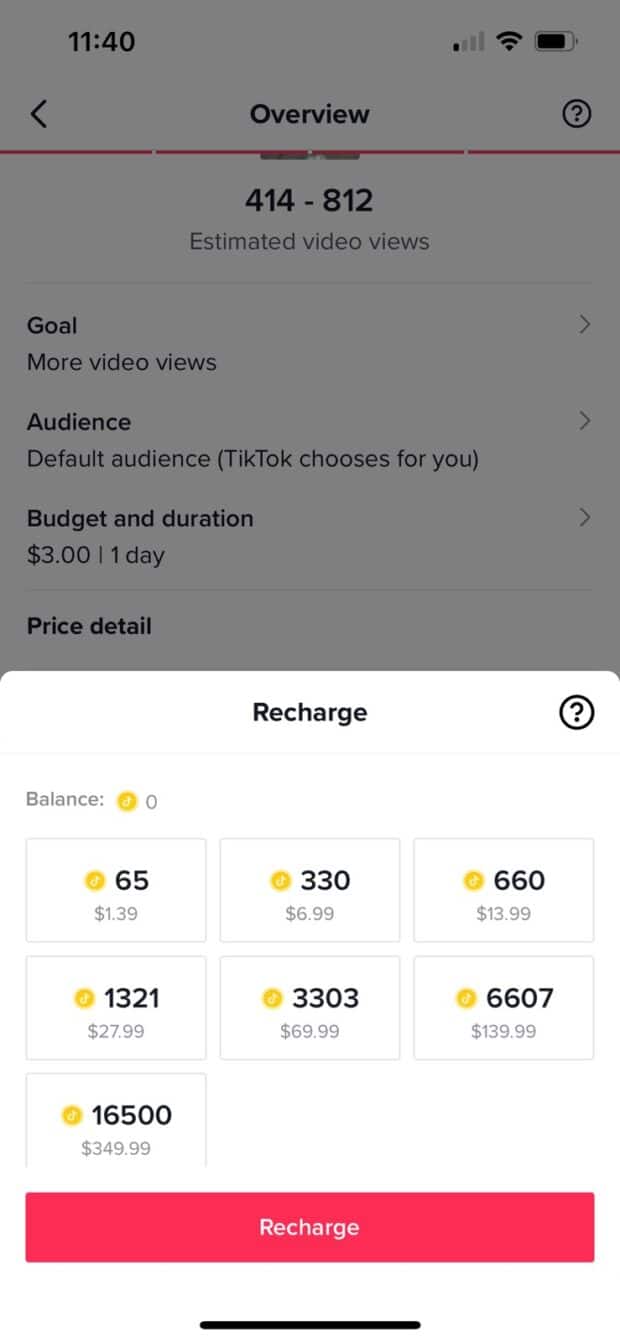 Bonus: Get a free TikTok Growth Checklist from famous TikTok creator Tiffy Chen that shows you how to gain 1.6 million followers with only 3 studio lights and iMovie.
Download now
Another way to access TikTok Promote is to find it in the Creator Tools Menu.
Go to your profile and tap the three horizontal lines in the top right corner. This will bring up a menu on the bottom of your screen — tap Creator Tools.
Tap Promote.
Here, select one of your videos under the "promotable videos" heading and follow steps 3-6 above.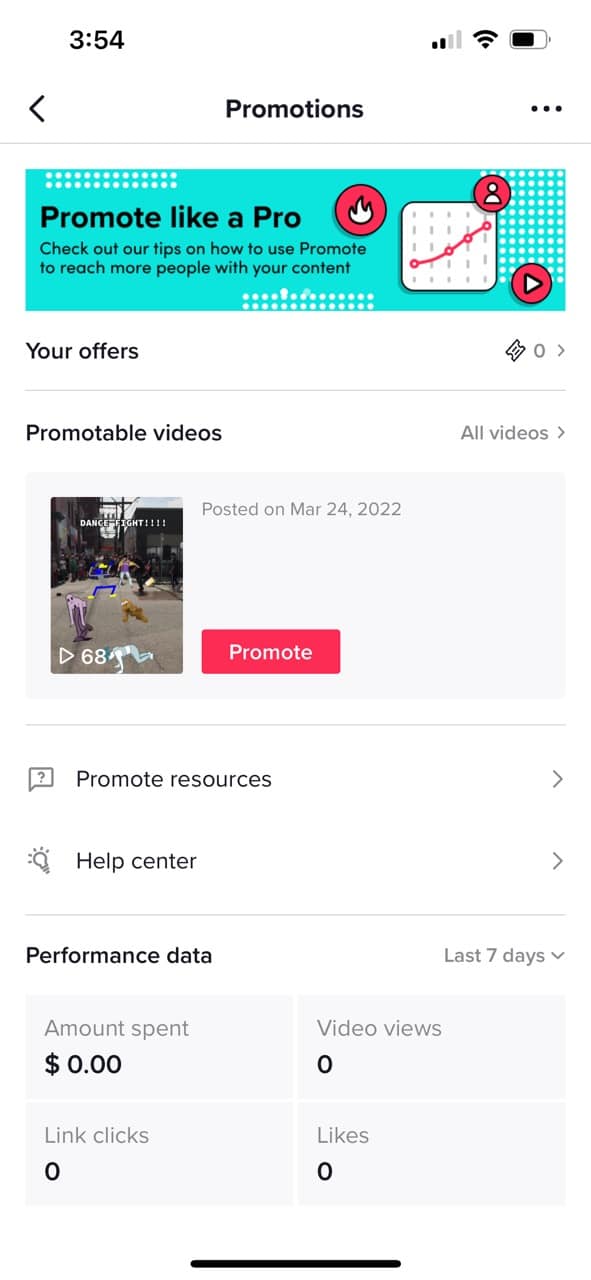 How much does TikTok Promote cost?
You set your own budget for TikTok Promote, and choose how much to spend over a set number of days. The minimum spend for a TikTok promotion is $3 USD per day, and the maximum spend is $1,000 per day.
TikTok will give you a range of estimated video views as you set your budget and timeline. As a broad benchmark, TikTok says you can reach up to 1,000 views for as little as $10.
That being said: keep in mind that the specific audience you're targeting can impact your reach.
You'll be able to reach a lot more people if your targeting is broader (e.g. all women aged 13-54) but if you're narrowing in on a super-specific audience (e.g. males aged 55+ who are interested in beauty and personal care) you may find your estimated views are a little smaller. (In that case, though, you're probably getting quality, even if you're not getting quantity.)
Is TikTok Promote worth it?
The beauty and the curse of social media: you never really know what's going to click.
The fact is, nothing is guaranteed. You can memorize everything about the TikTok algorithm. You can post at the best time every day. And you can do anything else possible to optimize your organic reach… and still come up short.
So if you just can't seem to crack that For You Page and want a little help, then yes, TikTok Promote is worth it.
Depending on your specific goals and targeted audiences, TikTok Promote can help you:
Reach more users
Reach specific, targeted demographics of users
Gain new followers
Gain likes, shares, comments
Drive traffic to your site
Threadbeast, for instance, promoted a video announcing a giveaway and lowered their cost per acquisition by 13%.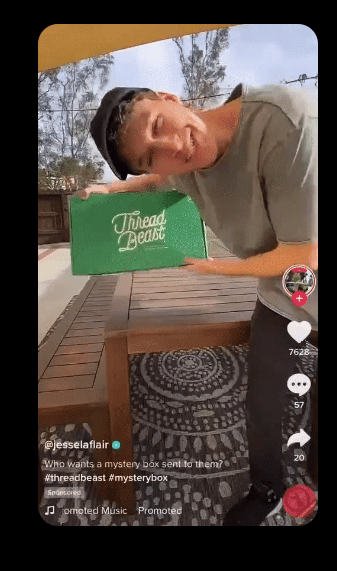 Augmented reality app Wanna Kicks, meanwhile, boosted the reach of a demo video and received 75,000 app installs over the course of the campaign.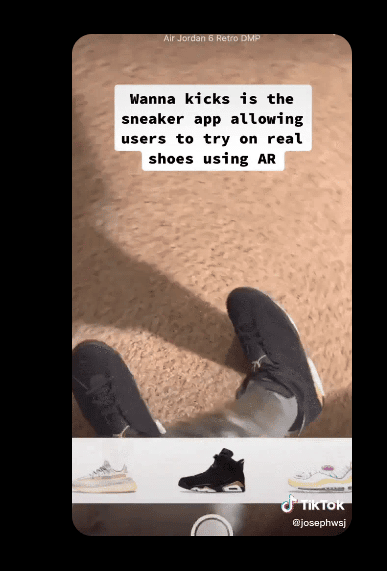 By spending a little money directly in the app to boost your content, you can guarantee you'll get some more views from real users. (Paying for comments, likes and followers from sketchy third-party sites, on the other hand, is very much not a great idea.)
The Promote feature obviously can't promise that people will like what they see — but at least you'll know they've seen it.
Reasons TikTok may not approve your promotion
Just because you've gone through the not-so-rigorous six-step process to promote your video, doesn't mean that TikTok is going to approve it.
There's a review process every promoted video needs to go through before it starts showing up in people's feeds. If your campaign isn't approved, it may be because of one of the following reasons:
Your ad makes an exaggerated or misleading claim.
The ad has spelling or grammar mistakes.
Your ad has distracting capitalization or uses symbols in place of letters.
Poor quality video, image or audio.
The products or prices in your video aren't consistent with what you're actually selling.
The website your video is promoting isn't functional or doesn't follow local regulations
Your ad has an unauthorized third-party logo
Shocking, sexual, gruesome, or graphic content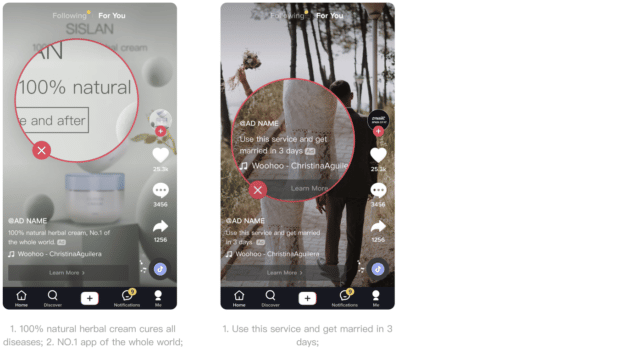 Source: TikTok
More details about TikTok's advertising standards can be found here.
How to cancel a promotion on TikTok
Changed your mind about promoting your video? No problem. You can easily cancel your TikTok campaign.
It's just like setting up TikTok Promote, but in reverse.
Just go to your promoted video, tap the three dots on the bottom right-hand side, and tap "Close promotion."
You'll only be charged for the number of days your campaign actually ran.
We've had a lot of fun here today, learning about how to use Promote and reminiscing about why I'm banned from the Gap. But if you remember one thing about TikTok Promote, it's this: Promote is just a tool to give your content more reach; it can't force people to like or engage with your video.
Connecting with your audience starts with great content. Learn more about making TikTok videos with authentic impact here.
Grow your TikTok presence alongside your other social channels using Hootsuite. Schedule and publish posts for the best times, engage your audience, and measure performance — all from one easy-to-use dashboard. Try it free today.
Get Started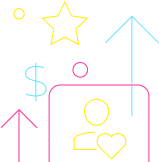 Grow on TikTok faster with Hootsuite
Schedule posts, learn from analytics, and respond to comments all in one place.
Start your 30-day trial
The post TikTok Promotion: How to Boost Your Discoverability in 2022 appeared first on Social Media Marketing & Management Dashboard.
Source link