Let's face it, TikTok is the moment.
And with 1 billion monthly active users, it's time to join the action and get your brand out there to a wider audience!
Want to learn how to make a TikTok Video but don't know where to start? Don't sweat it! We broke down all the steps and tools you'll need to make a viral-worthy first video and make sure your debut is anything but cringe.
Download the full Social Trends report to get an in-depth analysis of the data you need to prioritize and plan your social strategy in 2022.
How to create a TikTok account
First things first, you'll need to create a TikTok account.
There are different ways to sign up for one: you can use your phone number, email address or social media account. Here's how to do it using your phone number.
1. Download TikTok from Google Play or the App Store.
2. Open the TikTok App on your iPhone or Android.
3. Click the "Me" or "Profile" icon at the bottom-right of your screen.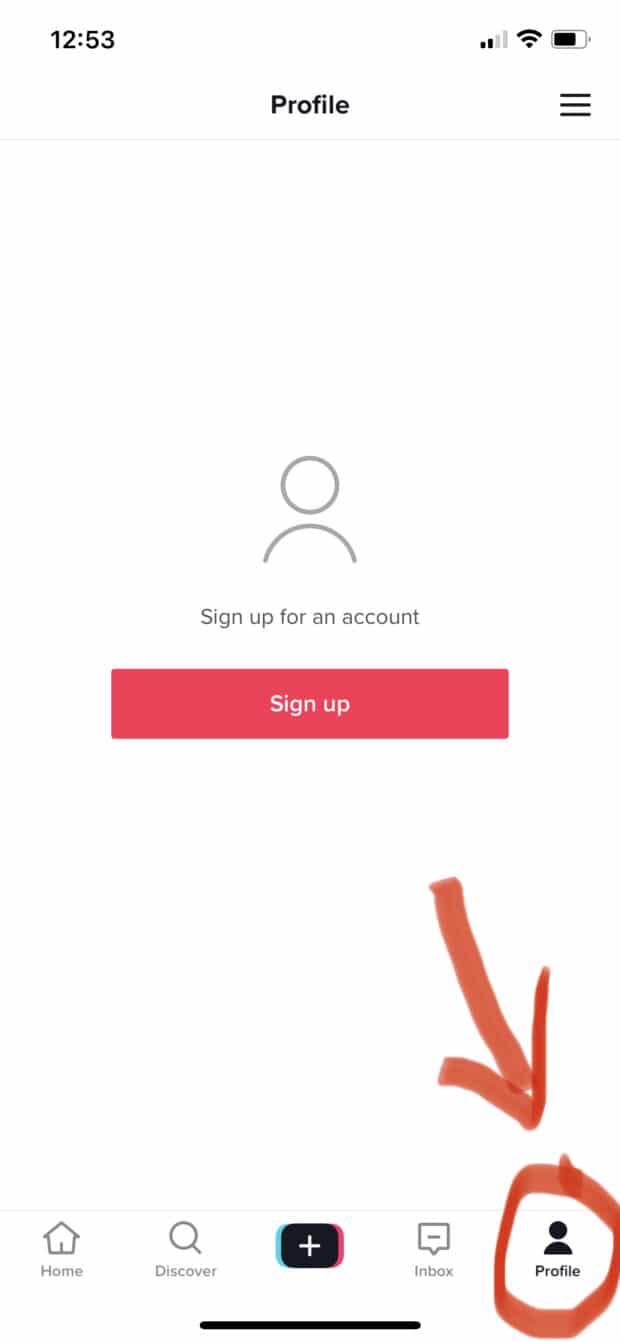 4. Choose a method to sign up (we're choosing "use phone or email")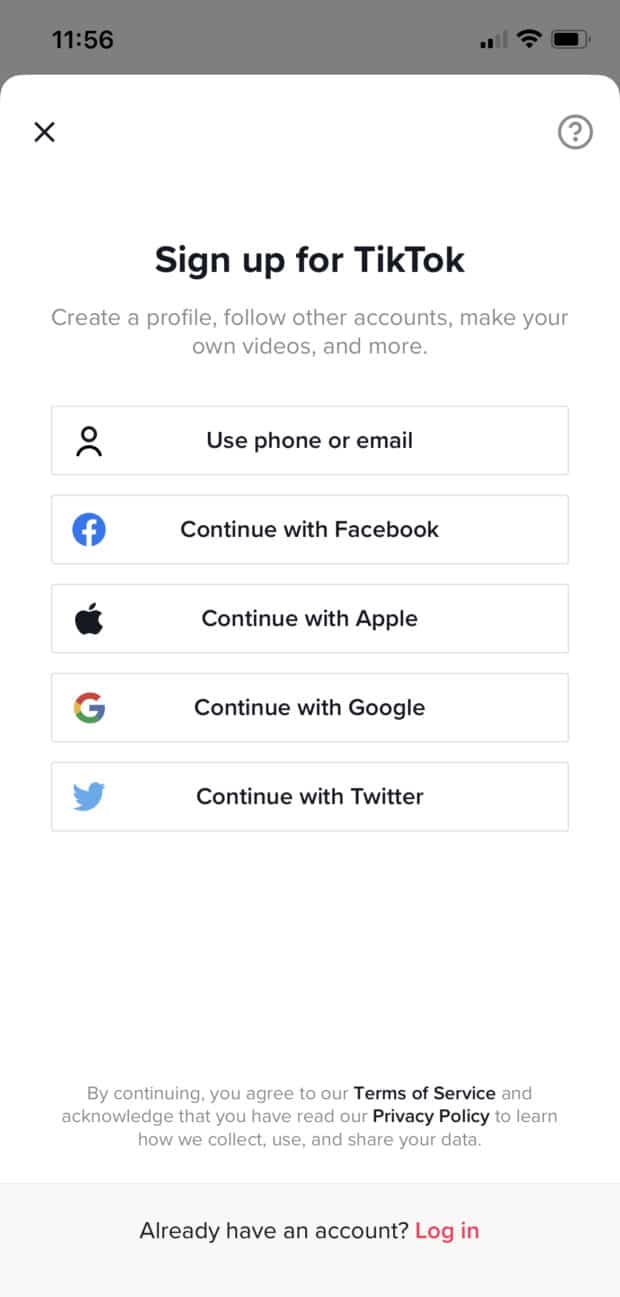 5. Enter your birth date and phone number (make sure this is accurate because it's how you'll retrieve passwords and confirm your account).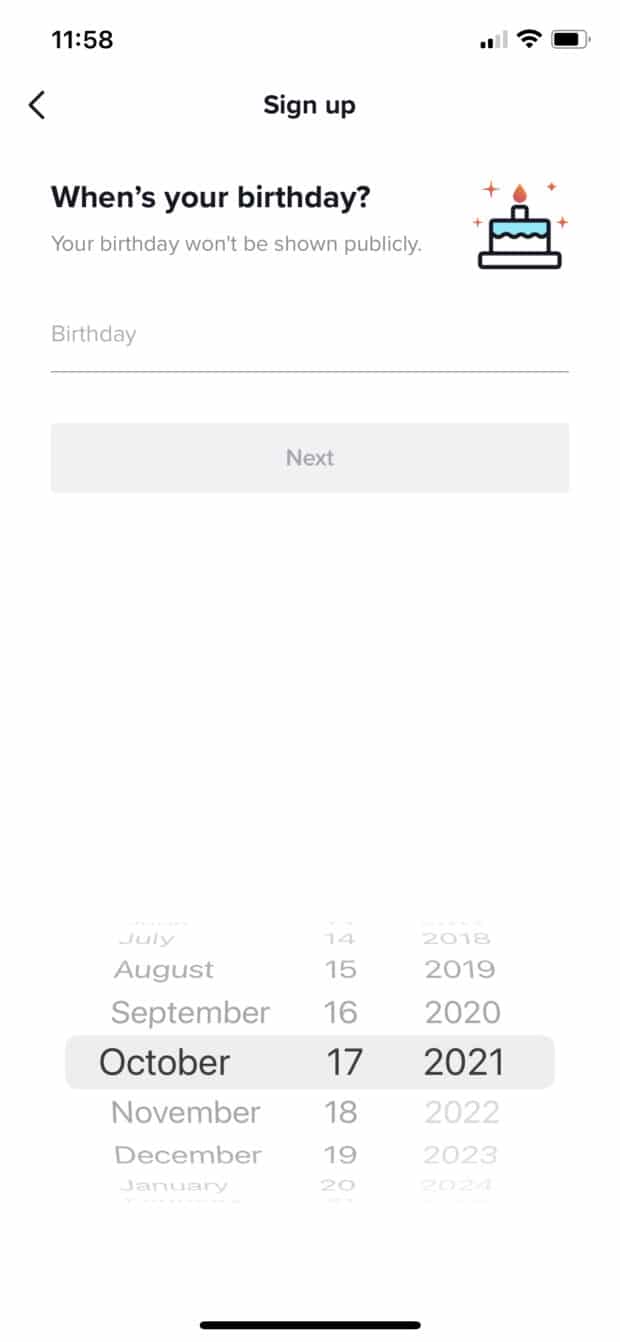 6. Enter the 6-digit code sent to that phone number (see, told ya!)
7. You did it! Celebrate by scrolling TikTok for too many hours.
How to make a TikTok video
Here's how to get started on your very first TikTok video. Luckily for you, it's way easier than learning this TikTok Shuffle dance.
1. Hit the + sign at the bottom of your screen.
2. You can upload photos and videos from your phone's library or make a video directly using the TikTok camera.
3. If recording directly, hit the Record button at the bottom of the screen. Hit it again when you're done recording. The default video mode is "Quick" which is for 15 second videos but you can switch it to "Camera" for more editing options and longer videos (15s, 60s and 3 mins), or "Templates" to create a specific style of video.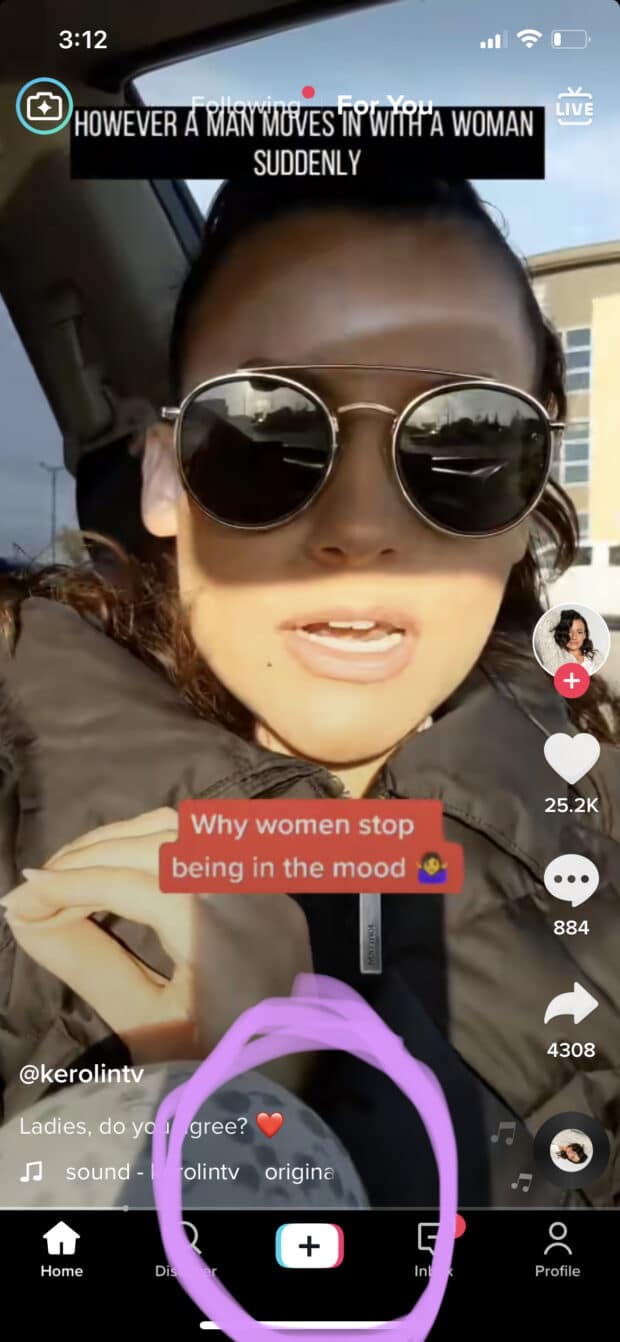 4. Tap the check mark when you're done shooting all your footage.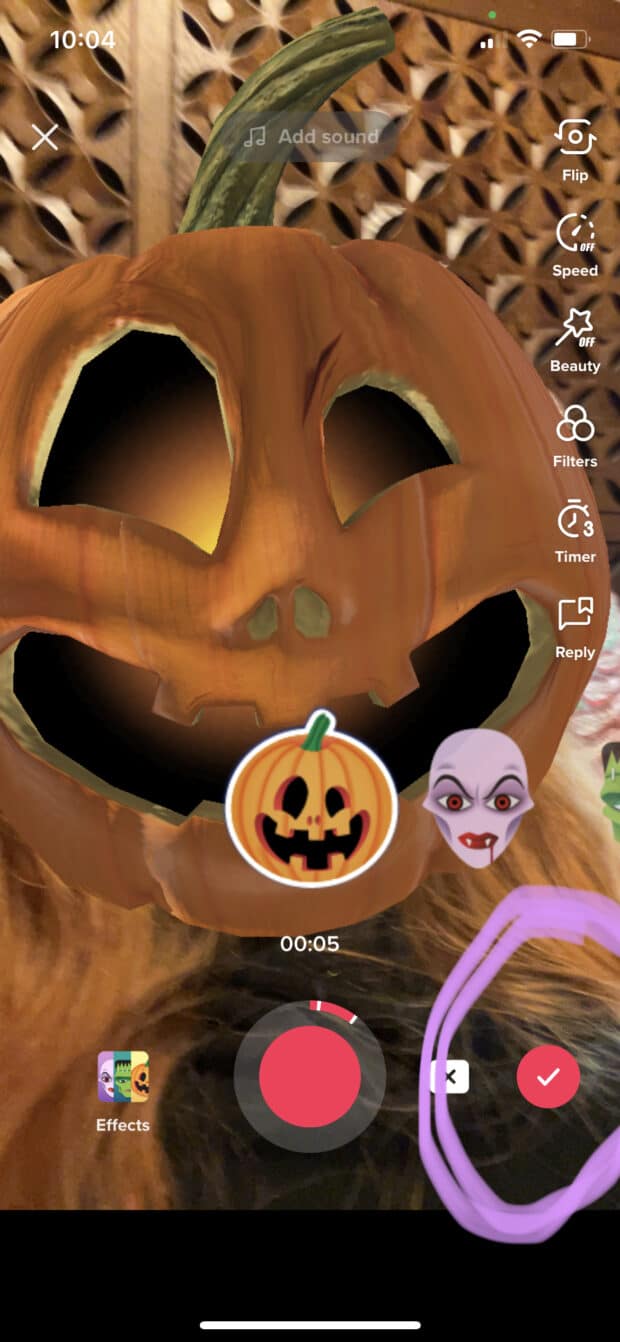 5. Make any edits or changes on the post page. All your edits are on the right sidebar of the screen. Also, add music or sounds by hitting "Add sound" at the top of the screen.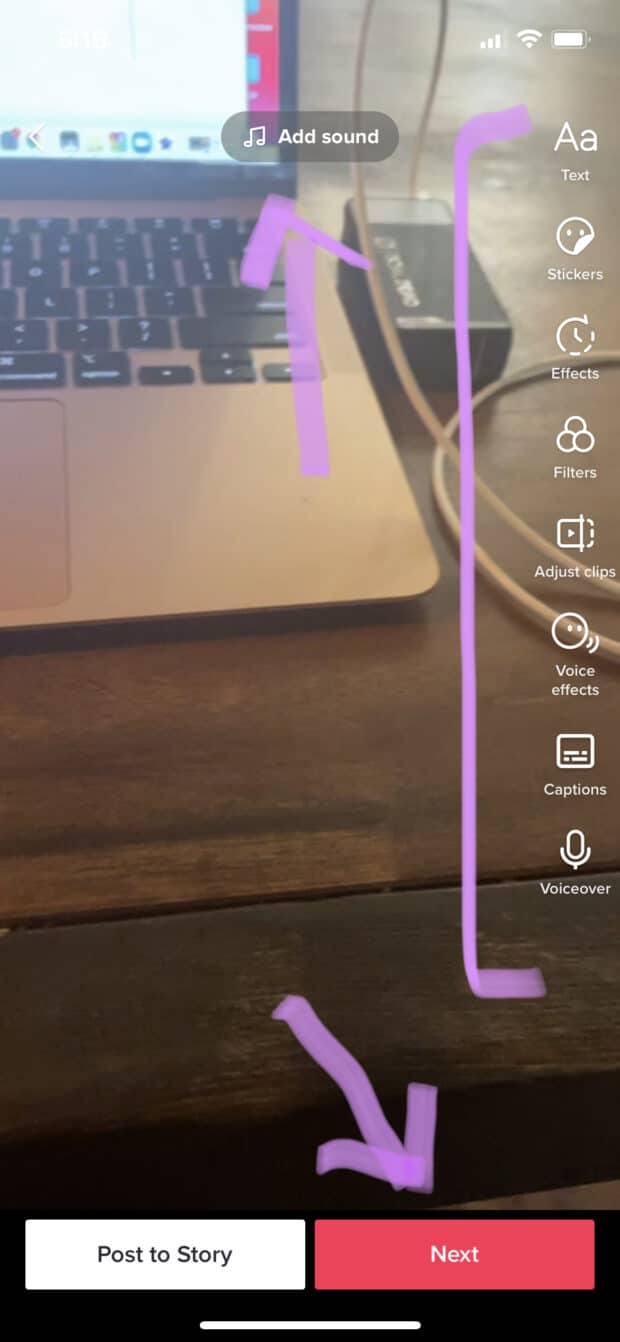 6. Post that video and share it everywhere! Make sure to include a description with some hashtags so it finds its way to your audience.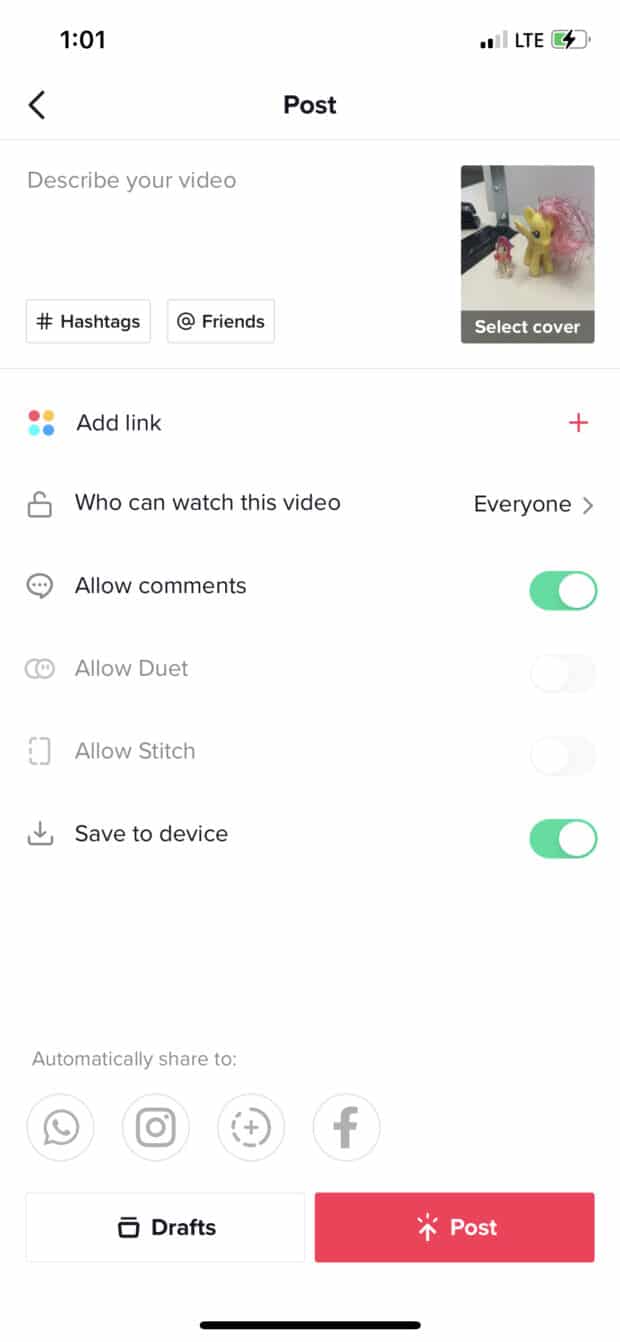 How to make a TikTok with multiple videos
Instead of taking one long video, why not capture shorter videos and edit them together to make your TikTok video? Here's how to do that (and you don't need a film degree).
1. Hit that "+" sign to start your video
2. You can either shoot multiple videos directly by hitting that record button after each clip, building up your video with different shots. Or, you can hit the "Upload" button next to the record button and add multiple videos and photos you have stored on your phone.
3. Select all your media and tap Next.
4. You can now sync sound across your videos and make adjustments (or try "Auto sync" which will do the syncing up for you.)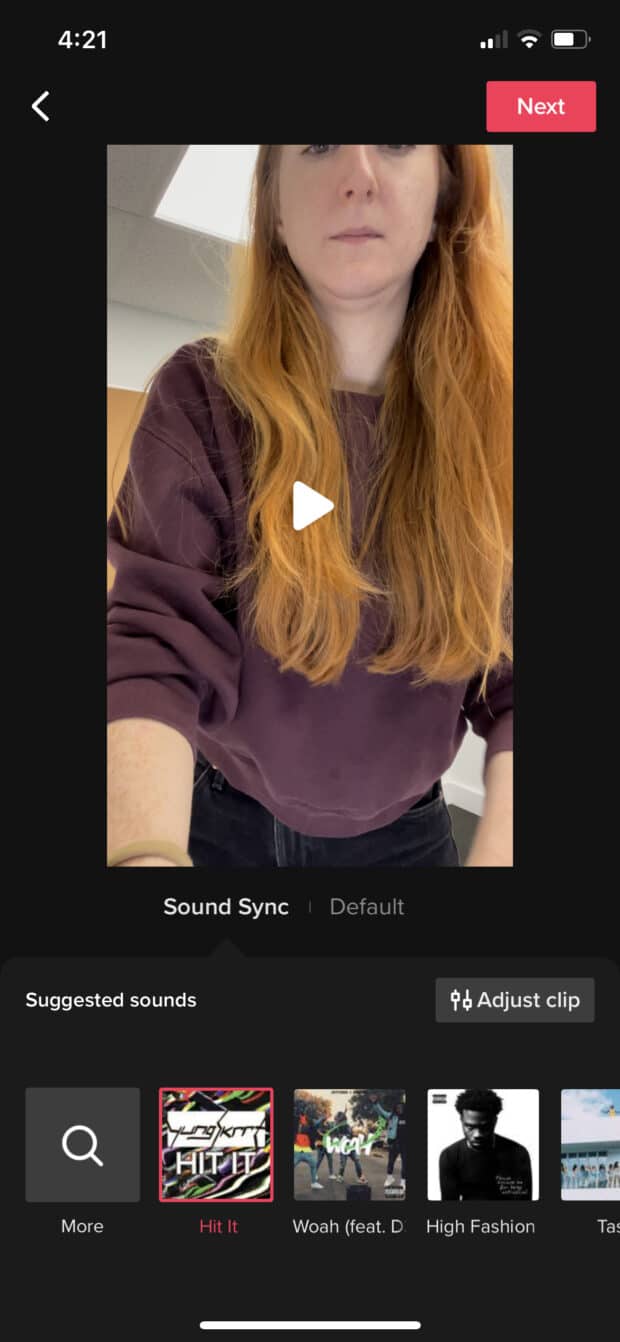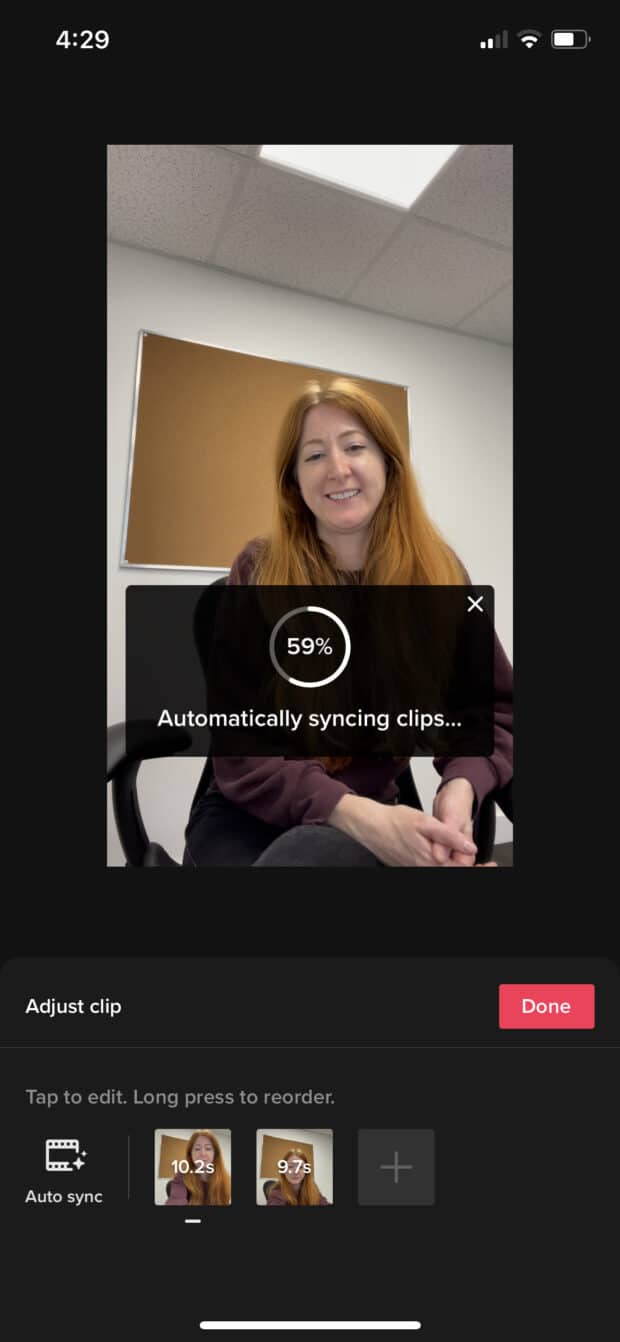 5. Hit Next when done. You'll be brought to a preview screen where you can further add sounds, more effects, text, and stickers.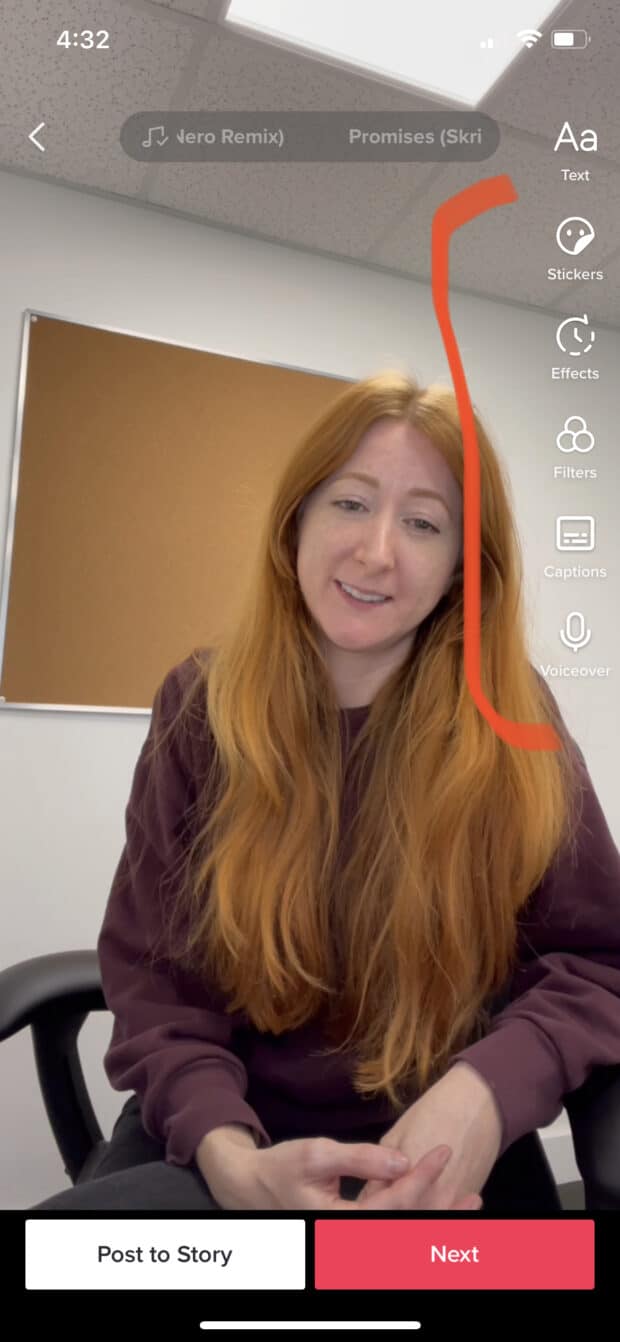 6. Tap Next when you're done editing your video and proceed to the Post screen.
7. Remember to throw in a description and some hashtags and bingo-bango-bongo you're the Steven Spielberg of TikTok!
How to schedule a TikTok
Using Hootsuite, you can schedule your TikToks for any time in the future. (TikTok's native scheduler only allows users to schedule TikToks up to 10 days in advance.)
To create and schedule a TikTok using Hootsuite, follow these steps:
Record your video and edit it (adding sounds and effects) in the TikTok app. 

When you're done editing your video, tap

Next

in the bottom right corner of your screen. Then, select

More options

and tap

Save to device

.

In Hootsuite, tap the

Create

icon on the very top of the left-hand menu to open the Composer. 

Select the account you want to publish your TikTok to. 

Upload the TikTok you saved to your device.

Add a caption. You can include emojis and hashtags, and tag other accounts in your caption.

Adjust additional settings. You can enable or disable comments, Stitches and Duets for each of your individual posts. (Note: Existing TikTok privacy settings (set up in the TikTok app) will override these ones.)

Preview your post and click

Post now

to publish it immediately, or… 

…click

Schedule for later

to post your TikTok at a different time. You can manually select a publication date or pick from three

recommended custom best times to post for maximum engagement

.
And that's it! Your TikToks will show up in the Planner, alongside all of your other scheduled social media posts.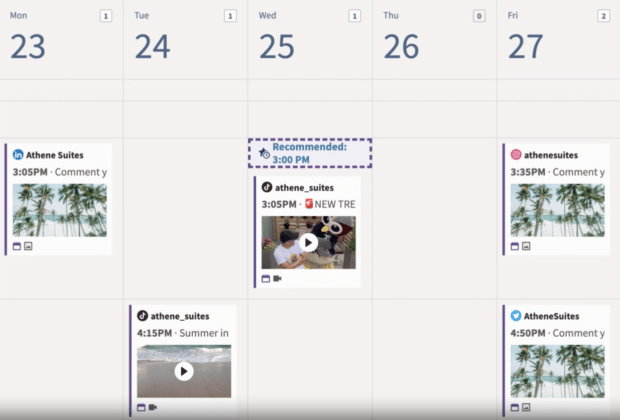 More of a visual learner? This video will walk you through the process of scheduling a TikTok (from your phone or from desktop) in under 5 minutes:
5 things to know before creating your first TikTok
TikTok style is less polished than other types of video
Don't worry about being too precious with your videos. On TikTok, videos are meant to be candid, and natural—and they should show off your personality. Things like perfect edits, smooth transitions or flawless lighting shouldn't get in the way of your idea and your own charisma.
Sure, there are lots of editing options, effects and filters to choose from (what the heck is the difference between B3 and G4 filters anyways?) but the real star is you —or, at least all 6 of these friends belting out Lady Gaga for the #caughtinabadromance challenge at this bachelorette. If that's not candid, I don't know what is.
@arielleandmylee

That finger stole the show! #bachelorettetrip #gatlinburg #caughtinabadromamce

♬ original sound – Arielle and Mylee Hartford
You don't have to dance
Good news! You don't have to spend 2 hours trying to perfect the LaLisa dance tutorial to make sure your video stands out (unless you want to, then no judgment over here!).
There are so many different ways to engage your followers that don't involve you popping and locking in your living room in front of a ring light (but again, no judgement if you do, except maybe from your pet and their adorable judging eyes).
You also don't have to attempt whatever this is.
@sdavidrodriguez

♬ Grab Da Wall & Rock Da Boat – 504 Boyz & Weebie
Hashtags can help more people see your post
It's no secret a good hashtag can go a long way on TikTok. Strategic use of hashtags will help people find your videos who don't already follow you, and maybe even see it on their For You Page (FYP).
Find the best hashtags to grow your views and help get your content recognized by the algorithm. You worked so hard on it, might as well show it off to as many people as possible.
The right song can go a long way
Attaching a trending song to your video or audio from a popular TikTok video can help it get seen by more people. This app has a big music following (lots of new songs are intentionally promoted through the app to help them climb the music charts) so lassoing your video to one of these shooting stars is only going to help you get on more FYP and in front of new audiences.
@suzyjonesmusic

♬ original sound – Suzy Jones
Your greatest asset is you
Don't overthink it, just come up with a simple idea and let your personality shine through. The sense of intimacy and community that TikTok brings is why people love this app—it feels personal.
Even if you're doing a TikTok challenge or trend that's popular, the thing that will make you stand out is your unique take on it. It's not about gimmicks but about putting your best self out there. Nothing should feel too staged or self-aware (that's cringe territory). Pretend your audience are your good friends and approach it with that energy!
@janikon_No, I can't re-record this, I'm laughing too hard #fyp♬ original sound – Stu (he/him)
Grow your TikTok presence alongside your other social channels using Hootsuite. From a single dashboard, you can schedule and publish posts for the best times, engage your audience, and measure performance. Try it free today.
Try it free!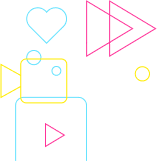 Want more TikTok views?
Schedule posts for the best times, view performance stats, and comment on videos in Hootsuite.
Try it free for 30 days
The post How to Make a TikTok Video: Beginners Start Here appeared first on Social Media Marketing & Management Dashboard.
Source link