Tips & tricks
24 Pinterest Stats That Matter to Marketers in 2022
Pinterest brings out the bulletin board fanatic in all of us (there's something so soothing about curating that perfect inspirational spread, whether it's online or in real life). But for social media managers, it's the Pinterest stats that matter—knowing the facts and figures that set it apart are an essential part of marketing strategies both on and off the platform. At a glimpse, stats help marketers understand Pinterest audiences and identify trending content.
We've dug through annual reports, letters to shareholders, blog posts and research from Pinterest and beyond (you'll see Hootsuite's 2022 Digital Trend Report a lot in this post—what can we say, we're nuts about stats) to round up the most important recent statistics you need to know about Pinterest.
Here are the numbers that matter in 2022.
Bonus: Download a free guide that teaches you how to make money on Pinterest in six easy steps using the tools you already have.
General Pinterest stats
See how Pinterest stats measure up against other social media networks and beyond.
1. Pinterest is the 14th largest social network in the world
In terms of global active users, Pinterest ranks as the 14th largest platform in the world as of January 2022.
The platform beats both Twitter and Reddit, but ranks below social networks like Facebook, Instagram, TikTok and Snapchat.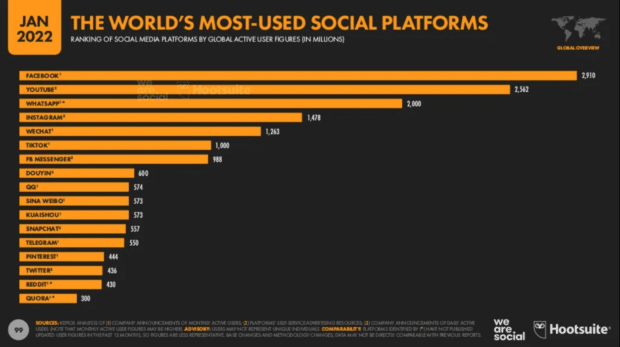 Source: Hootsuite 2022 Digital Trend Report
2. The platform now has 431 million monthly active users
In February 2021, Pinterest reported 459 million monthly active users — that was the biggest year over year increase the platform had ever seen (up 37% year over year). But in February 2022, they reported a 6% decrease.
Overall, this isn't a terribly significant loss. 2020 was a unique year, and it makes sense that all the sourdough making and interior redecorating at the beginning of COVID-19 triggered an increase in Pinners. So it's only natural that, as the pandemic situation improves, lockdowns lessen and quarantining becomes less common, some folks might say a respectful "Thanks for the memories. See ya!" to the platform.
Pinterest put it this way: "Our decline was primarily impacted by engagement headwinds as the pandemic continued to unwind, and lower traffic from search." Not every single person who turned to Pinterest in unprecedented times will keep at it as COVID-19 progresses, but the pandemic will continue to have a lasting effect on the app's stats (as it does with everything).
3. Pinterest's monthly U.S. user figures shrunk by 12% in 2021
Pinterest's Q4 2021 Shareholder Report shows the decline in usership took place mostly in the United States, with monthly active users decreasing from 98 million to 86 million.
But the international monthly figures also saw a (smaller) downturn, with only 346 million active users internationally—down from 361 million in 2020. That's a 4% decrease.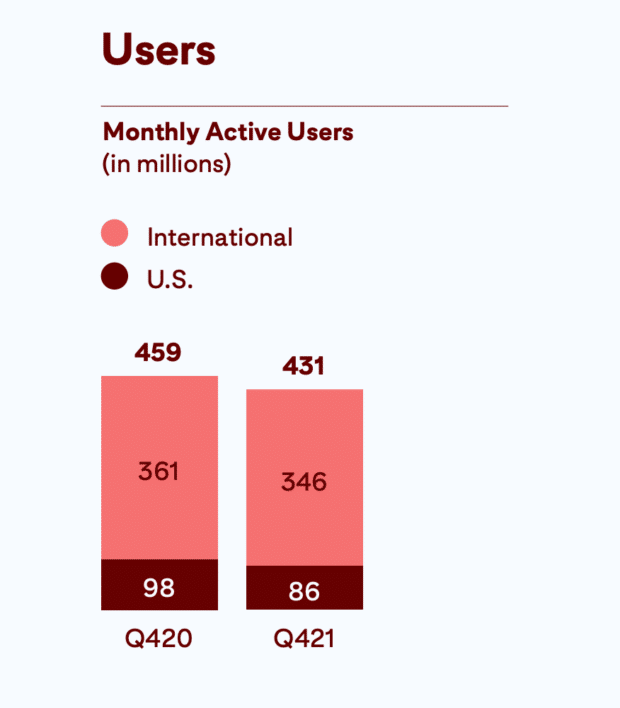 Source: Pinterest
4. Pinterest's total revenue increased by 20% in Q4 2021
Despite the slight downturn in number of users, Pinterest's revenue still grew substantially in 2021. In a letter to shareholders, the company reported a total revenue of $847 million in 2021 (up from $706 million in 2020).
According to Pinterest, the revenue growth was "driven by strong demand from retail advertisers."
5. Pinterest's overall workforce is 50% women
On May 18, 2021, Pinterest reported they had reached a milestone: 50% of total employees are now women.
This is part of the company's diversity and inclusion efforts after coming under fire for gender and race discrimination in 2020. In June of that year, an independent Special Committee was established to review the company's workplace culture. The committee's recommendations were published in December 2020.
The company has also made several recent appointments of women of color to its board of directors, executive team and other leadership posts.
6. 59% of Pinterest's leadership team is white
According to the company's most recent diversity report (published in 2021), white people represent 43% of Pinterest's total workforce but 59% of leadership positions.
Black employees make up 4% of the total workforce and 5% of leadership positions. Indigenous people ("American Indian, Alaskan Native, Native Hawaiian, Pacific Islander) make up 1% of both.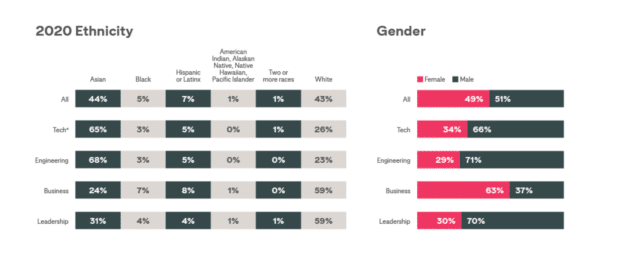 Source: Pinterest
7. Pinterest has pledged to increase the number of employees from underrepresented races and ethnicities to 20% by 2025
In the May 18 2021 report, Pinterest announced that by 2025, their employees will be 20% "people from underrepresented races and ethnicities."
They also pledged to work on taking more accurate data on their employees, including "moving beyond gender binary, disaggregating data to understand the diversity of people of Asian descent, and applying a more global lens to our demographics, where possible."
Pinterest user stats
Browse these Pinterest user stats to understand the platform's demographic dynamics.
8. At 60% of women, the gender divide on Pinterest may be narrowing
Women have always outranked men on Pinterest. But in a 2021 blog post, the company's global Head of Business Marketing identifies men as one of the platform's fastest-growing demographics.
When it comes to their advertising audience, the gender breakdown looks a little different. As of January 2022, Pinterest's self-service advertising tools identified the female audience at 76.7%, the male audience at 15.3% and the remainder as unspecified—that's about a 1% change since January 2021.
In 2019, Pinterest identified a 4,000% increase in searches around gender transitions.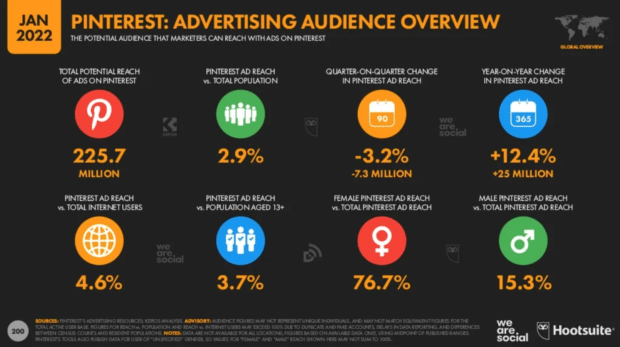 Source: Hootsuite 2022 Digital Trend Report
9. Women aged 25-34 represent 29.1% of Pinterest's ad audience
Women outrank men and non-binary users in every age group, but it's particularly visible in the 25 to 34 bracket. Findings from Pinterest's self-serve advertising tools also show that Pinterest demographics skew young, especially for women.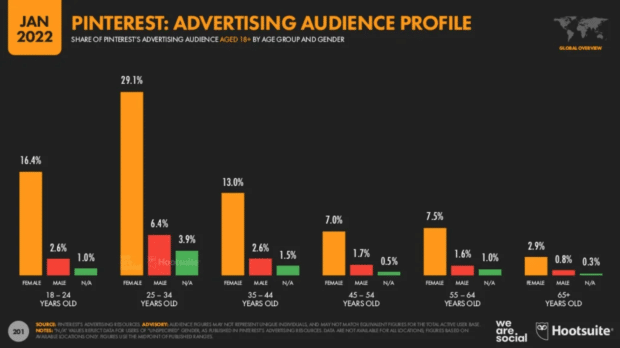 Source: Hootsuite 2022 Digital Trend Report
10. 86.2% of Pinterest users also use Instagram
That makes Instagram the social media platform that has the largest audience overlap with Pinterest (Facebook follows closely behind at 82.7%, then Youtube at 79.8%).
Bonus: Download a free guide that teaches you how to make money on Pinterest in six easy steps using the tools you already have.
Get the free guide right now!
The platform that has the least audience overlap with Pinterest is Reddit— only 23.8% of Pinterest users are also Reddit users.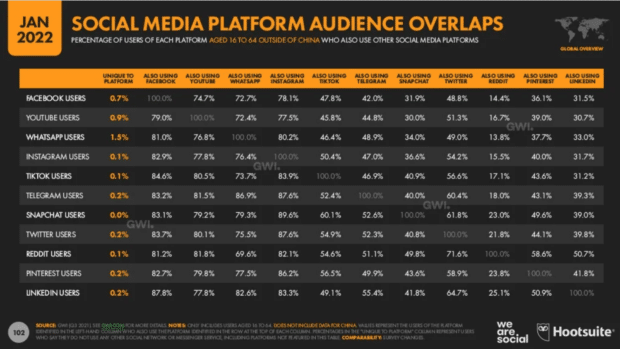 Source: Hootsuite 2022 Digital Trend Report
11. 1.8% of internet users call Pinterest their favourite social media platform
That doesn't sound like much, but because there are so many different social media platforms, 1.8% isn't bad (for reference, there's no denying that TikTok is huge, yet only 4.3% of internet users aged 16 to 64 called it their favourite in 2021). It's tough to be number one.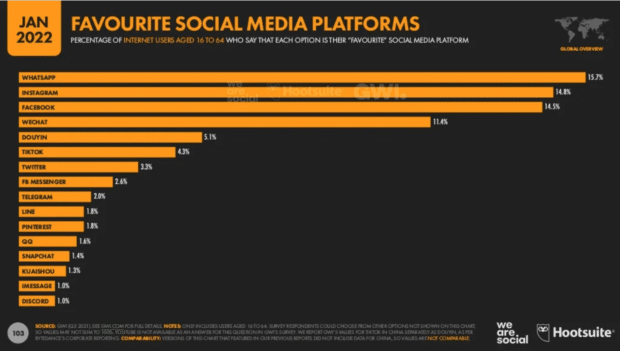 Source: Hootsuite 2022 Digital Trend Report
Pinterest usage statistics
Knowing what makes a Pinner pin is often what separates a good marketing strategy from a mediocre one. Whether you're looking for more followers or sales, these Pinterest stats should guide your efforts.
12. 82% of people use Pinterest on mobile
The number of mobile users on the platform changes slightly each year, but it has been above 80% since at least 2018.
13. People watch close to one billion videos a day on Pinterest
Not everyone associates Pinterest with video, but it's been a growing vertical on the platform. To support the growth, the company introduced Pinterest Premiere ad packages, which are set up to bolster the targeting and reach of video campaigns.
14. 97% of the top searches on Pinterest are unbranded
Why does this matter? It means that Pinners are open to discovering new products and ideas. AKA, a good audience for advertising: between October 2021 and January 2022, Pinterest ads reached 226 million people.
15. 85% of Pinners say they use Pinterest to plan new projects
While people use Pinterest in different ways, a significant percentage of Pinners are planners. Often, people come to the platform when they are in the early stages of a project or purchase decision.
16. Holiday planning starts as early as 9 months ahead of time
Christmas in July? On Pinterest, Christmas planning starts as early as April.
Searches for "Christmas gift ideas" were three times higher than the previous year in April 2020. And by August 2021—after the small holiday celebrations of the first year of the COVID-19 pandemic— holiday-related searches were already 43x greater in August compared to last year.
Seasonality is important on Pinterest. According to Pinterest data, Pins with content "specific to seasonal life or everyday moments" drive 10 times higher aided awareness and 22% higher online sales.
17. 8 in 10 Pinterest users say the platform makes them feel positive
Pinterest has made strides in positivity where other platforms have failed. In fact, in an August 2020 report, Pinterest announced that as many as 50% of UK users call it "an online oasis." One reason people may feel this way is that the company banned political ads in 2018.
Pinterest also credits content moderation as its means of keeping negativity off the platform. "If social media has taught us one thing, it's that unfiltered content drives negativity," reads the company report. "Without intentional moderation, platforms built on connecting people have—in the end—only polarized them."
Pinterest marketing stats
Pinterest is a rare frontier on the Internet where people are open to branded content. Learn how other marketers have found success on the app with these Pinterest stats.
18. Advertisers can reach more than 200 million people on Pinterest
Pinterest's quarter-over-quarter change in advertising reach was 169 million in January 2020 and 226 million in January 2022. Part of the increase is the result of Pinterest adding more countries to its ad targeting portfolio.
Still, over 86 million members of Pinterest's ad audience are based in the United States, more than three times the second-place country (Brazil, at 27 million). But South American countries are on the rise—in 2020 and 2021, the U.S. was followed by Germany, France, the U.K. and Canada. Now, the U.S. is followed by Brazil and Mexico (then Germany, France, the U.K. and Canada).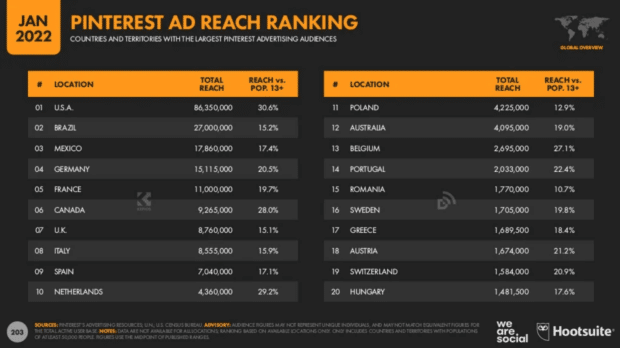 Source: Hootsuite 2022 Digital Trend Report
19. Shopping engagement grew by 20% in 2021
Pinterest reported that "the number of Pinners engaging with shopping surfaces grew over 20% both quarter over quarter and year over year in Q4 [of 2021]."
In that same report, Pinterest said that catalog uploads had doubled globally, and in international markets they were up over 400% year over year.
These rising stats were part of what prompted Pinterest to launch AR Try-On for Home Decor, which gives users the option to use the Pinterest camera to see home decor and furniture products in their own space.
20. 75% of weekly Pinterest users say they're always shopping
Pinterest users are in the mood to consume—according to the company's Feed Optimization Playbook, people who use Pinterest weekly are 40% more likely to say they love shopping and 75% more likely to say they're always shopping.
21. Pinners are 5 times more likely to purchase from Try-On enabled pins
Using one of Pinterest's three augmented reality platforms (Lipstick Try-On, Eyeshadow Try On and Try On for Home Decor) could mean big growth for your business.
According to Pinterest, users are five times more likely to purchase something if they can try it in AR. Pinners are specifically searching for Try-On pins—lens camera searches are increasing year-over-year by 126%.
22. Pins with "new" in overlay text lead to 9x higher aided awareness
According to Pinterest data, people notice when things are "new." And they remember them more, too. So if you're launching something new, or new and improved, make sure to include the word.
23. Automatic bidding delivered 30% more budget on Black Friday 2021
In a letter to shareholders, Pinterest says automatic bidding was key to Black Friday efficiency. They also told investors that first-party solutions are an investment focus going forward.
By the end of 2021, there was a 100% increase in advertiser adoption of Pinterest Conversion Analysis (PCA) and Pinterest Conversion List (PCL).
24. 8 out of 10 of Pinterest's 2021 predictions came true
If you're using Pinterest for advertising in 2022, you've got to know what your audience will like—and while no one can see the future, Pinterest has a reputation for making some pretty good educated guesses.
Because eight out of ten of the company's 2021 predictions came true, their list of 2022 predictions is a good source of inspo for this year. Dopamine dressing, or bright-coloured, funky clothing, is one (they reported that searches for "vibrant outfits" are 16 times higher than last year).
Other trends include Barkitechture (home decor for animals—searches for "luxury dog room" are up 115%) and Rebel Cuts ("the pandemic breakup hair is real, people," said Pinterest in a blog post).
Save time managing your Pinterest presence using Hootsuite. From a single dashboard, you can compose, schedule and publish Pins, create new boards, Pin to multiple boards at once, and run all your other social media profiles. Try it free today.
Get Started
Schedule Pins and track their performance alongside your other social networks—all in the same easy-to-use dashboard.
Try Hootsuite
The post 24 Pinterest Stats That Matter to Marketers in 2022 appeared first on Social Media Marketing & Management Dashboard.
Source link