Tips & tricks
How Long Should a Social Media Video Be? Tips for Every Network
Whether appealing to the algorithm or simply attracting more eyeballs, video content is a must-have for any marketing campaign. But how long should a social media video be?
Depending on the platform, a social media video can run from 1 second to hundreds of hours in length. It can be hard to nail the runtime, but there's certainly a sweet spot that will ensure the most engagement.
Read on to learn the best possible video lengths for each social network.
Bonus: Download the free 10-Day Reels Challenge, a daily workbook of creative prompts that will help you get started with Instagram Reels, track your growth, and see results across your entire Instagram profile.
How long should a social media video be?
General Best Practices
Before we get into specifics, there are a few things we should note about the general best practices for video content.
• Video is a must. As published in our Digital 2022 report, watching videos is the fourth most popular reason people use the internet, period. If you're not making videos yet, it's time to get on board.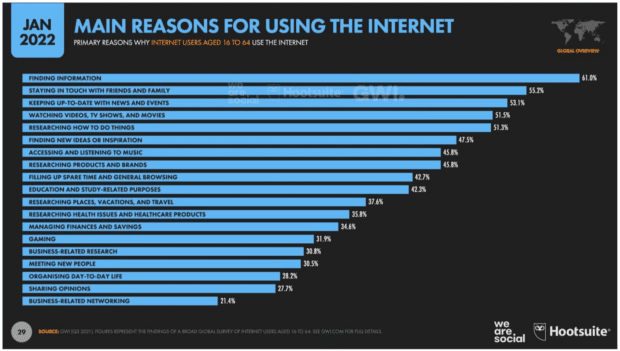 Source: Digital 2022 report
• Keep it clear. Video is not as easy as it looks. You'll want to make sure the audio is crisp and clean, and that the visuals are also clear. Avoid design elements that muddle your images.
• Use captions. The Digital 2022 report explains that 30% of users aged 18-34 are watching videos with sound more than ever before. But you should still make sure to include accurate, grammatically correct captions so that the other 70% can enjoy your content.
• Be punchy. Consider the pop song. While genres, trends and styles have shifted, the hit single has hovered somewhere around the 3-minute mark for over half a century. That's because it works. Videos, too, thrive on brevity.
Now that we've understood those elements, let's dig into the best runtime by platform.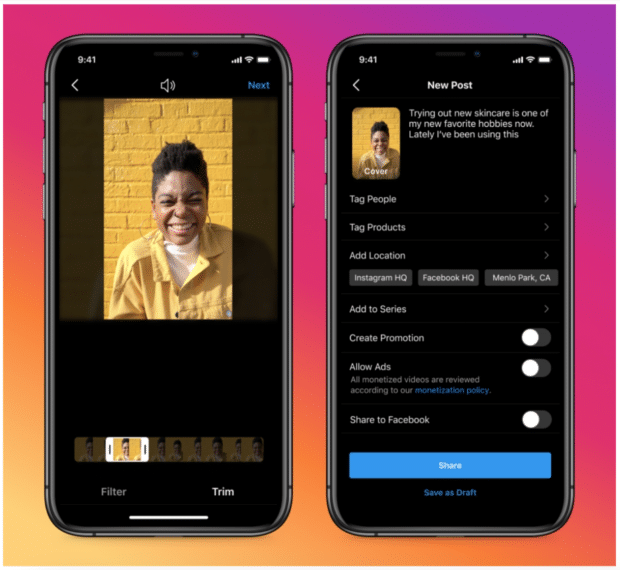 Source: Meta
Best Instagram video length
Instagram is a social media beast of its own — and the app had been hinting at a video takeover for years. In 2021, Instagram head Adam Mosseri made the video pivot official, saying, "We're no longer a photo-sharing app."
Instagram videos are divided into three main categories, each with their own targets and viewing potential.
Instagram Video: 1 minute
As of 2021, Instagram combined their main feed videos and their IGTV platform into a new format simply called Instagram Video. The maximum length that will appear on your Instagram grid is 1 minute, although viewers can still click through to finish watching videos up to 15 minutes long.
And if you've got a verified account, you can upload videos as long as 60 minutes from your desktop app.
You should still try not to exceed 1 minute if you can help it. Otherwise, aim for somewhere between 2 and 5 minutes. Short and punchy, with arresting visuals that passive scrollers can't ignore. That's the secret to success on the grid.
Instagram Stories: 15 seconds
According to our Digital 2022 report, Instagram Stories take up 72.6% of the app's total ad reach, so it's imperative to keep people engaged. The maximum length for Instagram stories remains 15 seconds per slide.
If you need to use multiple slides, don't exceed 7 (and really, 3 slides is plenty). Be sure to include a call-to-action or other relevant info on each slide. Stay economical with your messaging.
Note: Both Instagram Stories and Instagram Videos can be cross-posted with Facebook.
Instagram Reels: 15 – 60 seconds
Reels are Instagram's answer to TikTok. Unlike stories or grid posts, Reels are specifically tailored to viral moments and quick-hit videos. Before you start shooting, you manually select a runtime of 15 seconds, 30 seconds, 45 seconds or 60 seconds.
No matter what length you choose, the sweet spot with Reels happens within the first few seconds. If you can grab your viewers' attention immediately, they're likely to stick around for the whole thing.
Best Facebook video length: less than 1 minute
Facebook's maximum video length is 240 minutes. But unless you've somehow obtained the rights to all four hours of Zach Snyder's Justice League, you'll want to stay far away from that time.
For viral content, Facebook recommends videos that are less than one minute or stories that are less than 20 seconds in length. But that doesn't mean long videos perform poorly. Instead, they suggest that 3+ minutes is best for episodic web series, developing stories and live streaming. Videos need to be over 3 minutes long to qualify for in-stream ads.
No matter what the length is, Facebook's algorithm loves native video content. That means you should always upload videos directly rather than sharing a YouTube or Vimeo link on the platform.

Source: TikTok
Best TikTok video length: 7 – 15 seconds
From the app's growth to its content within, everything about TikTok is fast. With that in mind, you want to make sure you convey as much information as possible in easily digestible bites.
Last year, the app expanded their maximum video length from 1 minute to 3 minutes, and more recently 10 minutes. But you should still aim for brevity.
Despite their cutting-edge taste, TikTokers are fairly traditional with runtimes. As such, your best bet is to hover around the 15-second mark. That's just enough time to hook a viewer and keep their attention.
Then again, you may also want to try TikTok's 7-second challenge. Our own social team tried it and got half a million likes on their video.
@hootsuite

try this hack yourself

♬ original sound – material growl
Best Twitter video length: 44 seconds
Twitter loves to make reference to its number limits, which is why its videos max out at 140 seconds long. In case you forgot, that's precisely how many characters were allowed in a tweet until the site doubled it to 280 characters in 2017.
That's a funny branding reference, but for those who are bad at math (like me), it's easier to remember that 140 seconds is 2 minutes and 20 seconds.
You should aim for videos around the 44-second mark — just enough time to grab users' attention without overstaying your welcome. In fact, a quick Twitter video can also serve as a trailer for a YouTube or Vimeo link that includes a longer version, if needed.
Best YouTube video length: 2 minutes
YouTube is, of course, the gold standard for video content on the web, and you'll find videos of all shapes and sizes throughout. Verified accounts are allowed to upload clips as long as 12 hours (or even longer if they're compressed below 128 GB in size).
Your ideal YouTube video length will depend on your end goal. Looking to monetize with YouTube ads? The minimum requirement is 10 minutes — which is a good number to aim for with longer vlog content.
If you're hoping for smaller scale viral attention, then it's best to stay around the 2-minute mark. Keep the internet's dwindling attention spans in mind at all times.
Best LinkedIn video length: max 30 seconds
LinkedIn is more business-oriented, and their video lengths are also down to get the job done. That means you can upload native videos up to 10 minutes long and video ads that can hit the 30-minute mark.
Unless you're trying to make your LinkedIn video feel like an endless board meeting, however, you probably shouldn't do that.
Instead, LinkedIn determined that videos that are 30 seconds or under boast a 200% lift in completion rates (meaning users watched the whole thing instead of clicking away). That said, they also reported that long form videos can drive just as much engagement as they tell more complex stories.
Best Snapchat video length: 7 seconds
It's right there in the app's title — keep it snappy! For normal posts, the maximum video length is 10 seconds, so you'll want to stay around the 7-second mark.
Source: Snapchat
If you're buying an ad, Snapchat's maximum video length is 3 minutes. But let's be honest, no one's watching a video that long on Snapchat. In fact, the app's own research suggests that a video ad should stay between 3 and 5 seconds, with strong brand messaging right off the top, to encourage the most engagement.
Best Pinterest video length: 6 – 15 seconds
The dark horse of the big socials, Pinterest is quickly gaining steam as a
business powerhouse, and for good reason. The booming platform is constantly adding new features to keep Pinners hooked, and among them is the relatively new video feature.
There are two main kinds of videos: Video Pins and Pinterest Stories. Video Pins can run from 4 seconds to 15 minutes, while Pinterest stories have a maximum runtime of 60 seconds.
We all know what I'm about to say, but it applies here too — don't go for the maximum length with your video posts. Instead, Pinterest suggests that you aim for a runtime between 6 and 15 seconds to maximise engagement on your Video Pins.
Publish, schedule, and track the performance of your social video posts across multiple platforms with Hootsuite. Try it free today.
Get Started
Easily manage all your social media in one place and save time with Hootsuite.
Try it for Free
The post How Long Should a Social Media Video Be? Tips for Every Network appeared first on Social Media Marketing & Management Dashboard.
Source link