WhatsApp is a super popular instant messaging platform that's come a long way since its launch way back in 2009 by two former Yahoo! employees. Fast forward thirteen years and WhatsApp is owned by Meta, who operates the platform as part of its Family of Apps, which also includes Facebook, Instagram, and Facebook Messenger.
WhatsApp allows users to send and receive a whole variety of messages, including text, images, videos, documents, locations, and other content, for example, links. Running off a cellular network, WhatsApp also gives its users the ability to make and receive calls through audio or video channels. And that's not all.
The platform also boasts WhatsApp Business, an app that makes it quick and easy for small businesses to communicate and connect with customers to sell products and services.
Whether you're using WhatsApp for business or pleasure, marketers will find huge value in understanding the Whatsapp stats that matter most in 2022. Read on!
Bonus: Download our free WhatsApp for Customer Care guide to get more pointers on how to use WhatsApp Business to get higher conversion rates, better customer experience, lower costs, and higher customer satisfaction.
WhatsApp user statistics
1. 2 billion people use WhatsApp every month
This is probably the most important of all the WhatsApp stats.
Almost a third of the world's population use WhatsApp to send messages, images, video and make phone and video calls!
Since February 2016, WhatsApp has actively increased its monthly active users from 1 billion to 2 billion. Could we be bold and predict that by 2027, the number of WhatsApp users could be 3 billion MAUs (given their previous track record)?
2. 45.8% of WhatsApp's users identify as female
Slightly less than men, who make up the remaining 54.2% of WhatsApp's users.
3. Daily active users (DAUs) has increased by 4% since January 2021
In comparison, Telegram and Signal reported a loss of more than 60% DAUs over the same time period.
4. The number of people using messaging apps is expected to grow to over 3.5 billion users in 2025
That's an increase of 40 billion people compared to 2021. This forecast spells good news for WhatsApp, who already own a considerable slice of the messaging market and can only expect their user count to increase.
5. WhatsApp was downloaded over 4.5 million times in America throughout Q4 2021
This is almost double the download rate of India, Russia, and Brazil.
6. And WhatsApp was the 7th most popular download in the whole of America in 2021
Over 47 million people downloaded WhatsApp in the US of A in 2021, which is a growth of 5% compared to 2020. TikTok topped the most popular download list with 94 million downloads. Instagram came second with 64 million downloads, and Snapchat took the third spot with a cool 56 million downloads of their photo and video sharing app.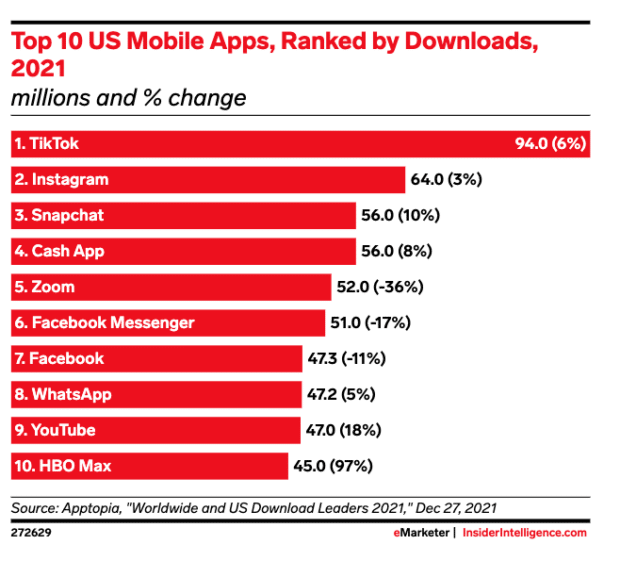 Source: eMarketer
7. In the US, WhatsApp is expected to grow to over 85 million users by 2023
This is an increase of 25% compared to 2019.
8. Hispanic Americans are far more likely than Black or White Americans to use WhatsApp
According to Pew, 46% of Hispanic Americans said they're more likely to use WhatsApp than Black Americans (23%) and White Americans (15%).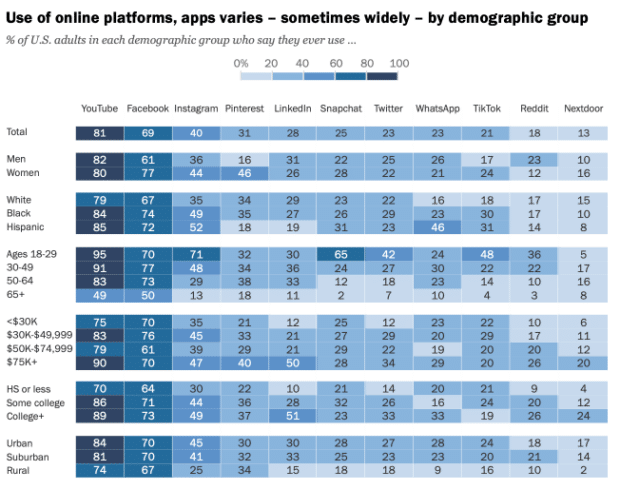 Source: Pew Research Center
WhatsApp usage statistics
9. WhatsApp is the most popular social messaging app in the world
Beating stiff competition from Facebook Messenger, WeChat, QQ, Telegram, and Snapchat.
10. WhatsApp dominates the messenger landscape
The all-powerful app boasts 700 million more users monthly than Facebook Messenger and WeChat.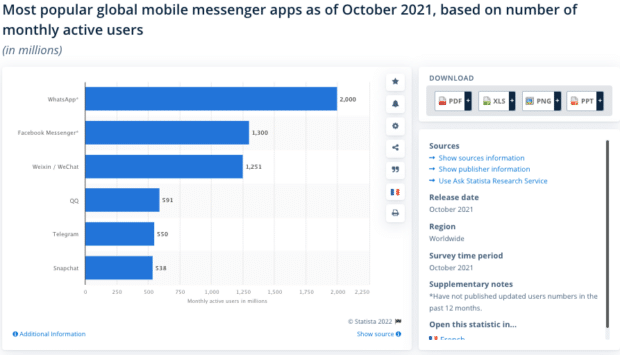 Source: Statistica
11. Over 100 billion WhatsApp messages are sent every day
That's a lot of text messaging!
12. And over 2 billion minutes are spent on voice and video calls every day
And that's a lot of talking!
13. WhatsApp is the world's favorite social media platform
Out of Internet users aged 16-64, WhatsApp reigns supreme, beating out Insta' and Facebook to the top spot of the most popular social network.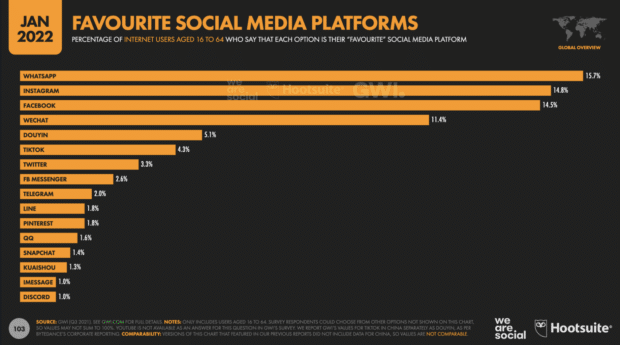 Source: Hootsuite Digital Trends Report
14. Broken down by age group, WhatsApp is ranked the highest in popularity for women aged 55-64
So if your Mom and Auntie are glued to their WhatsApp screens, now you know why! WhatsApp is also the most popular app for men aged 45-54 and 55-64. The messaging platform is least popular with women aged 16-24.
15. On average, users spend 18.6 hours per month on WhatsApp
That's a lot of messaging and calls! Broken down into a daily amount, this means that users spend 4.6 hours a week on WhatsApp.
16. Users in Indonesia spend the most time on WhatsApp, totaling 31.4 hours per month
The second highest usage comes from Brazil. The lowest? The French only spend a small 5.4 hours per month on the app, closely followed by Australia with 5.8 hours. Could this be that they're more reliant on iMessage in those countries or other forms of instant messaging and file sharing?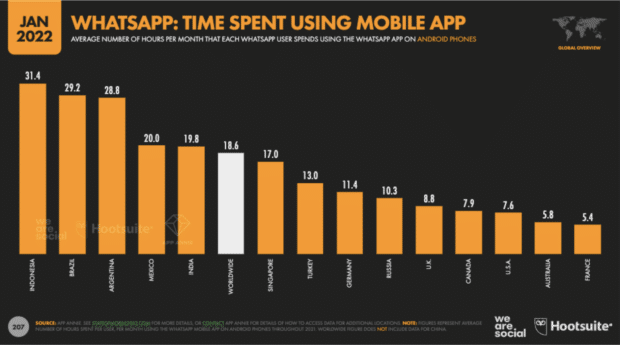 Source: Hootsuite Digital Trends Report
17. WhatsApp is the third most most-used social media platform
As we've mentioned, over 2 billion people in the world regularly use WhatsApp, and this puts the platform ahead of Instagram, TikTok, Messenger, Snapchat, and Pinterest.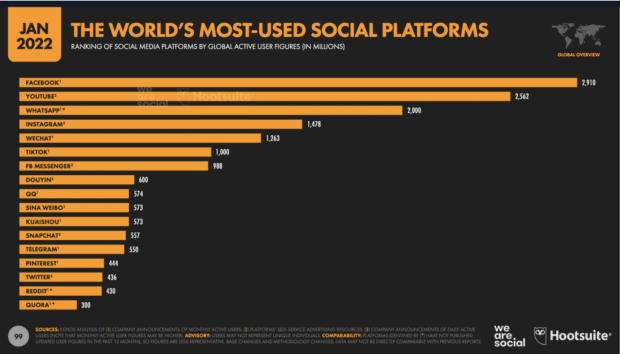 Source: Hootsuite Digital Trends Report
18. 1.5% of WhatsApp users are unique to the platform
This means that 1.5% of WhatsApp's 2 billion users, 30 million of them only use WhatsApp and no other social media platform.
19. WhatsApp is most popular amongst users of Facebook and YouTube
81% of WhatsApp users also use Facebook, and 76.8% also use Instagram. Only 46.4% use WhatsApp and Tiktok.
20. WhatsApp allows you to run a conversation with 256 individuals at once from anywhere in the world
As long as there's WiFi or data, you're good to send and receive information.
WhatsApp for business statistics
21. WhatsApp.com is one of the least visited websites out of the social media tribe
The site attracted 34 billion visits, which is still a lot, but not very many compared to YouTube.com (408 billion), Facebook.com (265 billion), and Twitter.com (78 billion).
22. WhatsApp increased its search volume by 24.2% YOY
This means that the term "WhatsApp" was the seventh most popular search term after "Google," "Facebook," "Youtube," "you," "weather," and "translate." If so many people are searching for WhatsApp, how come their website gets low traffic? Answers on a postcard to the usual address.
23. WhatsApp Business has downloaded 215 million times on Android and iOS
The majority of these downloads came from India, with Brazil a close second.
24. In 2014, WhatsApp was acquired by Facebook for $16 billion
Touted as one of the most significant acquisitions in tech history, WhatsApp's MAU at the time was a mere 450 million users, a far cry from the 2 billion MAUs the platform boasts today. It sounds like Facebook knew what they were doing when they made the bid.
25. Revenue across Meta's Family of Apps increased by 37% in 2021
We couldn't find an exact breakdown of WhatsApp revenue, but the team behind WhatsApp, Facebook, Instagram, and Messenger brought in $115 million in 2021, with the other $2 million in revenue coming from Meta's Reality Labs.
If you'd like to know more about WhatsApp and how the instant messaging platform can help your business, check out our blog post How to Use WhatsApp for Business: Tips and Tools that covers all the tips and tricks you need to get started.
Build a more effective WhatsApp presence with Hootsuite. Respond to questions and complaints, create tickets from social conversations, and work with chatbots all from one dashboard. Get a free demo to see how it works today.
Get a Free Demo
Manage every customer inquiry on a single platform with Sparkcentral. Never miss a message, improve customer satisfaction, and save time. See it in action.
Free Demo
The post 25 WhatsApp Stats Marketers Need to Know in 2022 appeared first on Social Media Marketing & Management Dashboard.