Tips & tricks
What are LinkedIn Audio Events? Everything You Need to Know
If the last two years have taught us anything, it's that digital connection is essential.
While trade shows, seminars, and in-person events provide unique networking experiences, businesses can't always rely on the physical world to grow their audience.
Luckily, digital networking has never been easier. From attending webinars to hosting virtual happy hours, there are so many ways to connect online.
In fact, the global online events market is projected to grow from $78 billion to $774 billion over the next decade.
LinkedIn recently made waves with its newest virtual events feature: LinkedIn Audio Events.
LinkedIn Audio Events are a new way to connect with your professional network. They allow you to have live, interactive conversations with people all over the world.
While this feature is currently in beta testing, LinkedIn plans to roll it out to all members soon.
If Audio Events spark your interest, read on to learn more about this new feature and how you can join or create one.
What Are LinkedIn Audio Events?
LinkedIn Audio Events are a new way to bring your professional community together to connect, learn, and inspire.
Using an audio-only format, LinkedIn users can host virtual events between 15 minutes and 3 hours long.
The experience is comparable to real-world conferences or meetings. Participants can join an event, listen to the speaker, and chime in if they have relevant thoughts.
Plus, you'll have to chance to share your field of interest with professionals from all over the world!
LinkedIn Audio Events are similar to the Clubhouse platform in that they are audio-only.
Other social networks have also jumped on the audio-only train, including Twitter Spaces and Facebook's Live Audio Rooms.
But, LinkedIn is looking to stand out in a few ways:
LinkedIn Audio Events is working on paid ticketing options soon.
LinkedIn plans to use internal data to show the most relevant professional events in users' feeds.
LinkedIn profiles are shown during Audio Events, simplifying introduction and networking processes.
With LinkedIn Audio Events, you can host live Q&A events, listen to your favourite thought leaders, and network with other professionals.
Here's what Audio Events will look like in your LinkedIn feed.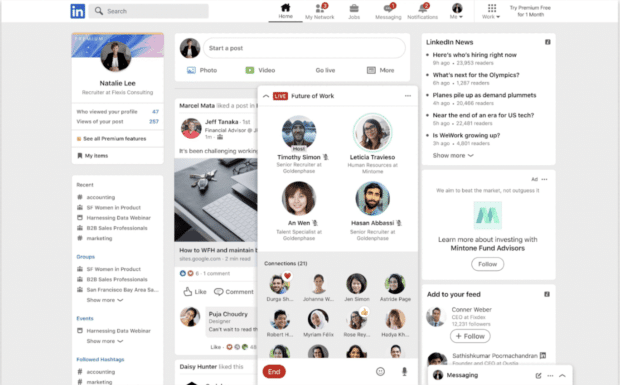 Who Has Access To LinkedIn Audio Events?
Currently, LinkedIn Audio Events are only available to a handful of select creators.
It may be a few more months before hosting abilities are rolled out to the general public.
For now, LinkedIn users can't create their own Audio Events, but they can join and take part in hosted events. As well, all LinkedIn members can see participant profiles in an event and begin networking right away.
If you're looking to expand your professional circle, it's a good idea to get started on LinkedIn Audio Events today.
Not only will this give you a leg up before the global rollout, but you'll have a chance to make some real connections with dedicated LinkedIn Creators.
How To Join LinkedIn Audio Events
Joining an Audio Event on Linked In is as simple as clicking a button. Simply accept an invitation from an organizer or get the event link from a LinkedIn connection.
All LinkedIn members can invite connections to Events, share Events, and become a speaker at Events (if approved).
If you've received an event invite, click the Join button and wait for the event to begin.
Once you join, the host will have the ability to "bring you on stage" and let you speak. When speaking at an event, it's important to always be respectful of other users and keep your comments short and succinct. LinkedIn Audio Event creators can always control who is speaking and can mute participants at any given time.
Keep in mind that when attending an Audio Event, your attendance is always public. You can also view other participant profiles while in the event and begin making networking connections immediately.
How To Create LinkedIn Audio Events
Currently, only a select few creators within the U.S. and Canada have access to the LinkedIn Events feature. General access is expected to roll out later in 2022.
If you do have access to the LinkedIn Audio Events feature, follow these steps to get started:
1. Click on the Home icon at the top of your LinkedIn page
2. On the left side of your screen, click the + Add icon next to Events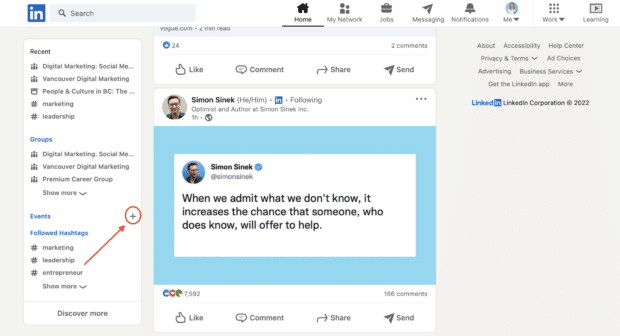 3. Type in your event's name, details, date, time, and description. Keep in mind your Audio Event has a time limit of 3 hours.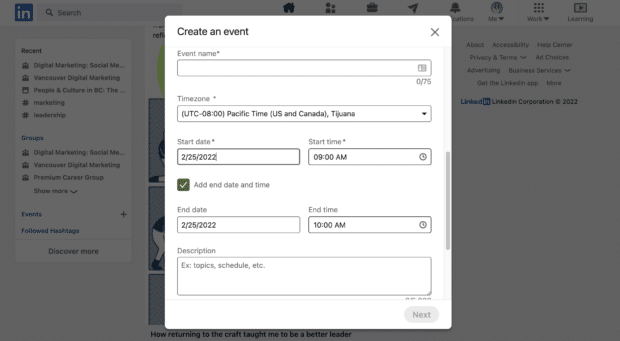 4. Under Event format box, choose Audio Event
5. Click Post, and you're done! This will share an automatic post to your feed to let other LinkedIn members know about your upcoming event.
Tips For Hosting A LinkedIn Audio Event
Hosting a LinkedIn Audio Event can be a great way to connect with your network in a more personal way.
Like any event, it's important to make sure you're prepared to ensure things go smoothly. Here are a few simple tips to help you be the host with the most in your next Audio Event.
When hosting your Audio Event, be sure to have an agenda planned to keep yourself and your guests on topic.
While you can invite attendees to speak alongside you, you should have limits on how long each speaker can take the stage.
To help your event run smoothly, mute all participants upon arrival and unmute them when they are ready to talk or ask questions. This will prevent any background noise while others are speaking and give you better control of what attendees hear during the event.
Encouraging participation can go a long way in keeping users engaged. Try asking your audience questions throughout your event and invite them to ask questions of their own.
If you are allowing time for Q&A, be sure to build that into your initial event agenda.
As well, be sure to put together enough content to keep your users interested throughout your presentation.
LinkedIn recommends speaking for at least 15 minutes in an Audio Event. This will give your participants time to join your event, get to know your content, and ask questions if needed.
Tips For Promoting Your LinkedIn Audio Event
There's nothing worse than planning an amazing event only to find out you're speaking to an empty room.
Often, failed events are a result of failed planning. So, here are a few tips to help make sure that your LinkedIn Audio Event is successful:
Make sure you're promoting your event well in advance. We recommend at least two weeks before it happens. (Pro tip: use Hootsuite to schedule your posts in advance)
Invite attendees from your LinkedIn network using the Invite Connections button on your Event page.
Include a link to the Audio Event in your promotional materials. This can include emails, social media posts, email signatures, and even your website.
Post regular updates on LinkedIn as the event date gets closer to keep it fresh in members' minds.
Consider doing a live countdown to get people excited about attending your event and help them remember when it starts.
Repurpose LinkedIn Audio Events content later on your profile, in other social media channels, or on your website.
Don't forget, you can easily manage your LinkedIn Page and all your other social channels using Hootsuite. Try Hootsuite for free today!
Easily manage your LinkedIn Page alongside your other social channels using Hootsuite. From a single platform you can schedule and share content—including video—and engage your network. Try it today.
Get Started
Easily manage all your social media in one place and save time with Hootsuite.
Try it for Free
The post What are LinkedIn Audio Events? Everything You Need to Know appeared first on Social Media Marketing & Management Dashboard.
Source link