Capturing that perfect gram-worthy pic is an art, but some of the most masterful work is done after the photo is taken. For all our fellow Instagram artists out there, we've rounded up the best photo and video editing apps for Instagram.
All of the following editing apps have a standard free version, and many have "Premium" or "Pro" upgrades that unlock more comprehensive features.
In the spirit of the visual platform, we've provided examples for each one in action. We tested them all out on a photo of a dog eating a banana—which, if you ask us, is already pretty engaging.
Save time editing photos and download your free pack of 10 customizable Instagram presets now.
16 of the best Instagram photo editing apps
Congratulations, you've graduated from Instagram's user-friendly (but basic) in-app editing feature. Here are the best free mobile apps for taking that next step.
1. VSCO
VSCO is a minimalist social media platform of its own—there are no follower counts, comments or ads. But it's also an easy-to-use photo editing app that has about 20 free photo presets and standard editing tools (think brightness, contrast, saturation, grain, all that good stuff). You can edit photos within the app and then save them to your Camera Roll to post on Instagram.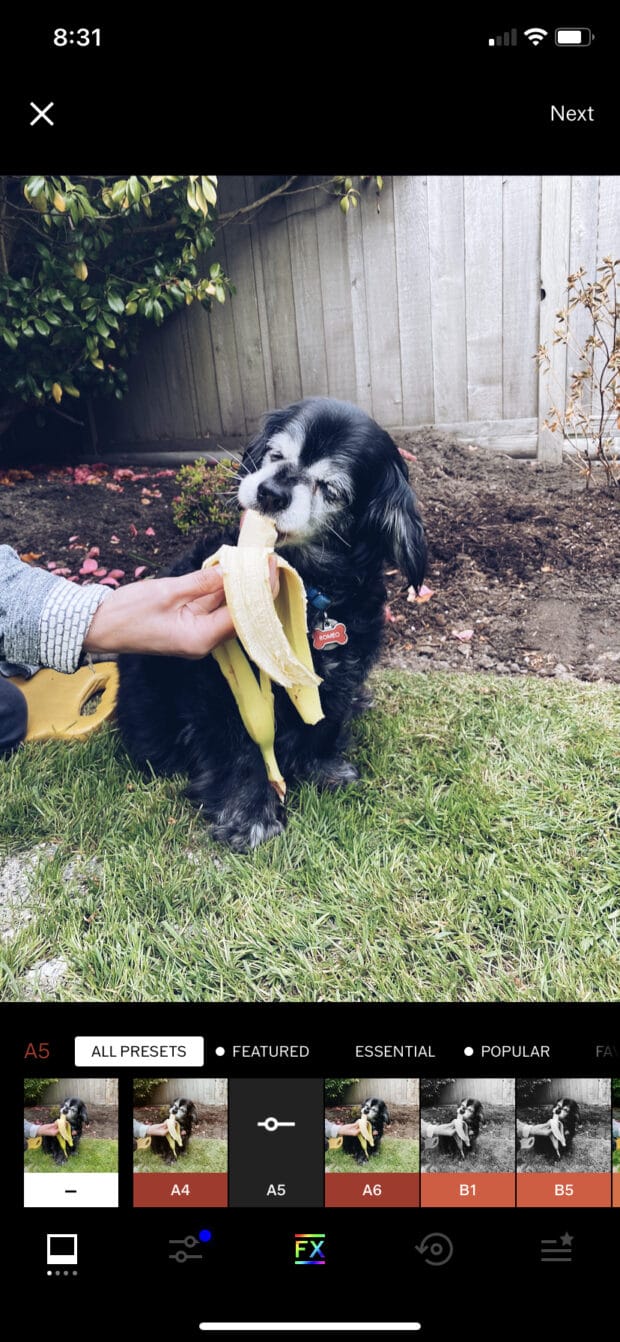 The paid version of VSCO, called VSCO Membership, costs $20 a year and comes with over 200 photo presets, advanced photo editing tools and tips for members.
2. Darkroom
Darkroom earned a 2020 Apple Design award for its innovation.
You can "favorite" and delete images from your Camera Roll directly in the app. There are 12 photo filters available in the free version, plus the ability to save your own custom presets.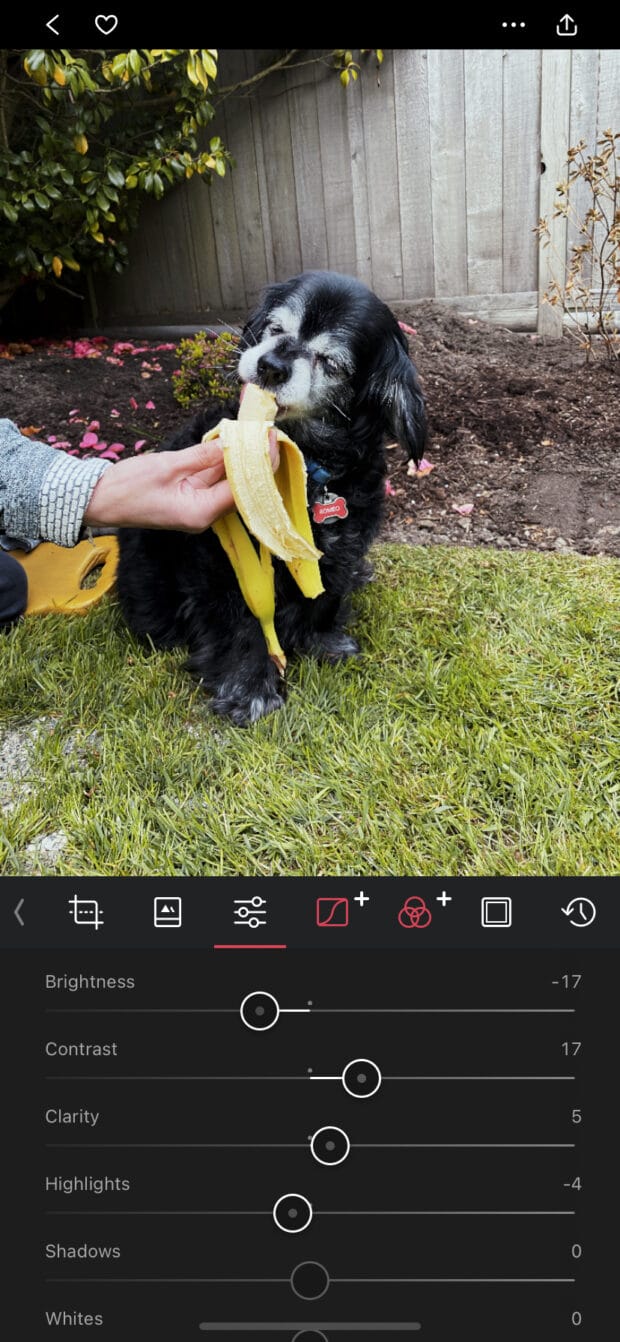 Darkroom Plus has premium filters, a curves tool, flag and reject, and 4K video editing. It's $6 a month or $62 a year, but they also have a "forever" membership for $69.
3. Photoshop Express
This photo editor app is better suited for more advanced users (a background in Photoshop is, of course, an asset), but it's navigable for beginners, too.
Photoshop Express was specifically designed for use on a mobile device. The app's features include retouching, enhancing, and all that good Photoshop stuff, plus themes, stickers and overlays.
There's also a smart healing tool—it took two seconds to do a very rudimentary erase of the tree on the right side of this photo (you'll notice the fence looks a bit funky).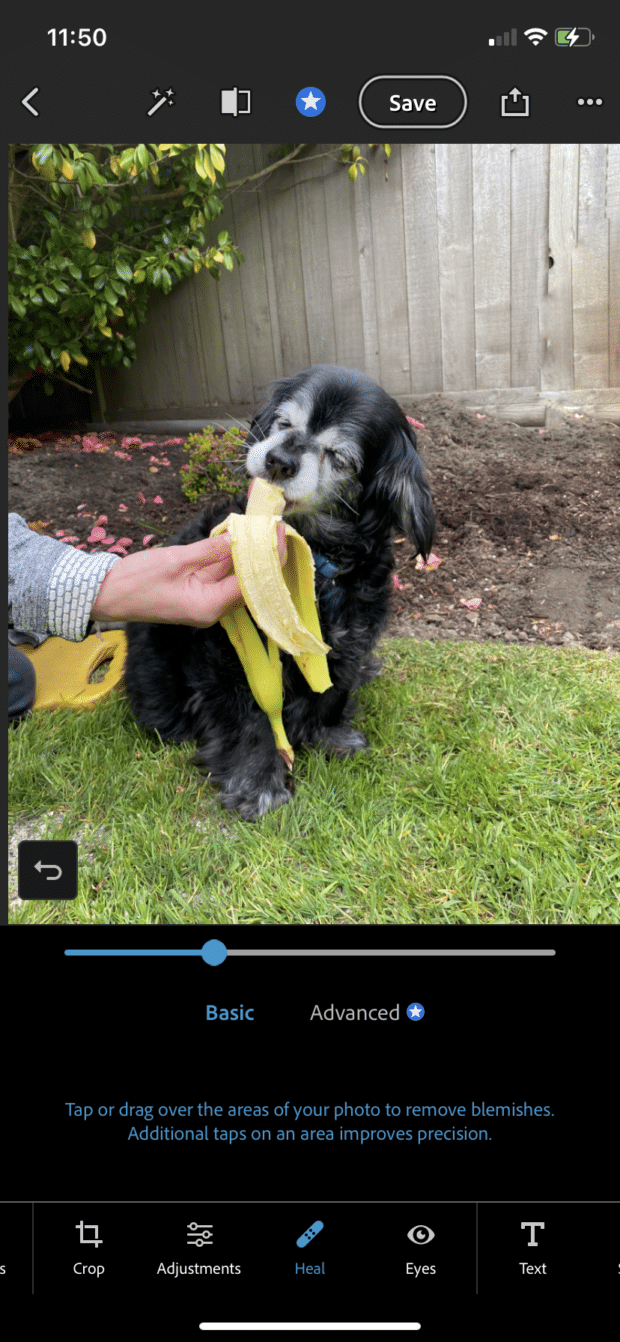 If you're new to this app, there's a great how-to page for getting started.
Photoshop Express is free to download and use. The premium version features multiple layers, auto selection, selective editing and advanced healing (you know, for fixing fences). It's $47 a year.
4. Snapseed
Snapseed is an awesome free photo and video editing app for beginners. Think standard filters, basic photo editing tools and a very simple user experience, but a little more advanced than Instagram's in-app editing.
The app features a handy tutorial that walks new users through exactly how to use it.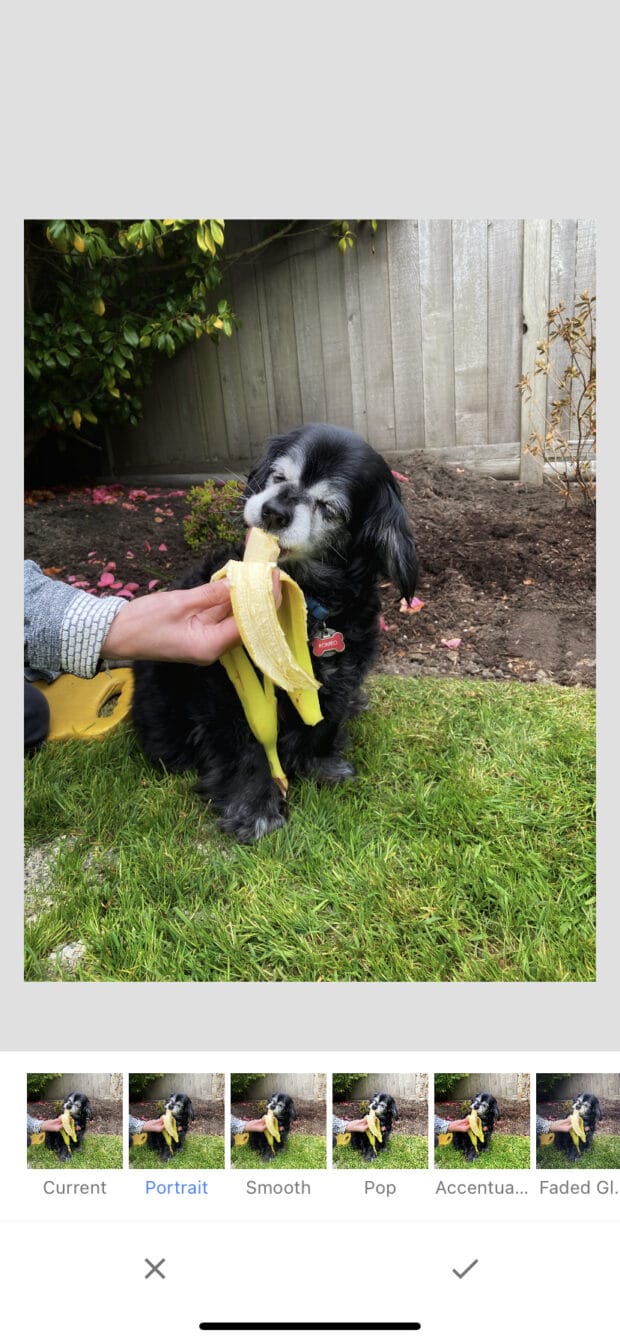 It's totally free, so you won't be inundated with flirtatious "Premium" or "Pro" ads.
5. Hootsuite's Photo Editor
We can't miss the opportunity to shout out (hoot out?) our own free in-app photo editor.
When you use Hootsuite to schedule and plan your social media posts, you can edit photos directly from the app with our user-friendly tools.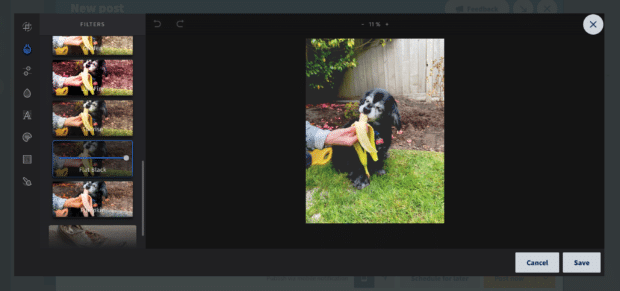 This system is fully integrated into our social media management dashboard (making Hootsuite the only app you need for building, editing and scheduling posts).
6. Focos
Focos is a free app that assists in the taking of photos, but you can use it to edit pictures after they're taken, too.
The app can re-focus portrait photos that have already been taken, create different lens effects and simulate a quality of photo most commonly associated with DSLR cameras.
It also has an AI engine that can automatically calculate the depth of field.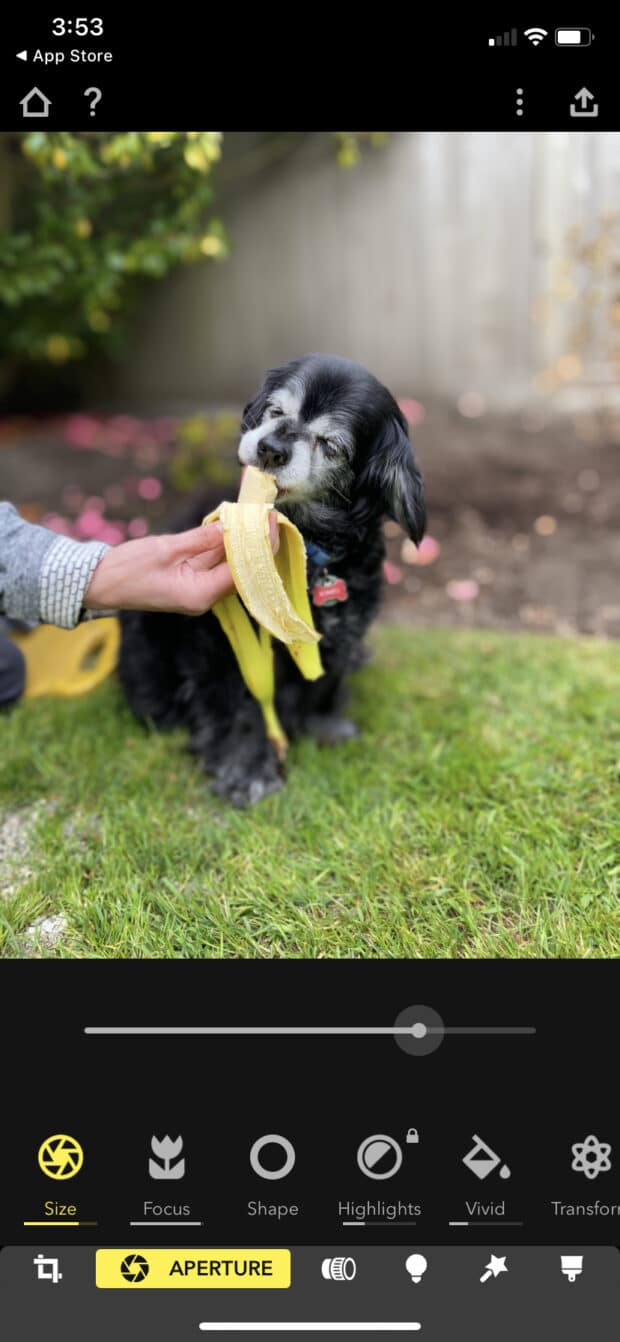 The ideal user of this app has some background knowledge in photography—the editing tools are geared towards folks who understand things like aperture and bokeh.
7. Lensa
Along with the standard filters and tools that most photo editing apps have, Lensa features trendy effects and an adjustment tool that allows you to edit the foreground and background of the photo separately.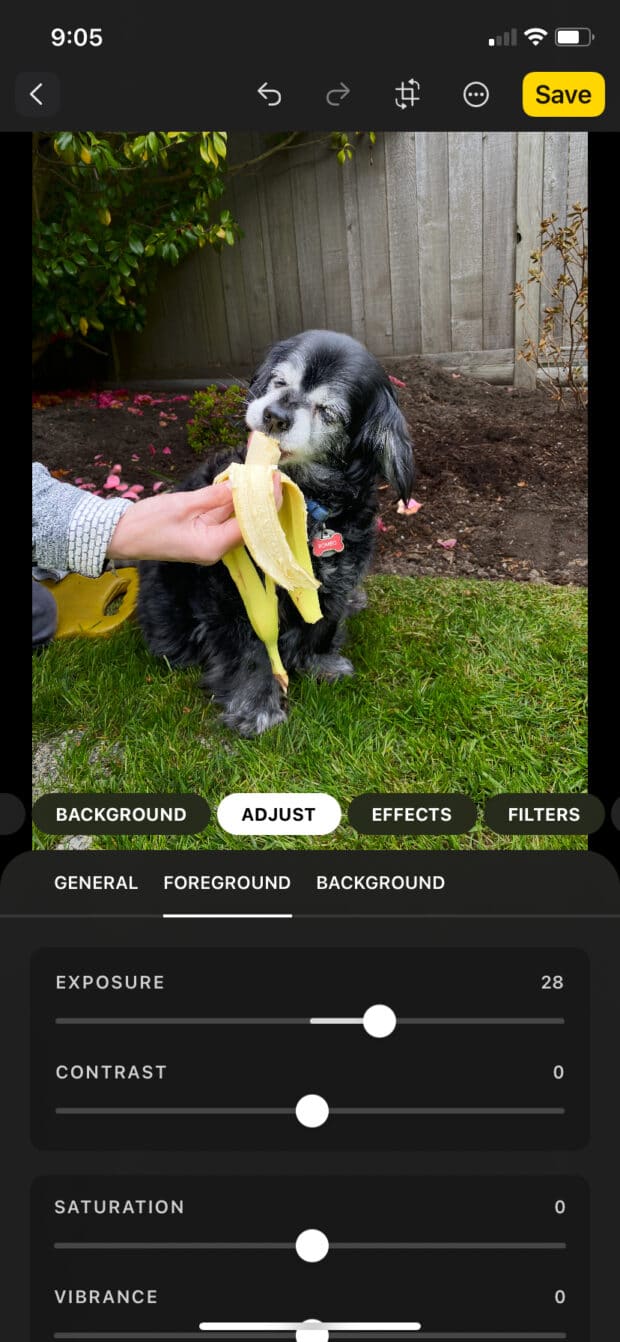 Lensa is free for 7 days. After the free trial, it's $47 a year.
8. Adobe Creative Cloud Express
This app comes stocked with templates for different types of graphics, from Instagram posts to posters to business cards.
Instagram-wise, Creative Cloud express is great for adding text and effects to photos.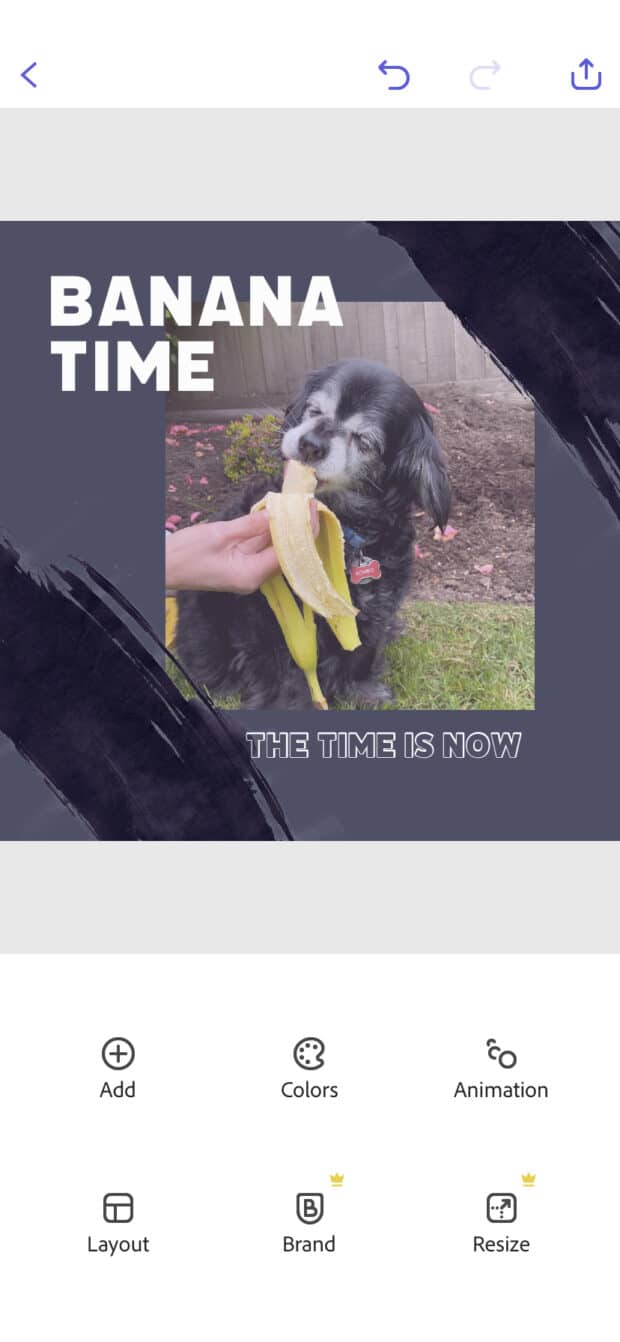 This app also has a huge library of stock images, effects and design elements for free and an animation feature for creating more dynamic content.
Without paying, you can store up to 2GB of photos and videos in the cloud — and for $100 a year, you get the ability to resize photos, access to more stock images, one-tap branding and 100 GB of storage.
9. Photoleap by Lightricks
Photoleap is a very intuitive app. It features a Quickart function that enables the user to select from a variety of templates—for example, this color pop template:
Save time editing photos and download your free pack of 10 customizable Instagram presets now.
Get the free presets right now!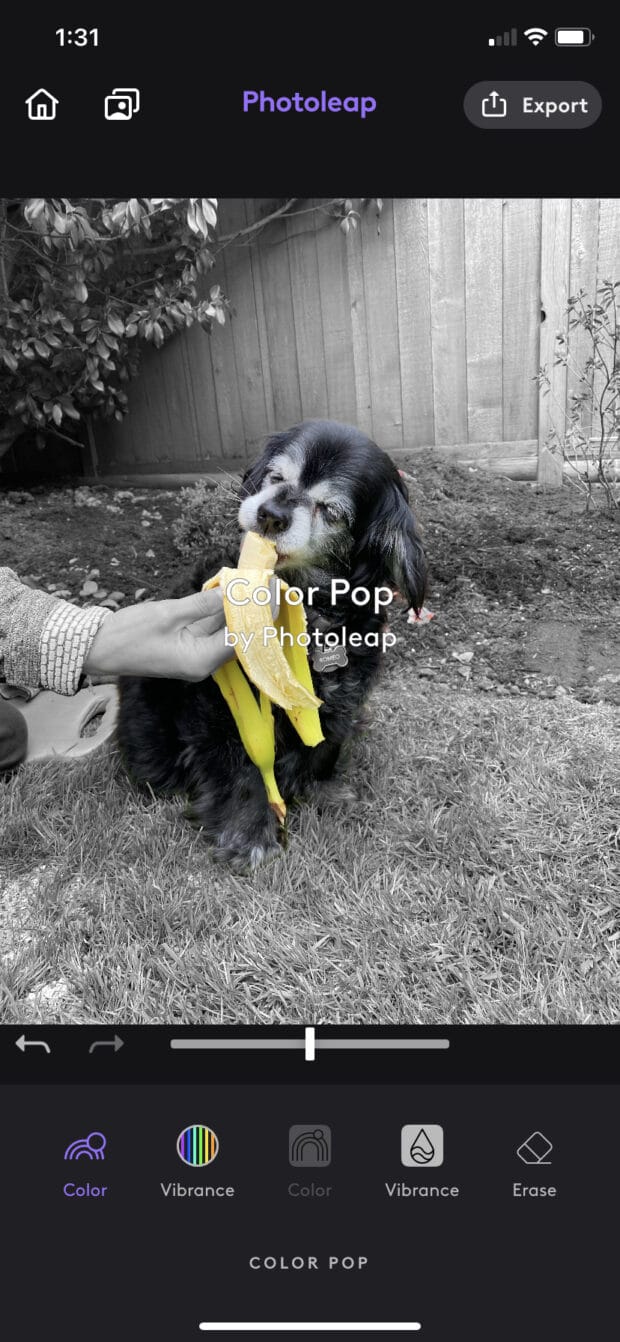 The app also offers readymade graphics you can work with, plus the standard photo editing tools that most photo editing apps have (cropping, adjusting brightness, filters, all that jazz) for free.
Photoleap Pro is $11.49 a month, or a one-time purchase of $105. Premium features include access to their complete art and graphics library.
10. AirBrush
This app was made for selfie editing—there's a "beauty magic" feature that can automatically change things like nose, chin and lip size, and recognize and remove dark circles and acne.
The app also has a one-tap makeup application tool for lips, blush, contour, mascara, etc. It's best used on images of faces and hair, but the "smooth" function also works on hand skin (take a look at the left side of the hand in the image below).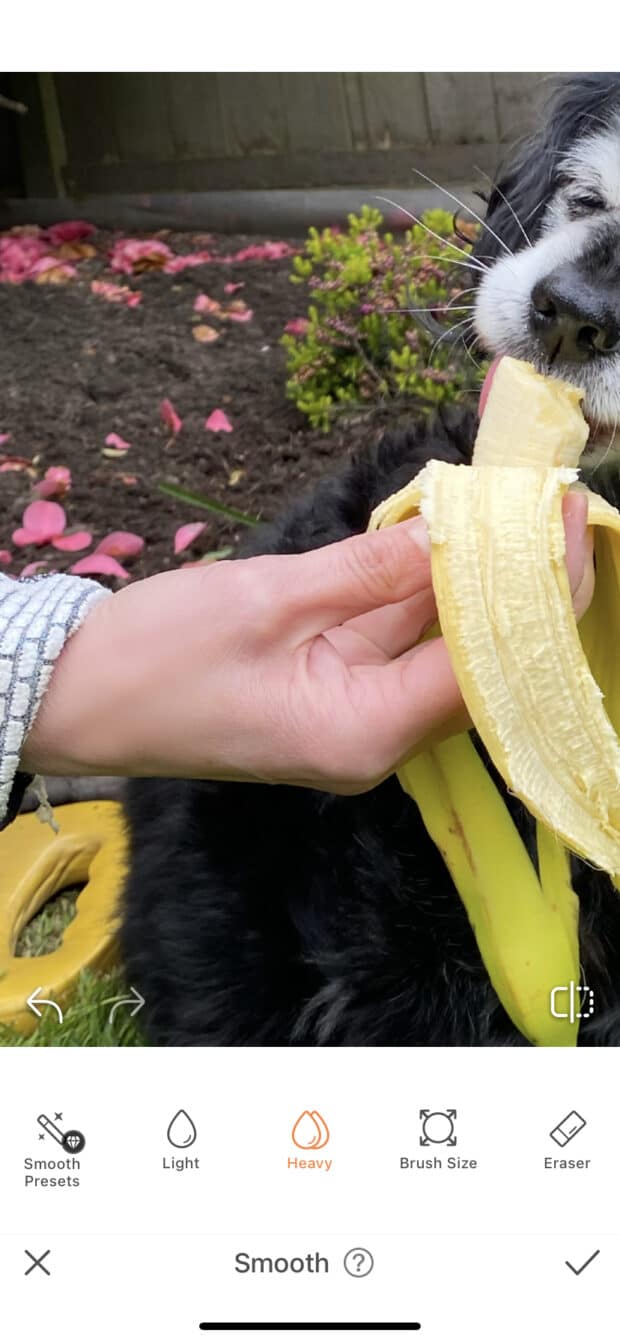 Airbrush Premium includes 120 filters, 20 makeup looks, and 25 retouching tools, all for $44 a year.
11. Prequel
If you're looking for artsy effects, this is the app for you: it's free and offers tons of fun photo presets for both photos and videos.
Think everything from moody film noir-style effects to adorable stickers (this preset is appropriately titled "Cutie").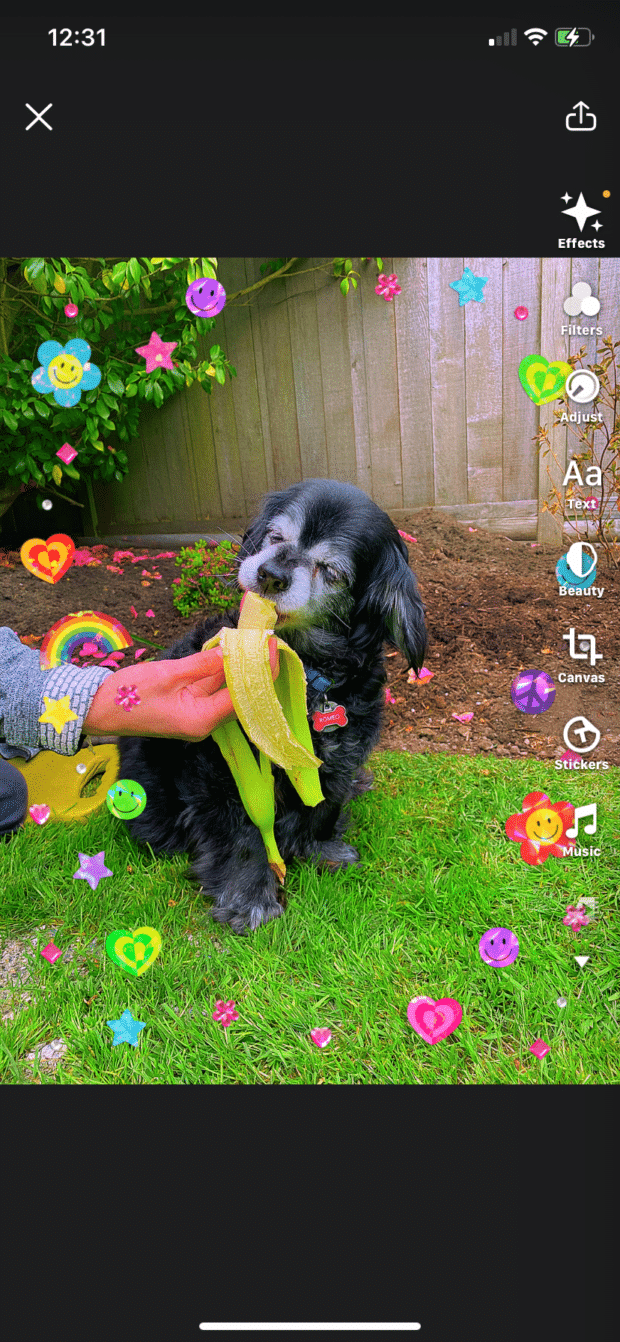 Prequel Premium is $6.49 a week (that comes out to around $340 a year) and includes access to all effects and filters, advanced editing tools, a retouch toolkit and weekly app updates.
12. PicCollage
PicCollage is a collage-making app that's very quick and easy to use (though be warned, the free version does stamp a small watermark onto your final edit).
It features a multitude of grids and templates available in various shapes and sizes. You can adjust the brightness/contrast/etc. in each individual image within the grid.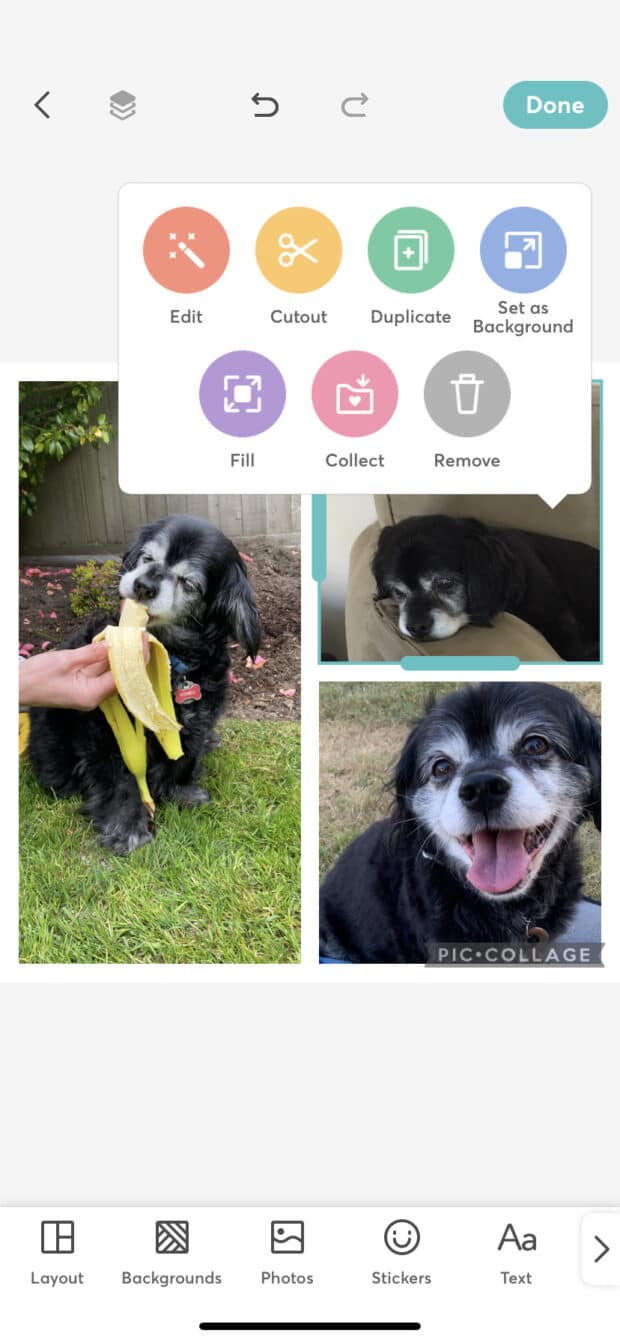 PicCollage VIP costs $48 a year. It earns you watermark-less collages and unlocks exclusive fonts, features and stickers.
13. Instasize
Instasize is free and offers the same kinds of filters and editing tools that other apps have, but one of its most unique features is resizing images specifically for Instagram.
Before the editing process begins, you select the best size dimensions for the photo (a square post, landscape, Instagram story, etc.) to ensure that none of your hard work gets cut off once the image is posted.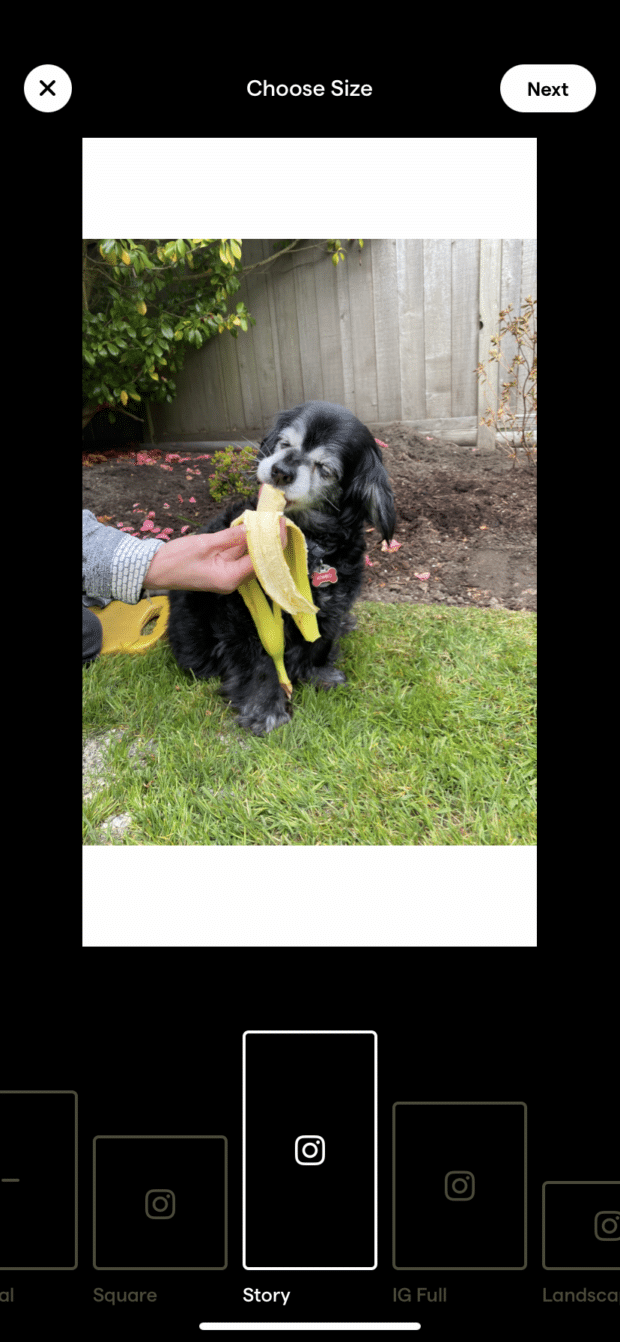 Instasize Premium is $5 a month and unlocks extra photo editing tools and filters.
14. Bazaart
If your Stories are feeling boring, Bazaart is the app to turn to.
This app offers many easy-to-use graphics and templates for eye-catching content, and has dedicated categories for advertising, sales, invitations, and seasonal celebrations for your brand.
You can edit videos in this app, too.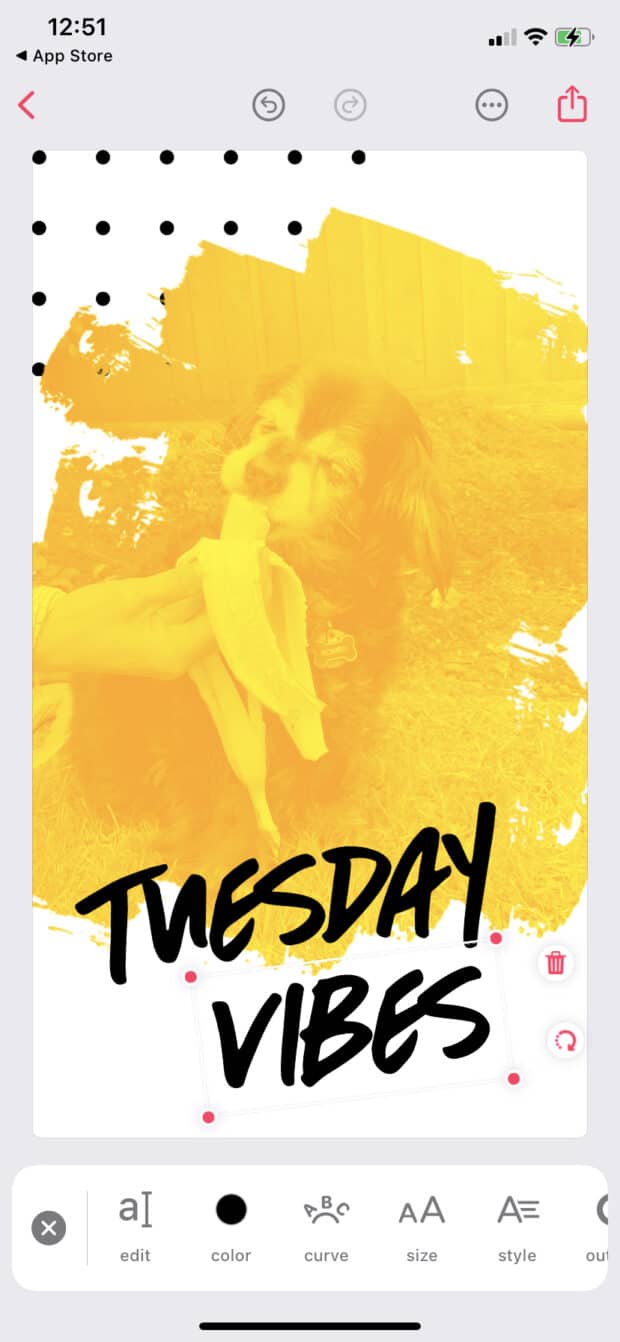 Bazaart Premium is $12.49 a month and unlocks extra features and content, including a background remover and repair function.
15. Fotor
Fotor's features include retouching, a collage tool, cropping, resizing, adding text and a pretty fun background remover.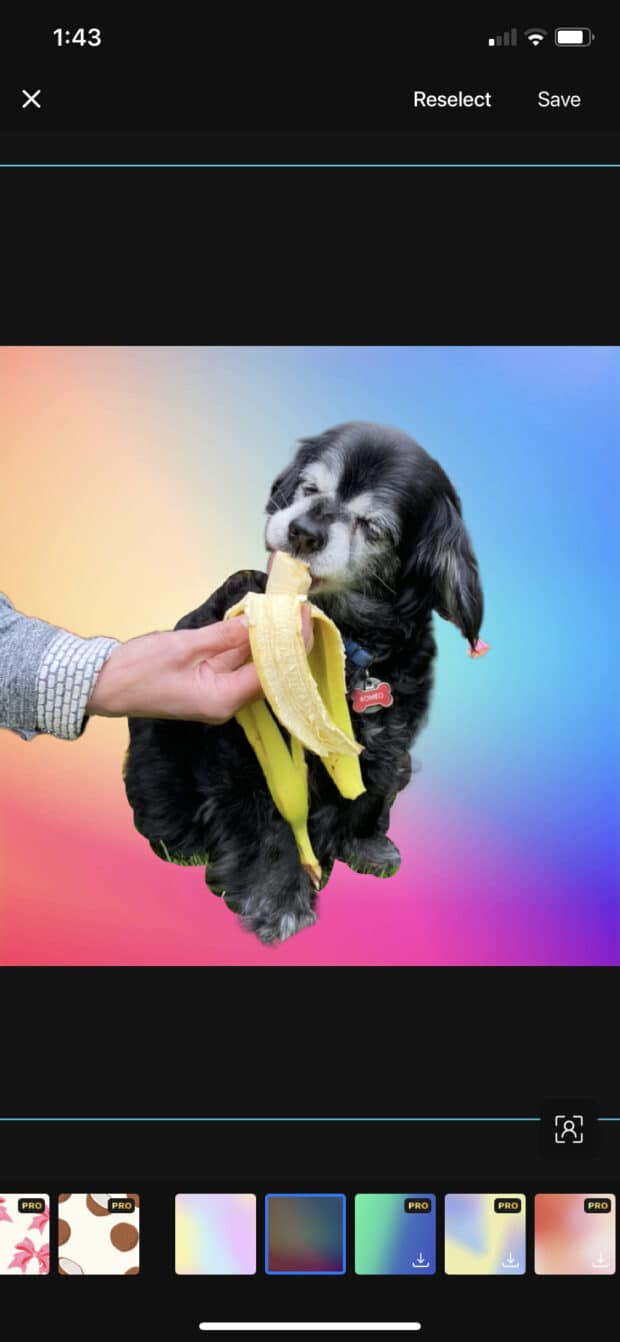 The paid version (Fotor Pro) scores you advanced editing features, effects, and no ads, plus the ability to sync across multiple devices for $50 a year.
16. Filto
Filto specializes in filters (surprise surprise!) and also offers stickers, text and canvas adjustments.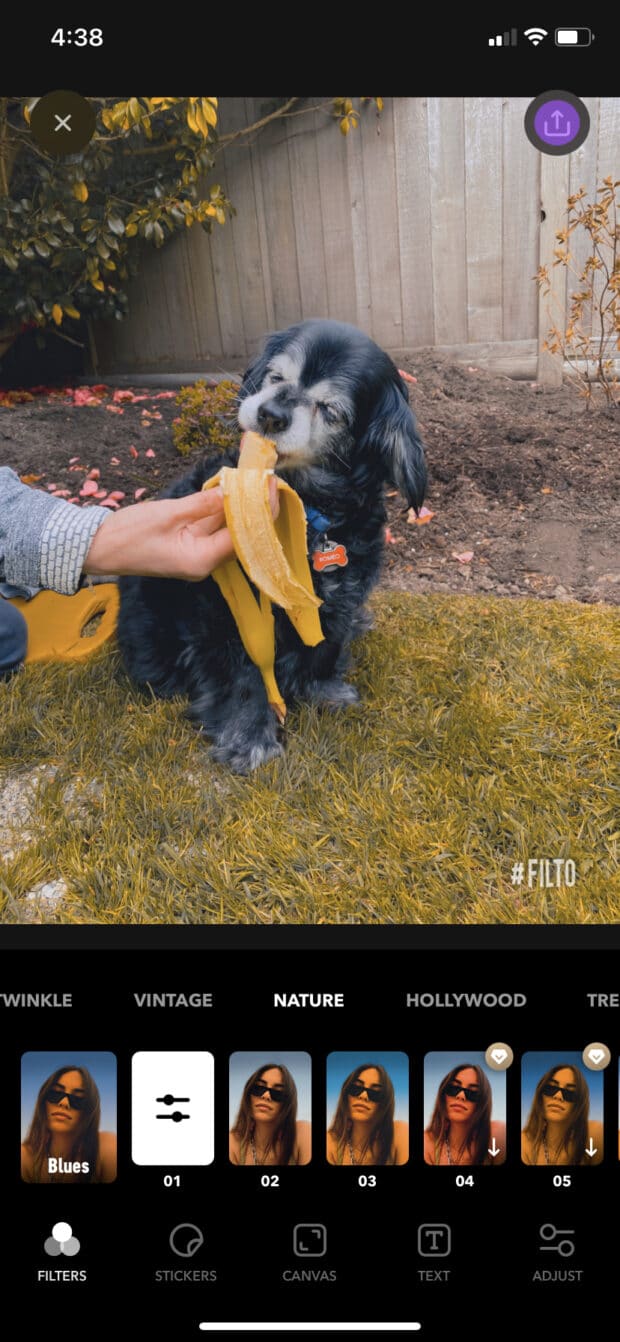 The free version does put a small watermark on your finished photos—to remove that and unlock all filters, upgrade to pro for $48 a year.
6 of the best Instagram video editing apps
From basic clip trimming to cool transitions and music, here are a half dozen apps that can transform videos into engaging, shareworthy content.
17. Capcut
Capcut is a video editing app that includes features like splitting clips, reordering videos, adding overlays and text, as well as effects, filters, and a music library.
The app has an intuitive user interface and makes assembling clips easy. Best of all, it's totally free.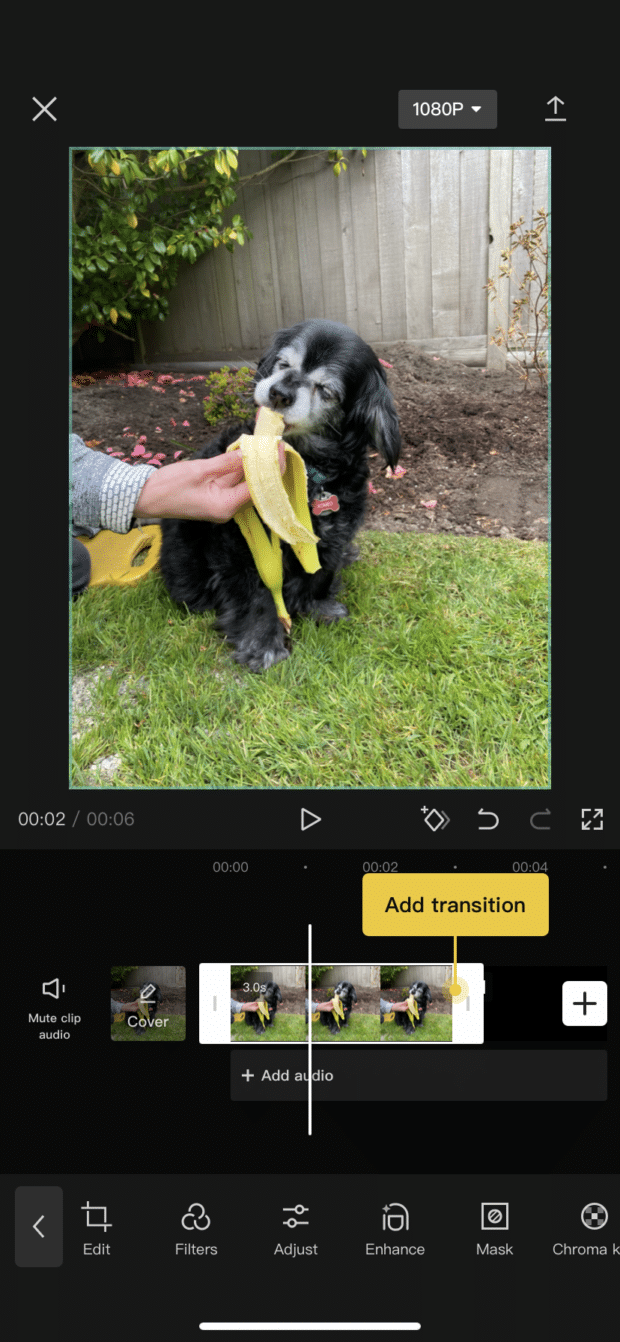 18. Splice
When you first download Splice, you can select your video editing experience (choices range from "None" to "Advanced").
You can also give information about what kinds of videos you want to make and what you hope your audience will get from them—this information helps the app suggest different templates and effects.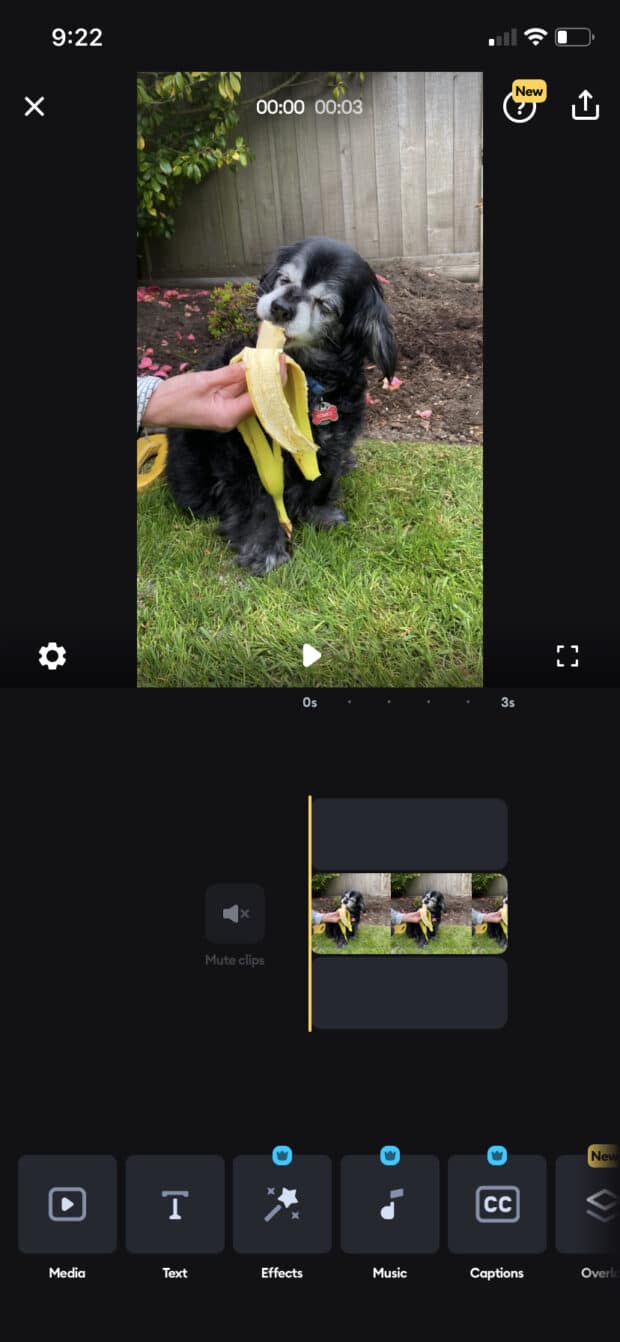 Splice's video features include both basic and advanced editing tools, speed effects, overlays and 4K exports.
The app is free to download, and the Pro version ($12.49 a month) includes an animated photo feature, music, and captions.
19. KineMaster
The KineMaster app features video editing with multiple layers, chroma key, speed control, reverse and more.
There's also a huge stock of stickers, music and effects (over 2,000 items).
Note: Kinemaster only displays in landscape mode, which is better for video editing, anyway.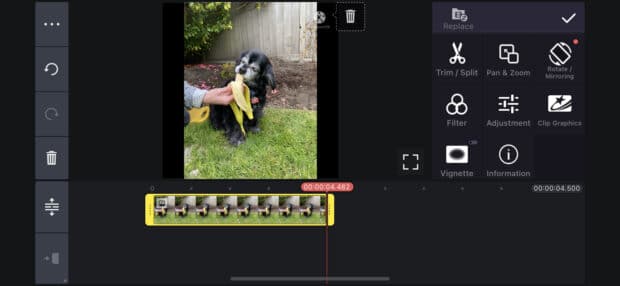 The free version of KineMaster has ads and puts a watermark on your videos. For an ad- and watermark-free experience, upgrade for $5.49 a month.
20. InShot
InShot's video features include clip trimming and merging, filters, text, music, speed adjustments and cropping.
The app also has a library of clips that you can use for intros, outros and transitions.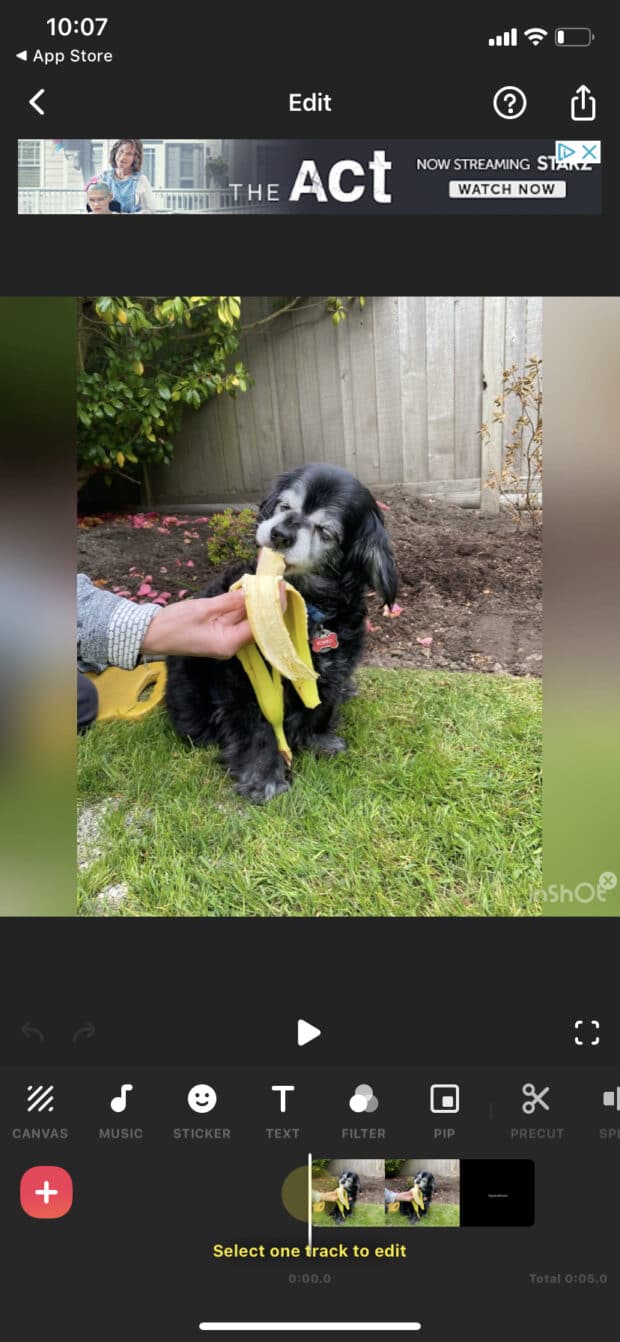 InShot Pro ($18.49 a year or a one-time purchase of $48) comes with more transitions, effects and stickers. The Pro version is also ad-free and won't watermark your final project.
21. Vimeo Create
The Vimeo Create app is a very basic video editing app for beginners—you can assemble photos and videos into a template and add text, but you can't trim, cut or merge your video footage on the mobile app.
The free app can be used to create videos that are a maximum of 30 seconds long, and they export with a watermark like the one below.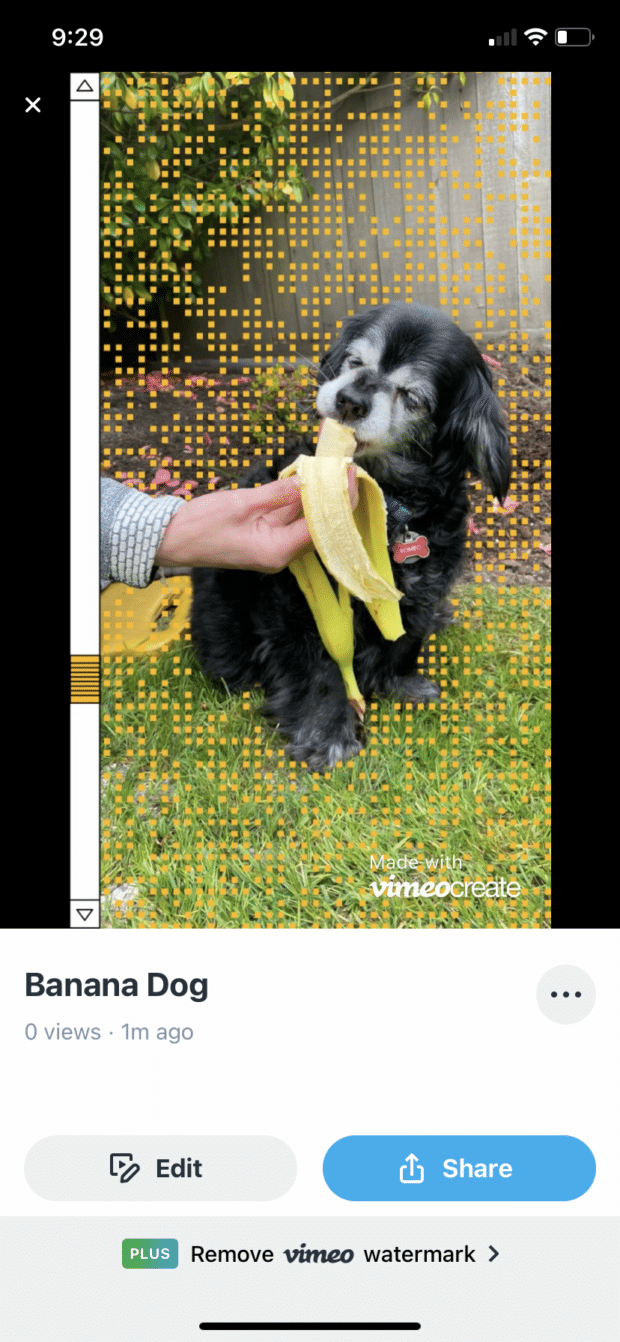 The Pro version grants you access to 60-second videos, custom brand assets, a library of stock images and watermark-free downloads — all for $33 a month.
22. Picsart
This user-friendly video editor includes tools for trimming, splitting and adjusting the speed of your clips.
It's a photo editor, too, and it comes with artsy templates for giving images an extra creative kick.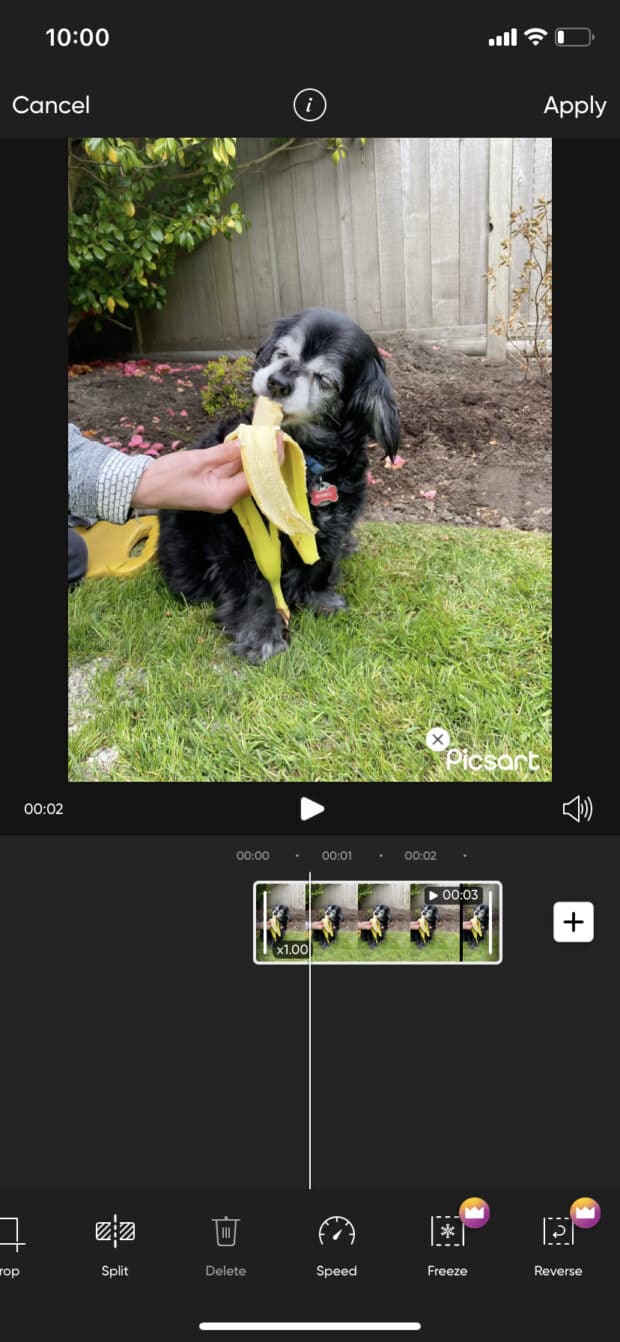 The paid version of the app removes the watermark from downloads and gives you access to more photo editing features (like freeze and reverse functions) for $77 a year.
Save time managing Instagram for business using Hootsuite. From a single dashboard, you can create, schedule and publish posts directly to Instagram, engage your audience, measure performance and run all your other social media profiles. Try it free today.
Get Started
Easily create, analyze, and schedule Instagram posts and Stories with Hootsuite. Save time and get results.
Try it for Free
The post The 22 Best Instagram Editing Apps for 2022 appeared first on Social Media Marketing & Management Dashboard.
Source link