Tips & tricks
How to Promote Your YouTube Channel: 30 Tactics That Work
New kids on the block, like TikTok, are making a huge impact on social media right now, but one video-sharing platform still rules all: Youtube. It's the second most-visited site on the web, with more than 2.1 billion users worldwide. If you want to harness the platform's potential, learning how to promote your channel is a must.
Here are some of our favorite tricks for optimizing your YouTube content to help new people find your channel. Each of these tips is simple, effective, and, better yet, 100% free.
Bonus: Download the free 30-day plan to grow your YouTube following fast, a daily workbook of challenges that will help you kickstart your Youtube channel growth and track your success. Get real results after one month.
How to promote your YouTube channel: 30 tactics that work
1. Choose Google-friendly keywords
A great YouTube channel starts with great SEO. And great SEO starts with understanding what users are searching for.
People don't just look for videos on YouTube; they use Google too. And Google now prioritizes video over other content for many searches.
There's no set rule for which keywords will help your YouTube video rank well. But a bit of reverse engineering can go a long way.
Here's how to find a Google-friendly keyword for any video:
Identify possible keywords with a tool like the Google Ads Keyword Planner.
Google one of your options.
Analyze the Search Engine Results Page (SERP) for each keyword. Are the top-ranking results videos or written content?
Tweak your keyword and try again. Try adding words like "How to" or "Tutorial" if you're having trouble finding keywords with video results.
Choose a keyword that prioritizes video and suits your content.
For example, "Photoshop Tutorial" shows video results first, while "Photoshop Tips" first directs Google users to a web page.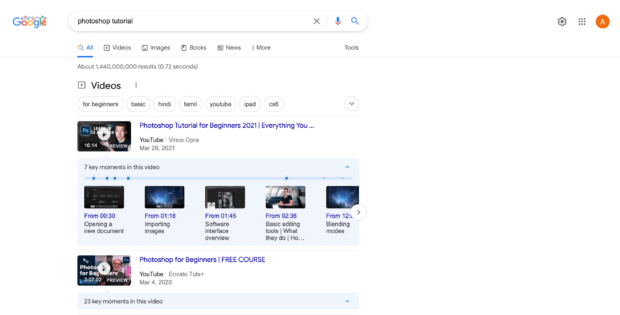 YouTube's autocomplete feature is another great way to find popular keywords. Start by searching for a particular theme or topic, and see what title YouTube suggests.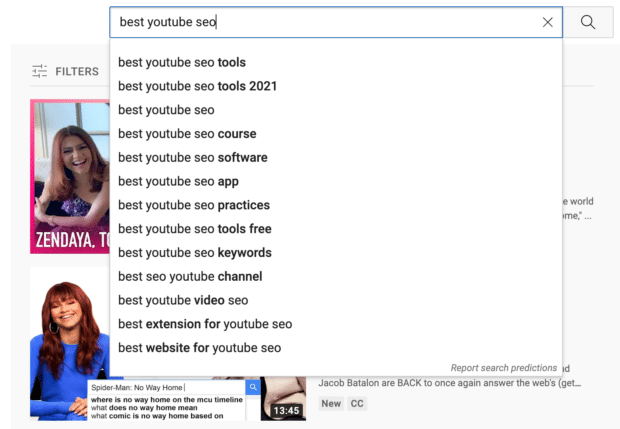 2. Use concise, descriptive video titles
The title is the first thing users see when they find your content. And if it isn't punchy, it might be the last.
Here are some basic tips for writing strong YouTube titles:
Keep it short and sweet. The most popular YouTube videos tend to have the shortest titles. Stick to 60 characters or less or some of your title may get cut off when displayed.
Include your keyword(s) in the first half of the title to avoid losing valuable information. Most online readers focus on the beginning of the sentence and skip the rest.
Engaging doesn't mean clickbait. The best headlines offer an obvious benefit or create an emotional reaction. Clickbait is tempting but can damage your channel's reputation in the long term.
3. Create custom thumbnails
Thumbnails matter, maybe even more than titles. That's because our brains are hardwired to notice visuals first. We process them in less than 13 milliseconds, according to one MIT study.
YouTube produces automatic thumbnails for all videos, but they can be blurry or out of focus. To boost views, create an eye-catching custom thumbnail for every video you post.
We recommend these simple "rules of thumb" for best results:
Resolution: 1280 x 720 px (but any 16:9 aspect ratio should work, as long as the width is at least 640 px)
Format: .JPG, .GIF or .PNG
Size: respect the 2MB limit
Add text and colors to encourage clicks
Choose a close-up image, if you can
Use a stock photo when in doubt
Be consistent with your other branding
Which of these two thumbnails are you more likely to choose? The first graphic has text that clearly defines what the video is about. It's more eye-catching and more clickable!

4. Fill out your profile information
Many YouTubers skip the profile section and get straight to content creation. But a compelling profile is one of the easiest ways to promote your YouTube channel—and boost your SEO.
Here are some best practices for creating an effective YouTube profile:
Be consistent. Use a similar color palette, writing style, and layout as you do on your website and other social channels.
Optimize your YouTube channel description. This is a great place to add keywords. YouTube penalizes "tag stuffing," but including a couple of keywords can go a long way.
Keep viewers coming back for more. When and how often will you post new content? Let fans know your schedule—then make sure you stick to it.
Include contact info. You never know who might want to reach you. Make it easy for them and you could land some great partnerships.
5. Optimize your video descriptions
We have a complete guide to writing effective YouTube descriptions, which has tips for both individual video descriptions and channels and free, customizable templates.
In a nutshell, here's what you should consider when writing your YouTube video descriptions:
Front-load your keywords in the description and title.
Stick to the 5000-character limit, but have the most important information in the first 100 to 150 words, which appears above the "SHOW MORE" button.
Create a "contents page" with timestamps that help viewers find what they're looking for.
Add links to relevant playlists (more on this later).
Include a few relevant hashtags. Be sure to follow YouTube's hashtagging rules before you post.
You can also mention keywords in the video itself. But just like with text, people lose attention quickly. Use a couple of keywords during a brief intro for best results.
Henry Media Group's descriptions make the most of timestamps in their how-to videos.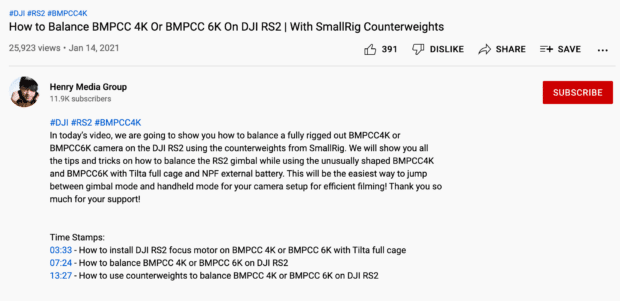 6. Don't forget about metadata
YouTube's metadata guidelines emphasize two things when it comes to using keywords:
Be honest.
Choose quality over quantity.
These rules also apply to features like tags and categories. Only include tags in the "tags section" of your upload—not the video description. Add one or two categories to help YouTube understand who to recommend your video to.
7. Offer real value
This may seem obvious, but it's still worth saying.
Great content is the best way to keep viewers engaged—and the most effective way to rank well in YouTube search. That's because YouTube's ranking system prioritizes the viewer's experience.
Before you publish any video, ask yourself:
What problem does this video solve?
Is it entertaining?
Will it improve viewers' lives in any way?
Our "How to Use Hootsuite in 13 Minutes" video is one of our most popular to date. By breaking things down step-by-step, we helped viewers master a new tool. Provide real value, and you'll be rewarded with real engagement.
8. Create high-quality videos
Poor video quality can undermine even the best content. So make sure your content looks professional before you post it. Use a decent camera, do a soundcheck before recording, and learn some basic editing skills.
Of course, not everyone is a natural filmmaker. Brush up on these best practices for social videos if you're a little rusty.
9. Interact with your fans
Real engagement doesn't end at content creation. The most successful YouTubers constantly monitor and interact with their fans.
Respond to viewers' comments—even the negative ones—and "heart" your favorites. Post response videos. Use analytics to identify your top fans and show them some extra love.
Your viewers—and your subscriber count—will thank you for it.
Musical artist Madylin Bailey writes songs using hate comments on her videos. She created this video in response to his "biggest hater." They get a lot of attention: one even earned her an audition on America's Got Talent.
10. Try a Q&A
Audience Q&As are one of the most effective ways to build a community on YouTube. Ask your subscribers to send you questions by comment, email, or tweet. Then create a video to address them.
By showing your fans that they matter, you'll boost watch time, view counts, and engagement. Plus, Q&As can be lifesavers when you're out of fresh content ideas.
This Youtuber noticed a lot of her viewers called her their "internet big sister," so she did a Q&A with some of her best big sis advice—including tips on relationships, making new friends, and how to stop comparing yourself to others.
11. Run contests
Contests are another great way to get your audience involved. With a single video, you can collect viewer data, encourage likes or comments, and gain subscribers.
We have a whole blog post about making the most of YouTube contests. But some quick takeaways include:
Start with a clear goal in mind.
Respect YouTube's contest rules and restrictions.
Choose a prize your viewers will actually enjoy.
Maximize your reach with other social channels.
Use a tool like Hootsuite for YouTube.
Blendtec is famous for its "Will it blend?" videos. They were one of the early adopters of the YouTube contest: they've been using giveaways to increase their audience for over a decade.
12. Be active in the community
YouTube is all about finding your niche and building your following within it.
Subscribe to channels that target a similar audience as you. Watch, like, and share their content. Leave thoughtful comments or mention them in your own videos.
Not only will this give you a better sense of what your competition is up to, it can also help you reach new viewers.
Learn how you can schedule your YouTube videos and engage your community from a simple, user-friendly dashboard with Hootsuite:
13. Work with (the right) influencers
Partnering with influencers is another way to broaden your reach. YouTube personalities can help you tap into existing, highly engaged communities. They can also help you come up with new content when you're stuck for ideas.
But there's one golden rule to any successful partnership: Be authentic.
Identify influencers who represent values aligned with your brand. Does it make sense to partner with them? Will it provide value to your viewers?
If not, keep looking. Inauthentic content can do more damage than good.
For example, this collaboration between Jackie Aina and Anastasia Beverly Hills makes sense—a makeup artist partnering with a makeup brand.
14. Respect YouTube's community guidelines
YouTube is cracking down hard on inappropriate content due to a rising number of underage users.
Don't post anything you wouldn't want your little brother to see. Otherwise, your video will get flagged and removed from YouTube's recommendation feature. This Statista study shows that in 2021, tens of millions of Youtube videos were removed through automated flagging alone. If you're ever unsure, double-check the community guidelines first.
15. Create a series
Consistency pays off. Post videos on a regular schedule to keep viewers coming back to your channel again and again.
Choose a catchy, keyword-friendly name for your series for best results. Create a custom thumbnail to give each video in the series a similar look and feel.
VICE News keeps subscribers engaged with new content every day.

16. Make playlists
Playlists are a great way to get people watching more of your content in one go. That's because these collections are a little addicting. As soon as one video ends, the next begins.
Playlists also help with discoverability. Videos in a playlist are more likely to appear in YouTube's Suggested Videos column. Plus, playlist titles are a great place to add keywords.
You can create effective playlists in two ways:
On your channel page, group existing videos together under a common theme. This keeps viewers on your channel and not your competitor's.
Collect videos from other relevant influencers or partners. This signals to your viewers that you're "in the know" and encourages them to share your playlists.
The Cut's "Lineup" playlist is more than a little addicting.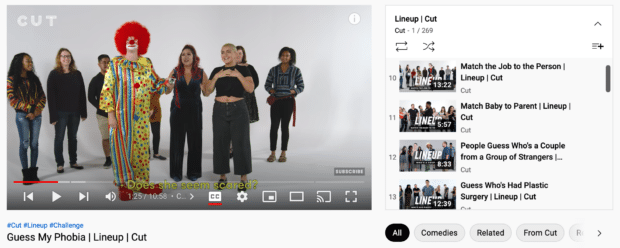 17. Go live
YouTube is one of the internet's most popular live stream platforms, particularly during the COVID-19 pandemic when in-person events were cancelled. Take advantage of this by creating content that really engages viewers.
Webinars, Q&As, and events all work well live. Browsing YouTube Live is another great way to get inspired.
18. Add a call-to-action
Include a compelling CTA in your video to make the most of your hard-earned audience.
Maybe you want to push your viewers to like or share your video. Maybe you want them to click through to your website. Whatever the "ask," the best CTAs are always clear, compelling, and urgent.
YouTube has a call-to-action extension for in-stream ads. But there are also lots of free ways to add CTAs to videos:
Direct host mentions: Look into the camera and verbally tell viewers what you want them to do.
Video descriptions: Ask viewers to comment, share, or like your video in the description itself.
End cards: Add a customizable screenshot to the beginning, middle, or end of the video. These powerful visual cues add punch to your CTA.
We used this end screen in our "The REAL way to get free Youtube Subscribers" video to boost subscriptions.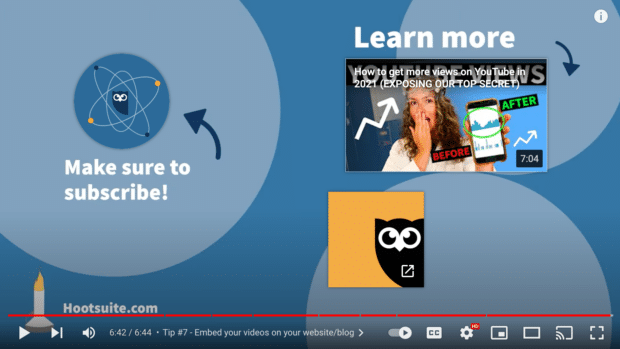 19. Cross-promote your channel
Reach out to audiences outside of YouTube to build a community around your channel. Find ways to incorporate videos into your blog, email newsletter, and other social media accounts.
There are lots of creative ways to cross-promote a YouTube channel that don't involve posting the same message twice. But here are some simple ideas to get you started:
Social media
Different social strategies work well for different platforms. Tools like Hootsuite can help streamline this process—especially if you're using many social media accounts.
Brush up on the recommended video specs for each social platform. Then, optimize your video accordingly. Again, make sure your brand's overall look and feel is consistent everywhere. And make sure you use different captions every time you post.
GIFs are a fun way to promote YouTube videos on Twitter.
Fashion ICON @grav3yardgirl https://t.co/ynQcYubxqJ pic.twitter.com/Pb73ibgvcN

— YouTube (@YouTube) January 8, 2022
Blogging
Does your website have a blog? Embed videos in your posts, along with searchable transcriptions. This will increase both video and page views.
You can also use your blog to generate new content ideas for your channel. Use Google Analytics to find which posts get the most traffic. Is there a way to create a video on that topic?
Embed the end result into the post itself. This will add value to your blog while encouraging readers to check out your YouTube channel.
Email marketing
Email may be old school, but it's still effective. In 2020, the global email marketing market was valued at 7.5 billion dollars.
Create an email list of YouTube subscribers. Then, give them a heads up every time you post new content. It's an easy way to increase your video's view count early on. This, in turn, will kickstart YouTube's recommendation algorithm.
You can take advantage of your email signature too. A simple link to your YouTube channel below your name is a non-pushy way to gain subscribers.
We recommend using a simple icon rather than a long, nasty-looking URL.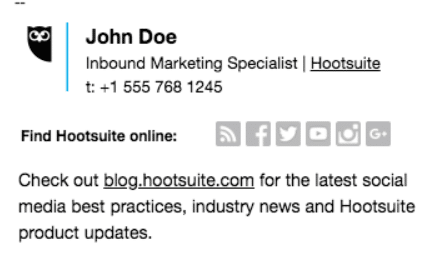 20. Promote your channel, not just your videos
You know how domain authority affects page authority in SEO? The same is true for videos.
Take advantage by promoting your channel as a whole, as well as your individual videos. Push for subscribers and link to your account wherever you can. This will help your videos rank higher in YouTube and Google searches.
21. Take advantage of the holidays
Win some extra eyeballs by anticipating what people are looking for. Use holidays, popular movies, and trends as opportunities to post relevant content. You'd be surprised how well this strategy can work!
For example, home organizer extraordinaire At Home With Nikki made this "How to Decorate a Christmas Tree" video one month before Christmas—close enough to the holidays to be timely, but not so close to December 25th that folks would have already finished their decor.
22. Make evergreen videos
Upload a few timeless videos that your subscribers will return to again and again. Popular evergreen content includes how-to guides, tools and resources lists, stat collections, tip roundups, and more.
This kind of evergreen content can rank well for years, increasing traffic and boosting SEO.
23. Find out what works (and do more of it)
YouTube's analytics are powerful. Use them wisely!
Take a dive into your data to understand your audience on a deeper level. How old are they? What languages do they speak? Which video styles do they prefer? Use this information to create content that truly captures their interests.
Youtuber Rob Kenney's "Dad, How Do I?" videos have blown up recently. He found his niche: judgment-free "Dad" how-tos for folks who need help jump-starting a car, using a camping stove, installing a ceiling fan and other classically Dad activities.
24. Post teasers on your TikTok
TikTok is taking the world by storm (here are some stats to prove it), but the video-sharing app's 3-minute maximum can't compare to Youtube's limit—15 minutes for non-verified users and up to 12 hours for verified users.
You can use TikTok to promote your Youtube by posting a teaser-type video, or by posting the first three minutes (or 15 seconds, or 60 seconds) of the video and encouraging your viewers to head over to your Youtube channel for the rest. Make sure the link to your channel is in your TikTok bio.
@asapliu New YouTube video out in my bio 🙂 #vlog #university #dayinmylife ♬ landscape with a fairy by aspidistrafly – ♡
25. Participate in Youtube trends and challenges
See what's trending on Youtube—the explore page is a good place to see content that's new and hot. Trends and challenges are instant inspo for new content, and the ones on Youtube often last longer than trends on other apps (for example, the Boyfriend Does My Makeup Challenge that first popped up around 2006 is somehow still going). Videos like morning and night routines are big in 2022.
26. Make virtual reality videos
360º videos and virtual reality offer a unique video experience, and the massive growth in VR headset sales shows that viewers are here for that 3D content. Youtube offers two different formats: Youtube VR180 and 360º. There are guides for each to get you started, including what kind of gear you'll need, how to film, and how the videos are stitched together.
27. Post videos in multiple parts
Kind of like a cliffhanger on a TV show, posting videos in multiple parts will ensure that viewers keep coming back to your channel (as long as they're not too long).
The trick to this is not posting videos in multiple parts because you have to–for example, this late-night segment with Jeff Goldblum was posted in two parts (each 7 minutes long) even though they are just over 15 minutes together.
Posting in more digestible chunks makes users more likely to click on your video, where you can gently point them towards Part 2.
28. Get verified on Youtube
If you have 100,000 or more subscribers, you can apply to be verified on Youtube. (And if you need help getting there, here are 15 strategies you can use to get more subscribers. We've also put together a guide to Youtube's verification process.
You don't need to be verified to be successful on Youtube, but having that extra stamp of credibility will only help your channel grow.
29. Promote your videos in a Youtube Community post
In order to get the Youtube Community tab on your channel, you also need a certain number of subscribers—but unlike the 100k required for verification, only 1000 subscribers are needed for Community access.
Your Youtube Community tab has a feed that looks similar to Facebook or Twitter, where you can post video announcements, polls, questions, and other media for your audience. (Warning: they do pronounce GIF as "jif" in the following video).
30. Do what your favorite YouTubers do
Odds are, you started your Youtube journey as a fan. The website has been around since 2006, and worldwide, people watch more than a billion hours of Youtube every day. Your favorite YouTubers aren't just a source for comedy sketches, makeup how-tos, and vlogs—they're an excellent case study for marketing and promotion.
Find successful channels that are similar to yours, and watch what they do. Then, put your own spin on it. You've got access to a gigantic library that is always growing (500 hours of new videos are uploaded every minute). School is in session.
With Hootsuite, you can easily upload, schedule, and promote your YouTube marketing videos across multiple social networks from one dashboard. Try it free today.
Get Started
Grow your YouTube channel fast with Hootsuite. Easily moderate comments, schedule video, and publish to Facebook, Instagram, and Twitter.
Try it for Free
The post How to Promote Your YouTube Channel: 30 Tactics That Work appeared first on Social Media Marketing & Management Dashboard.